'Probable Cause' in the Killing of Tamir Rice
A Cleveland judge rules that affidavits filed by activists are sufficient to charge one officer with murder, and another with negligent homicide.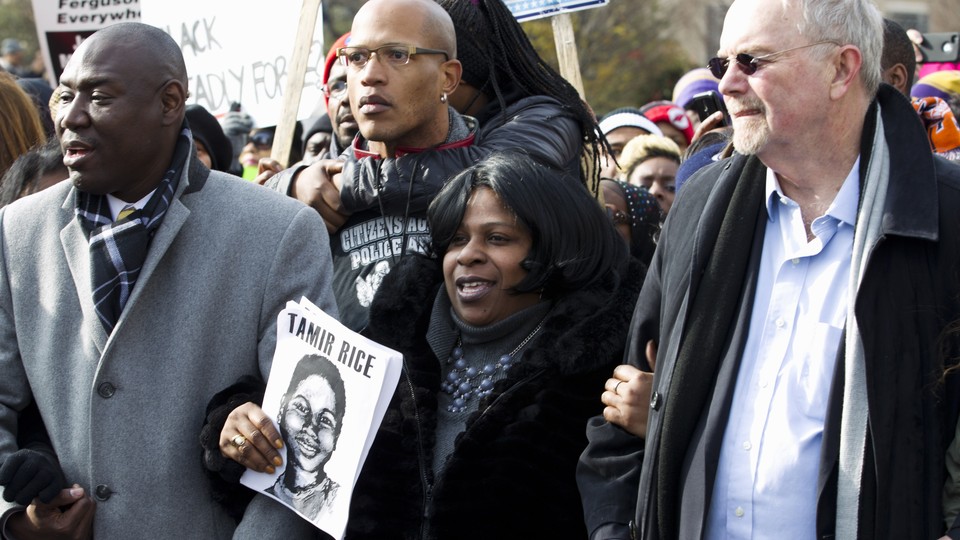 Updated on June 11, 2015, at 5:35 p.m.
A judge in Cleveland has ruled that there's probable cause to charge two officers involved in the November 2014 shooting death of Tamir Rice.
In response to a petition from citizens, under an obscure and little-used provision of Ohio law, Municipal Court Judge Ronald Adrine agreed that Officer Timothy Loehmann should be charged with several crimes, the most serious of them being murder but also including involuntary manslaughter, reckless homicide, negligent homicide and dereliction of duty. Adrine also found probable cause to charge another officer, Frank Garmback, with negligent homicide and dereliction of duty. He rejected aggravated murder charges against both officers. (The Guardian has the full order here.) Referring to the "notorious" video of Rice's death, the judge wrote, "This court is still thunderstruck at how quickly this event turned deadly."
But Adrine did not order the two men to be arrested. He stated that because the law under which the affidavits were filed had been amended in 2006, judges no longer have the authority to issue warrants themselves in such cases.
Instead, Adrine forwarded his opinion to city prosecutors and Cuyahoga County Prosecutor Timothy McGinty, who says he is currently investigating the case. And he took pains to note that prosecutors are required to apply a different standard before filing charges, determining that it is more probable than not that a reasonable "trier of fact" would hold the officers accountable for any alleged crimes.
The affidavit filed Monday was intended to jumpstart the process of prosecution; it's been more than 200 days since Rice, a 12-year-old black boy, was shot and killed in a city park. Adrine's finding of probable cause may increase pressure on McGinty. But since all murder prosecutions have to go through a grand jury under Ohio law, Adrine's order just funnels the case back to where it was before—waiting for McGinty to act.
---
It's been 199 days since Tamir Rice was shot to death by a Cleveland police officer. And for a group of community leaders in the Forest City, that's too long to wait for prosecutors to charge the officers involved in the shooting. Instead, they went to a municipal court judge Tuesday morning and asked him to issue a warrant for the officers on charges of murder, aggravated murder, involuntary manslaughter, reckless homicide, negligent homicide, and dereliction of duty.
If that sounds confusing, it's not just you. The activists made the request under an obscure provision of Ohio law that entitles citizens to file an affidavit demanding an arrest. While a few other states have similar clauses, the law is little-known and seldom-used—especially in cases of murder. A close reading of the statute suggests that it's unlikely to seriously change the direction of the case, since any murder charge ultimately has to go through a grand jury. But the filing of affidavits sends a signal, and might add some pressure on the prosecutor to file charges against Officers Timothy Loehmann and Frank Garmback.
"What you see here is one of the most American things I've seen in my life," said Walter Madison, an attorney for the Rice family, at a press conference on the courthouse steps after filing the affidavits. "The people have taken the opportunity to make the government work for them. This is not a circumvention. This is simply applying the law that is available."
Perhaps unsurprisingly, the union representing Cleveland police did not agree, calling it an attempt to "hijack rule of law." Yet the statute is clear—the coalition behind the affidavits is well within its rights. (The full filing is here.) The law states: "A private citizen having knowledge of the facts who seeks to cause an arrest or prosecution under this section may file an affidavit charging the offense committed with a reviewing official..." As long as the judge or magistrate who receives the affidavits finds them to be both in good faith and valid, he or she has to issue the warrant.
In this case, it seem clear that the activists are working in good faith—they truly believe a crime was committed. It also seems clear that there's probable cause, as anyone who has seen the video of Rice's shooting can attest. Even if a trial court were ultimately to rule that Loehmann was justified in firing on Rice, all evidence suggests that a homicide was committed and justifies an arrest.
A judge could take another tack, deciding that the petition was either in bad faith or didn't show probable cause. In that case, he or she would refer it to a prosecutor—essentially sending things back to right where they are. But how likely is that?
"Given the video evidence of the case and whatever else they have, including the police officers' report, I'd think the judge would be hard-pressed to say it's not filed in good faith, and that the claim is at least meritorious," said Michael Benza, a senior instructor in criminal law at Cleveland's Case Western Reserve University Law School who's been following the case. "It seems to me that the judge would have no choice but to issue a warrant."
The decision could come quite quickly. Judges and magistrates generally move quickly on issuing warrants, though this one might take longer since it's a murder case and uses a little-known law.
From there, however, things get messier. For one thing, police can't be compelled to go out and haul Loehmann and Garmback in; as Benza noted, there are legions of people out on the streets with warrants against them. And even if the officers were arrested, it's unclear what would happen next. Any murder charge in the state of Ohio has to go through a grand jury.
"There is no means to compel a prosecutor to take a case to a grand jury," Benza noted. "Even if the judge would issue an arrest warrant, it still doesn't force a prosecution. This statute does not allow a private person to take a case to a grand jury."
In fact, there seem to be very few cases where the statute in question has led to prosecutions. Benza said he'd been unable to find a single case that went forward—although, he noted, there may be others that did but aren't easily discoverable because they don't cite the law. And he did find several cases in which clerks ordered courts to accept the affidavits. The oddball nature of the law means that many attempts to obtain warrants under it tend to be frivolous—for example, a convicted criminal attempting to obtain warrants for witnesses against him, alleging that they had perjured themselves while putting him behind bars.
Ohio's law is unusual but not unique. North Carolina has a similar law (as you can find out in this somewhat diverting account of a war between a mayor and town commissioner in Belville, North Carolina, population 1,936), and so does New Jersey. The Buckeye State's law dates to 1960, but Benza said he'd found references to what appeared to be similar laws farther back. In fact, the idea of allowing citizen complaints harkens back to a much, much older age in the English legal tradition. As Lawrence Friedman notes in Crime And Punishment In American History, around the time England was colonizing the U.S., private citizens were in charge of bringing accused criminals before the system:
One striking aspect of trial was the system of private prosecution. English law had no district attorney, no public prosecutor. If you were a shopkeeper, and you caught a thief robbing your store, it was your responsibility to bring him to justice. A constable might help you chase and catch the thief; but that was all. In any event, the money for the prosecution would have to come out of your pocket.
What's happening in Cleveland is an ironic twist on that outdated system. Professional prosecutors were intended to make the system more equitable and fair, by eliminating the need for citizens to front the financial resources necessary for prosecutions.  But activists in Cleveland are reaching back to the older system of private prosecution, because they feel that the official channels have been insufficiently responsive.
Whether the system is actually non-responsive is a different question. Rice's family and its allies are understandably upset that months after a shooting captured on camera, there have been no charges. In some ways, that's a clear travesty of justice. But prosecutors are working on the case, and say that their investigation is ongoing. As clear as the facts might seem, cases in which officers shoot citizens almost always take a great deal of time. As David Jaros, an associate professor at the University of Baltimore School of Law, told me in May, that's because the justice system works for police officers in much the same way that people (incorrectly) expect it to work for ordinary citizens. In contrast to run-of-the-mill crimes, district attorneys tend to be exhaustive and meticulous with officer-involved shootings.
One reason for that is that prosecutors have an interdependent relationship with police: They rely on the cops to arrest people, bring them in, and testify against them. As the tension between Baltimore City State's Attorney Marilyn Mosby and the Baltimore Police Department has shown, bringing charges against officers can create strained relationships. In the Rice case, County Prosecutor Timothy McGinty has shown the dangers of erring too far in the other direction, producing concern that he's not serious about the case. But can the activists succeed in altering his course?
"From a legal standpoint, they should be able to get arrest warrants for these officers to be issued, but after that the case goes back to exactly where it is now," Benza said.
The affidavits may be an effective way to place public pressure on McGinty, but the Rice case is still ultimately going to come down to prosecutorial discretion.