Supreme Court Watchers Are Tired of This Redistricting Case
The small community of redistricting aficionados in Arizona and California have been rising with the sun in recent weeks expecting a Court decision that hasn't yet come.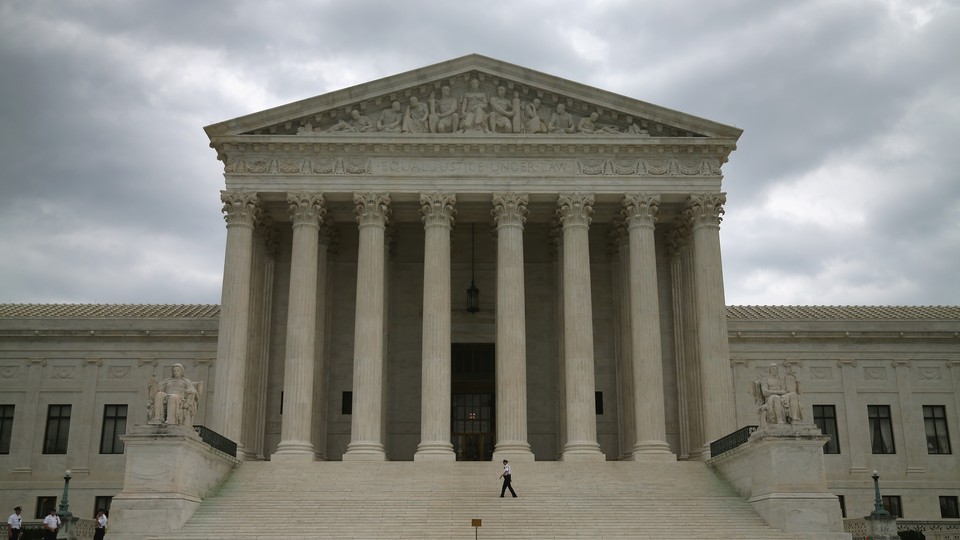 June has brought a new, unwelcome routine for Mary Jo Pitzl, a political reporter for the Arizona Republic. Her beat includes congressional redistricting, the subject of a major Supreme Court decision three time zones away that has been eagerly anticipated for weeks—but hasn't yet come.
"I'm a night owl. This is bad," Pitzl says. "I set my alarm for 6:45, stumble out of bed, get to my computer and open all the relevant windows."
Pitzl and a small community of Western political professionals, elected officials, and journalists have been rising with the sun every Monday this month (and a few other days, too), waiting to see whether the Court junks congressional maps in Arizona, California, and possibly other states. A case from Arizona could invalidate the independent commissions that drew the maps in several states where voters used ballot measures to take gerrymandering power away from state legislators. Depending on how the Court rules, those legislators and their aides could start redrawing congressional maps any day.
But because the Court never announces which opinions it will release on a given day, interested parties have spent early mornings waiting for a decision on five days so far this month. After weeks primed in the starting blocks without an answer, they're starting to get antsy.
It's particularly inconvenient considering that the case is most likely to affect states three hours behind the Eastern Time Zone. The court starts releasing opinions at 10 a.m. Eastern time on decision days, which translates to 7 a.m. local time in Arizona and on the West Coast.
The lack of information about opinion releases has worked against Paul Mitchell, one of the premier redistricting consultants in California. He has been part of this early-morning crowd all month. But Thursday, the next chance for a decision in Arizona State Legislature v. Arizona Independent Redistricting Commission, Mitchell will find himself hoping for the first time that the Court doesn't rule.
"I'll be at Disneyland with my daughter on Thursday," he said. "I don't want to be in line for Thunder Mountain and have a bunch of reporters calling me."
Mitchell and Pitzl said they expected a ruling sooner, especially because the court also will rule on even more controversial cases—ones involving same-sex marriage and the Affordable Care Act. The most high-profile cases generally are saved for last.
On the bright side, the repeated anticipation of a ruling has created a community of kindred spirits who get on Twitter and SCOTUSblog's live blog every morning to lament another day without a ruling, said Stephanie Grisham, spokeswoman for Arizona Republican House Speaker David Gowan.
If the Court rules in favor of the legislature, Grisham's boss and his fellow Republicans are expected to act quickly to make Arizona's maps more favorable for their party. Republican legislators already have inked a contract with a California-based demographic data firm to help them draw maps.
"It's been sort of fun because we're all waking up early" together, Grisham said.
The size of the community is evident on SCOTUSblog, which had 42,000 visitors at 10:12 a.m. Eastern Time on Monday, according to editor Amy Howe. Many of those visitors were likely awaiting other decisions, but those left disappointed afterward often bond in the comments section.
It also can be found on Twitter, where many of the tweets with a #SCOTUS hashtag are about the anticipation of a particular ruling, rather than the decisions themselves.
On Monday, the fifth day of early rising for a redistricting ruling, Grisham tweeted, "Waiting 4 #SCOTUS is like Christmas but instead of gifts I'll get calls, speculation, records requests & conspiracy theories."
Technology has made the wait for Supreme Court opinions both faster and more torturous, in a way. Rick Hasen, an election law professor at the University of California, Irvine who writes at ElectionLawBlog.org, recalled that he had to wait half an hour after the landmark Bush v. Gore decision was announced in 2000 to read the opinion. It was first available online on The Washington Post's website. Now, quick reports are immediately available on SCOTUSblog and Twitter, and opinions are posted to the Supreme Court's website minutes after they are announced.
"It's fun to gripe about it, but there are a lot more things to complain about how SCOTUS conducts itself," Hasen said. (The morning of June 15, Hasen tweeted: "As an election law person about to get on a plane, I am THRILLED #SCOTUS did not decide AZ redistricting case today.") It would help if the Court simply said which opinions would come out each day, Hasen continued.
Thursday is the sixth day this month that the Court will release decisions, which will all be announced by June 30. Once again, bleary-eyed, redistricting-minded West Coasters will log on to Twitter and SCOTUSblog looking out for big news. On Monday, a SCOTUSblog commenter with the username "Time Zone Susie" asked, "Are the cases decided in Eastern Time Zone?"
Attorney and guest blogger Eric Citron responded, "On one level, that is a deep philosophical question. On another level: Yes."