Supreme Court Deals Blow to Obama Environmental Agenda
In 5-4 decision, Court overturns rules on toxic emissions from power plants.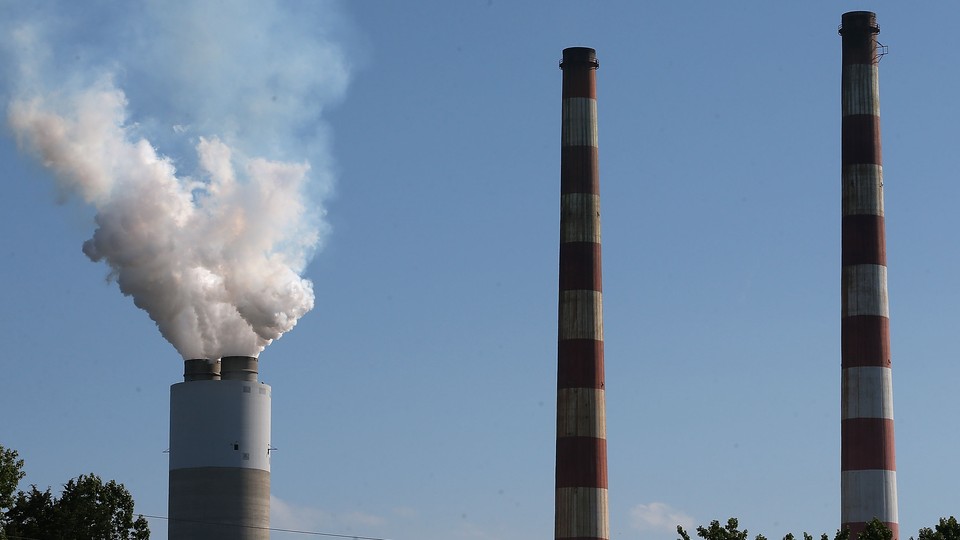 The Supreme Court Monday struck a blow to a key part of the Obama administration's environmental agenda, overturning the Environmental Protection Agency's rules limiting certain toxic pollutants from power plants.
The ruling concerns EPA's first-ever limits on mercury and other hazardous air pollutants from power plants, which have been linked to respiratory illnesses, development issues in children, and other health effects. The Mercury and Air Toxics (MATS) regulation took effect in April.
In a 5-4 decision, the Court ruled that EPA should have considered the cost of the pollution regulations early in the process when determining whether to crack down on mercury pollution. Writing for the majority, Justice Antonin Scalia said that it was not appropriate for EPA "to impose billions of dollars in economic costs in return for a few dollars in health or environmental benefits."
(RELATED: House Passes Bill to Let States Ignore Obama's Climate-Change Rule)
"By EPA's logic, someone could decide whether it is 'appropriate' to buy a Ferrari without thinking about cost, because he plans to think about cost later when deciding whether to upgrade the sound system," Scalia wrote.
The decision remands the case back to a lower court, keeping the MATS rule in effect for now.
In a dissent, Justice Elena Kagan said that EPA had in fact considered cost throughout the rule-making process, just not at its initial "appropriate and necessary" finding that determined that EPA needed to act on mercury. She responded to Scalia's Ferrari analogy by saying that a more appropriate anaolgy is a car owner who replaces worn-out brake pads without considering cost.
"The comparison is witty but wholly inapt. To begin with, emissions limits are not a luxury good: They are a safety measure, designed to curtail the significant health and environmental harms caused by power plants spewing hazardous pollutants," Kagan wrote.
(RELATED: Mike Pence Says Indiana Will Buck Obama's EPA Climate Plan)
"And more: EPA knows from past experience and expertise alike that it will have the opportunity to purchase that good in a cost-effective way. A better analogy might be to a car owner who decides without first checking prices that it is 'appropriate and necessary' to replace her worn-out brake-pads, aware from prior experience that she has ample time to comparison-shop and bring that purchase within her budget," Kagan added. "Faced with a serious hazard and an available remedy, EPA moved forward like that sensible car owner, with a promise that it would, and well-grounded confidence that it could, take costs into account down the line."
In a statement, EPA said it was disappointed with the ruling but touted the benefits that had already been felt from the rule and the plants that were already under compliance. The ruling, the agency added, was "not on the substance of the standards themselves."
"Since the decision was about how and when the agency considered costs in its decision that mercury and air toxic emissions from power plants threaten public health and the environment, and not EPA's Clean Air Act authority to limit hazardous air pollutants, EPA remains committed to ensuring that appropriate standards are in place to protect the public from the significant amount of toxic emissions from coal- and oil-fired electric utilities and continue reducing the toxic pollution from these facilities," said spokesman Melissa Harrison.
Industry groups and some Republican-led states charged that EPA had failed to consider the cost of compliance in writing the regulations. In oral arguments, the plaintiffs said that compliance could cost $9.6 billion a year because of the expensive technology required, costs that could lead to plant shutdowns and impact grid reliability.
(RELATED: How Antonin Scalia Could Undo a Key Part of Obama's Green Legacy)
EPA has countered that the benefits would reach between $37 billion and $90 billion a year from health benefits that could save up to 11,000 lives. Further, EPA says the Clean Air Act does not require the agency to consider cost in setting its regulations.
The case combined three challenges against the MATS rule from Michigan and 19 other states, the National Mining Association, and the Utility Air Regulatory Group. The ruling overturns a ruling from the U.S. District Court of Appeals for the District of Columbia Circuit, which said last year that EPA was justified in implementing the MATS rule over claims that the agency had engaged in a flawed rule-making process.
EPA has said that the MATS rule will force coal-fired plants to reduce 90 percent of their mercury pollution, 88 percent of acid-gas emissions, and 41 percent of sulfur-dioxide emissions, on top of benefits from other clean-air regulations.
It is uncertain what immediate effect the decision will have on MATS enforcement—the rule went into effect in April and many utilities have already begun compliance. Several coal plants have already been shuttered in anticipation of the MATS regulations and are unlikely to be reopened.
But it does offer an unusual silver lining for the Obama administration, since it shores up one legal argument that will help the White House protect its landmark climate regulations on power plants. Opponents of that plan had argued that the regulations were duplicative given the MATS rule, an argument that could go away given Monday's decision.
Fossil-fuel groups, who have challenged EPA regulations at nearly every step, applauded the decision, saying that it put a necessary check on the agency's agenda. In a statement, National Mining Association president Hal Quinn called the ruling "a vindication of common sense that is missing in much of the administration's regulatory actions."
"The decision effectively puts EPA on notice: Reckless rule-making that ignores the cost to consumers is unreasonable and won't be tolerated," Quinn said. "It recognizes what the administration has ignored: that every regulatory benefit comes with a cost and the value of that benefit cannot be known unless its costs are considered."
Environmental groups decried the decision but clung to the fact that enactment of the rule had already produced valuable benefits.
"The Court has sided with the dirty delinquents—the small percentage of coal-fired plants that haven't cleaned up—and against the majority that are already protecting our children from mercury and other toxic pollutants," said Environmental Defense Fund president Fred Krupp. "It is critically important for our nation that these life-saving protections remain in place while EPA responds to the Court's decision."