Student-Loan Numbers Hillary Clinton Should Memorize
Student debt is a huge issue that's particularly relevant to the Democratic voting coalition.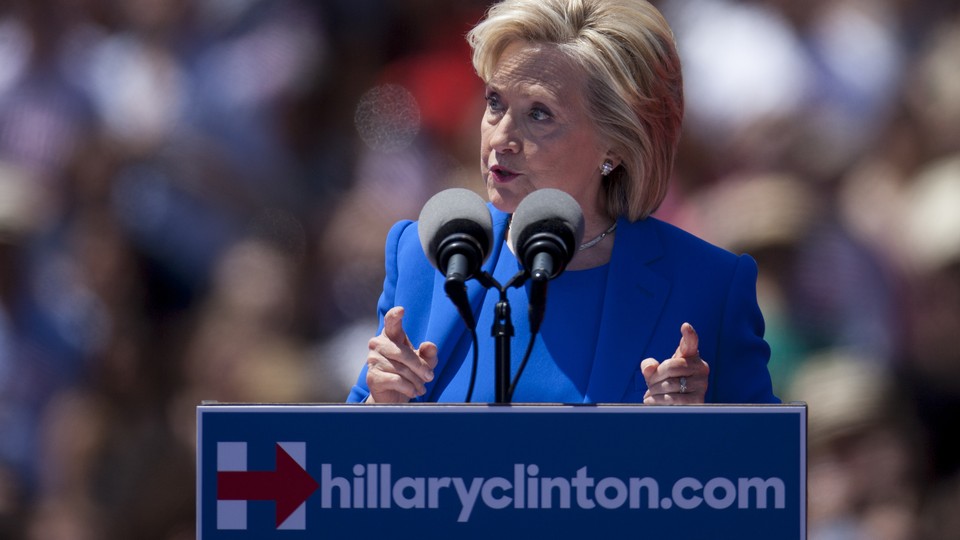 Expect to hear a lot about student-loan debt this election cycle—especially from Democratic candidates such as Hillary Clinton. "Let's make college affordable and available to all "¦ and lift the crushing burden of student debt," she told a cheering crowd in New York City last weekend. Student-loan debt disproportionately burdens the Democratic voting coalition: young people, college-educated people, African-Americans, and low-income people. But it's an issue all candidates should pay attention to.
43.3 Million
The number of Americans with student-loan debt, according to the Federal Reserve Bank of New York.
15 Million
At the end of last year, there were 15 million student-loan borrowers under age 30. They owed an average of $21,402, according to the New York Fed. Two-thirds of student-loan balances are actually held by older borrowers.
10.9 Million
There are close to as many student-loan borrowers aged 30 to 39 as there are borrowers under 30—almost 11 million—and they hold, on average, more debt: about $29,300 per person, according to the New York Fed. Two-thirds of student-loan balances are held by borrowers older than 29, and student-debt loads are rising for every age cohort.
59 percent
Only 59 percent of first-time college students pursuing bachelor's degrees full-time graduate in six years.
60 percent
People from low-income neighborhoods are more likely to struggle to pay back their loans, particularly during an economic downturn. The New York Fed found that close to 60 percent of people from low-income neighborhoods who left college in 2009 ended up falling behind on loan payments or defaulting. For people from wealthy families, the share was 20 percent.
81 percent
About 81 percent of black graduates of public colleges and universities have student debt, compared with 63 percent of white graduates, according to report by Washington think tank Demos. Latino students borrow at similar rates to white students.
37 percent
Only 37 percent of student-loan borrowers are making regular payments and reducing their balances. Seventeen percent of borrowers are behind on their payments or in default.
That said, there's one fact about student loans that can't be quantified. Student debt is an emotional monster of an issue. It stresses out not just current borrowers but the parents and grandparents who care about them. Student debt affects the decisions people make about what to study, where to enroll, even whether to go to college at all. It's an issue intertwined with people's dreams and ambitions, and there's nothing more politically powerful than that.