Sen. Alexander Vows to Block New Obama Education Regulations
Ardently opposed to the Education Department's gainful-employment rule and proposed college-ratings system, he did not hold back at National Journal's forum on education.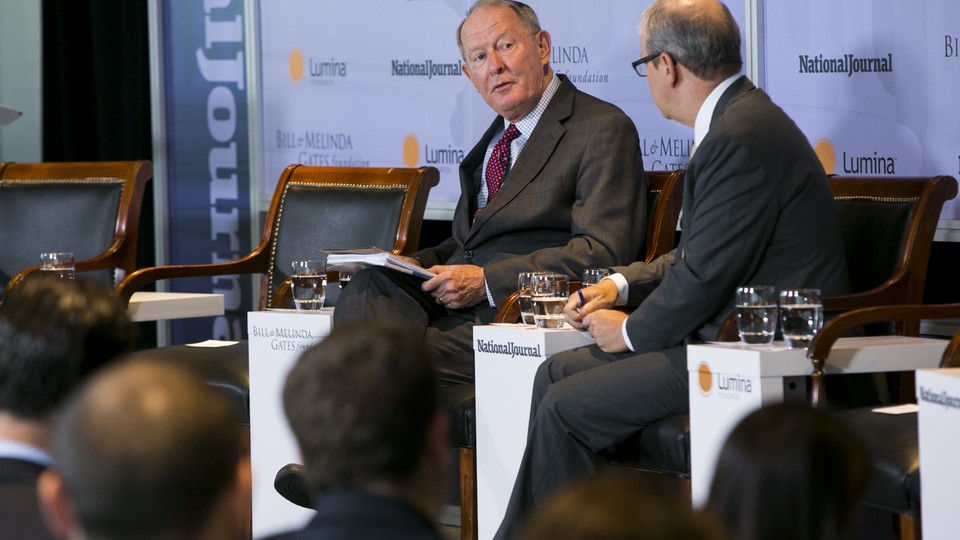 Washington, D.C.--The head of the Senate committee in charge of education legislation said Tuesday that he'd like to block two of the Obama administration's key efforts to ensure colleges serve students well.
Sen. Lamar Alexander, a Tennessee Republican, said at a National Journal event that he doubts the Education Department will ever figure out how to design a college-ratings system. Back in 2013, President Obama asked the agency to rate the nation's thousands of colleges and universities based on factors like net price and graduation rates.
The Education Department is supposed to release the ratings this fall. "I don't think they have the capacity to do it," Alexander said, reminding the standing-room-only crowd that he used to run the agency.
If the Education Department does create such a system, Alexander said he'd try to stop it through legislation. Information about colleges and universities is already widely available, he said.
Alexander also said he'd like to block the Obama administration's gainful-employment rule. The regulation, which goes into effect next month, sanctions career colleges when their graduates carry more student loan debt than they can repay.
"The reason I object to it is it's horrendously complicated," Alexander said of the gainful-employment rule.
Cutting bureaucratic red tape is a priority for Alexander as Congress debates the reauthorization of the Higher Education Act. He also doesn't like the Education Department's growing influence over both K-12 and higher education.
Rather than a narrow regulation like gainful employment—which is aimed at expensive for-profit colleges—Alexander would like to pass legislation that would challenge all colleges to keep student-loan debt low. He'd do that by making colleges take some responsibility for repaying the loans their students take out to pay for their degrees.
Alexander says he's hoping to put together a bipartisan Senate bill for reauthorizing the Higher Education Act by early fall.