Schumer: Carbon Tax Will Gain Steam if Hillary Clinton Wins
The soon-to-be Senate Democratic leader predicted Republicans might change their tune on the controversial idea come 2017.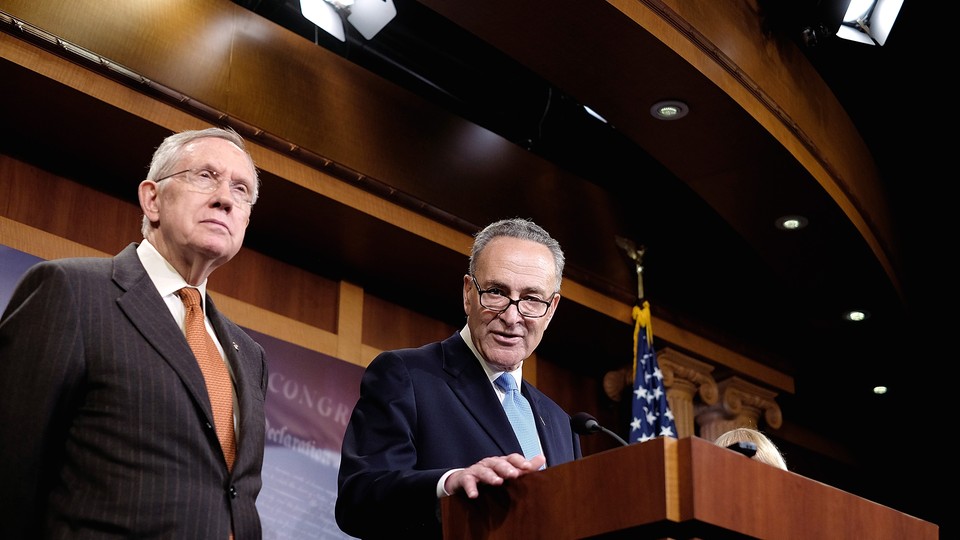 A top Senate Democrat predicted Tuesday that a carbon tax could gain political cachet in budget negotiations with Republicans if Hillary Clinton wins the White House.
Right now the idea has virtually no political traction in Congress. But Sen. Chuck Schumer of New York, who will be the top Democrat when Harry Reid retires after 2016, explained how that could change:
"If Hillary wins and we take back the Senate, I believe many of our Republican friends will say, 'Well, OK, we have been starving the government for revenues, we need revenues.' But many of them will not be for raising rates. That's sort of a credo—not just of the hard-right Republicans, but of the mainstream Republicans. So they are going to say, 'Put in a VAT,'" Schumer said, referring to a value-added tax.
Schumer, speaking at an environmental event on Capitol Hill, continued: "And Democrats will say, 'We won't be for a VAT. That's regressive.' But there's one sort of VAT that Democrats might be for, and that's a carbon tax. So you might get a compromise along those lines."
Schumer spoke at Sen. Sheldon Whitehouse's annual Rhode Island Energy and Environmental Leaders Day.
Whitehouse, an outspoken advocate of aggressive climate policies, this month floated a bill with Hawaii Democrat Brian Schatz to impose carbon taxes on coal production, petroleum products from refineries and terminals, and natural gas.
The fee, starting at $45 per metric ton of emissions and increasing 2 percent annually, would ensure that "emitters would be held responsible for the harm they are offloading onto the American people," the lawmakers said in a summary of the plan.
A wonky, ad-hoc, left-right coalition of carbon-tax advocates has for several years been swimming upstream trying to increase the viability of carbon taxes, which face a wall of GOP opposition and are a tough sell within the Democratic caucus too.
In late 2012, then-White House spokesman Jay Carney said the Obama administration would "never" propose a carbon tax.
But advocates, like former GOP Rep. Bob Inglis of South Carolina, are trying to lay the groundwork for a time when the politics shift. Inglis, like Schumer and others, has suggested that Beltway battles over federal revenue and taxes could provide an opening.
The Whitehouse-Schatz plan would use an estimated $2 trillion in revenues over a decade to cut the top corporate tax rate; provide workers an annual $500 refundable tax credit to offset payroll taxes; and provide new annual benefits to Social Security veterans' program recipients and retired and disabled people, among other uses.
Schumer acknowledged that carbon taxes currently lack enough support to advance in Congress. But he said the two sponsors are good coalition builders, pointing out that they launched the bill at the conservative American Enterprise Institute.
Schumer also noted that several European oil-and-gas giants recently called for wider adoption of policies that impose a price on carbon emissions, and that U.S. powerhouse Exxon's position is that if policymakers decide to adopt some form of carbon pricing, a tax is the best option.
"I think in 2017 people in both parties might come to that as the best way to fund the government," the senator said.