Say It: 'Marriage Is Something to Me Now, It Didn't Used to Be.'
Opinions from the intersection of culture and politics.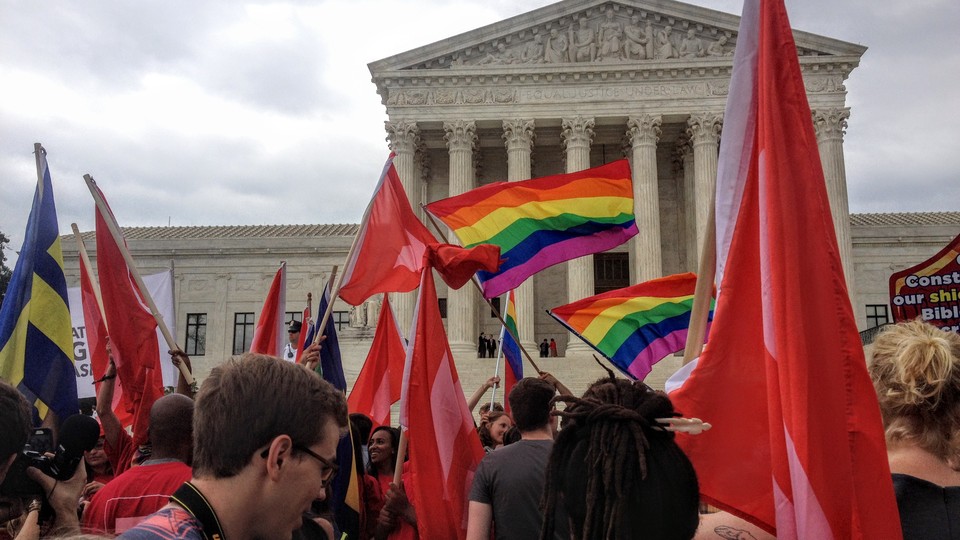 When the Supreme Court ruled in favor of gay marriage, I was not in my home state of Arizona. I didn't spend that night out at IBTs, the gay bar on 4th Avenue in Tucson. I wasn't with friends at Phoenix Pride, happening that same weekend. I was, like many of my peers, gone for the summer. In Arizona, the heat can push a person out.
I had a friend read me the key parts of the decision issued by the Supreme Court. It seemed fitting to hear it spoken, as I am on the path to an engagement myself. There's a ring hidden somewhere in the home I share with my love. Marriage is something to me now, it didn't used to be.
It started with my parents. My mom received her engagement ring in the mail. Her fiancé, my dad, was away at Officer Candidate School for the U.S. Marine Corps. They got married in a church in Litchfield Park, a patch of 1960s suburbia in the concrete-jungles of Phoenix, Arizona. Twenty-one years later, their divorce papers were filed in Southern Arizona's Pima County.
My parents separated the summer I left Tucson for Lackland Air Force Base in San Antonio to go through basic training. I came back to two houses. It was like any story of divorce—messy, emotional, and capable of inducing crippling doubt. When they fell apart, something in me gave way. I no longer could see myself making a commitment when the potential dissolution of it could be so damaging to everyone. Later, my mom would tell me that she got married because she thought she was supposed to.
(Photo Credit: Shef Reynolds/SDR Photography)
As I explored my gay identity in my early 20s, I began to see marriage as part of a system that I didn't want to participate in. It was an institution of the majority, not a thing to aspire to. Nationally, marriage-equality advocates wanted more. I also wanted more. But life has a funny way of poking at declarative statements. Sometimes it's a softening, not a reckoning that needs to happen.
"As I explored my gay identity in my early twenties, I began to see marriage as part of a system that I didn't want to participate in. It was an institution of the majority, not a thing to aspire to." —Em Bowen
When my dear friend Jeremy died suddenly in 2012, I witnessed the immense support that gathered around his husband Ben. They had married in California many years earlier, so their protections under current law were few. They were fortunate in that their community and family upheld the sanctity of their relationship even when Arizona did not.
I considered Ben's condition of being the one left behind, and then I understood. The title and social implication of marriage, even for all its shortfalls, was a stabilizing structure. Those who witnessed their relationship held the vision of who Ben and Jeremy were to each other. They helped them honor their commitment to stay in process, to work to become better together than they were alone, and to remind them of the promise they made, even in death.
I do not believe marriage is the only gateway to accountability. I do not believe it is for everyone. I do believe that in those moments when time falls all around you, you want to know you aren't alone, that whatever memory you have won't disappear with the one you love. Marriage is being witnessed, choosing to be seen. It is a leap of faith, one that I perceived as waning in value.
I've asked strangers at airports and grocery stores what their secret is to remaining married. The answers vary from "Never go to bed angry" to "We don't live together anymore." One answer, spoken by a literary peer of mine that felt most whole was this: There is no secret. Marriage is hard work. If you choose it, you take each moment and you show up. You stay for the entire thing, in love and in the world, aware that to be married is to accept that we never really arrive at ourselves or at our relationship.
The right to marry will not bestow unto LGBTQ people access to a secret Eden of relationships or a magical equation to self-discovery and tolerance. What it has made available is the opportunity to redream a tradition in a way that is thoughtful, intentional, and inspired.
Em Bowen is a writer and artist who lives and teaches in Tucson, Arizona.