Republicans Watch With Bewilderment As Democrats Flounder on Trade
After years of their own floor meltdowns, Republicans brace as Democrats could head into one themselves.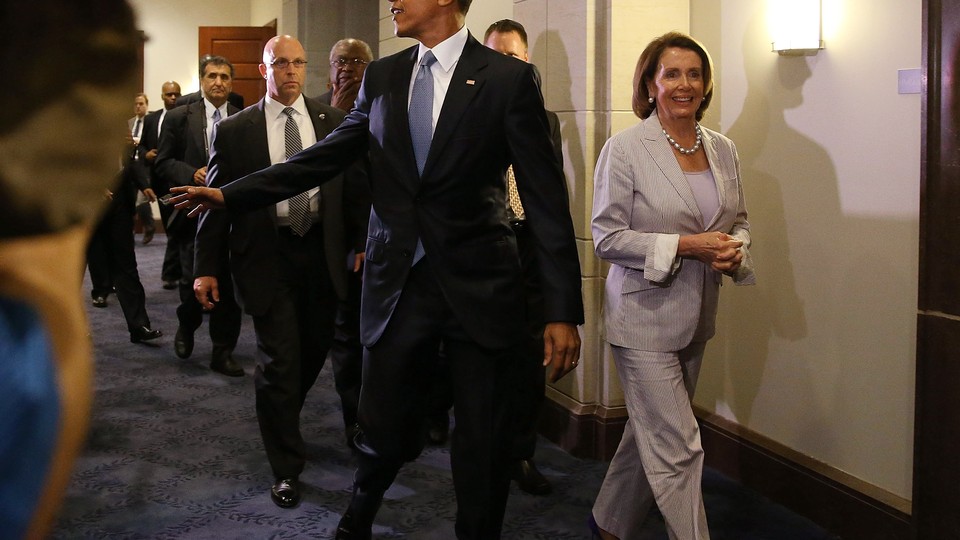 It's a new vantage point for Republican leaders. After nearly five years of intra-party squabbling of their own, Republicans are watching Democrats erupt into disarray over their own president's trade bill.
Friday morning, President Obama made his final pitch to the caucus, travelling to the Hill to do so. But, the president's only one of many messengers. Unions and other progressive groups have been lobbying members to vote against Trade Promotion Authority, which limits Congress to an up or down vote on future trade deals, as well as Trade Adjustment Assistance, a Democratic priority that provides resources for workers displaced by future trade deals. Democratic leaders had largely stayed neutral on the trade package, leaving the whip operation to the Obama administration.
On the actual vote, Democratic leadership split, with House Minority Leader Nancy Pelosi giving a speech just before the vote declaring her opposition. Pelosi voted against TAA while Democratic Whip Steny Hoyer would up voting for it. TAA went down by a big 302-126 margin, seriously imperilling the fate of Obama's trade deal.
Republicans pounced that Obama's inability to get members of his own party to support him was a reflection of his waning appeal on Capitol Hill.
"Democrats are caught up in a real challenge where the President of the United States has no clout with their members and they viewed it that the president has never paid attention to them, and when he came asking for something, he was out of step," said Pete Sessions, the chairman of the House Rules Committee.
Rep. Mark Sanford, a Republican from South Carolina, said it was a good reminder how "hubris kills."
"Allegedly, the president went and spoke to the Democrats, but what you heard on the floor was that he preached at them and wasn't even open to questions afterward," Sanford said. "It is a reminder of the way in which hubris is devastating in any walk of life."
"It's interesting to watch how irrelevant Obama has become even with members of his own party," says Rep. Mario Diaz-Balart, R-Fla. "He has no relationships with either side of the aisle up here."
While internal disagreements over the direction of the Democratic Party have been simmering since Democrats lost the Senate in the 2014 midterm elections, the trade bill represents the first time in recent memory where the party has put those divisions on public display.
The mood among Republicans in the House is that Pelosi had been aimless, having lost her strong arming ability to move members in the direction of the president. Typically a loyal force for Obama, GOP aides said before the vote she seemed less aggressive and focused on this issue.
"I think the great irony of this whole situation is that you know a high percentage of my fellow Republicans and a high percentage of folks back home distrust the president, but it's fascinating that a higher percentage of Democrats distrust him," says Rep. Frank Lucas, R-Okla.
"Democrats are in total disarray," Rep. Charlie Dent, R-Pa., told National Journal before the vote. Democrats, he said, "are hoping yes and voting no. I have seen that before on our side."
"Democrats have been doing a lot of soul searching since the midterm elections," said one GOP leadership aide. "There are some people who want some changes whether personnel or policy or direction. Pelosi not taking a strong position on this has allowed that to fester."
Republicans are hardly strangers to party squabbling. Ever since 2010, when 87 freshmen Republicans rode into Congress on a tea party wave, House Speaker John Boehner has taken the brunt of criticisms when his coalition failed to stay together. From must-pass funding bills to abortion legislation, Republicans have been the ones in recent years to drop the pass in the 4th quarter.
But the role reversal isn't exactly satisfying for Republicans either. One aide said that Republicans weren't "gleefully watching" as Democrats have an internal meltdown. While the trade bill has been Obama's priority, it is also must-pass legislation for mainstream Republicans. Ways and Means Chairman Paul Ryan has been working for months to hammer out a bill that satisfied a majority of his party. And Republicans want to make sure they have a trade bill in place if they win the White House in 2016.
"Instead of casting blame, we would rather be celebrating the fact we got a policy across the finish line that is going to help people get back to work and keep us competitive in the global economy," the aide said.
Republicans were not entirely surprised that the Democrats were divided, however, after their own president had launched a hardly impressive outreach while unions had aggressively been targeting members far longer.
"The president was kind of late to engage," says Rep. Greg Walden. "That's tough to pull people back after they've been locked in. I'd just say the anti-trade movement has a much better grassroots effort than the pro-trade group."
Rep. Tom Rooney, R-Fla., is sympathetic to Democrats' current plight. "I think the president this morning probably had a tough time convincing people," he said. "For Democrats, it is a principle thing. It's a labor issue and anybody who knows anything about politics, knows for Democrats it's a hard vote."
This story will be updated as more news comes in from the Hill.