Republicans' Million-Dollar Campaign Against a Senate Candidate Who Hasn't Started Running
Outside groups are already spending big against New Hampshire Gov. Maggie Hassan, trying to prevent a strong challenge to Sen. Kelly Ayotte.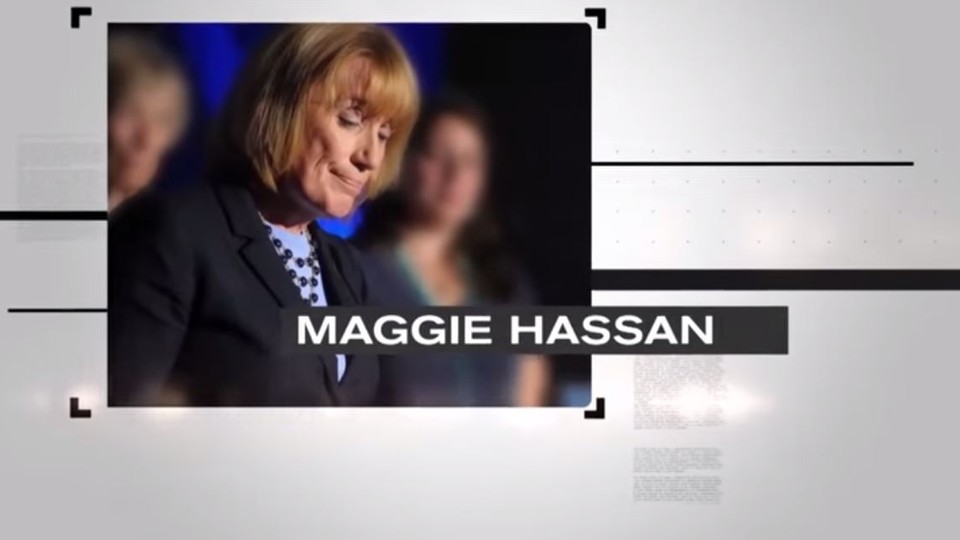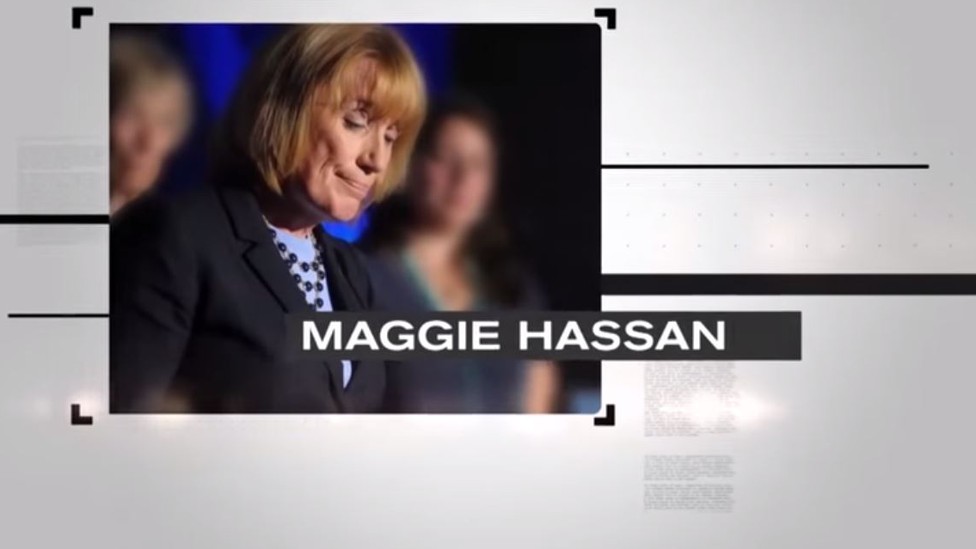 The most-targeted Senate challenger of 2016 hasn't even decided whether she'll actually run.
But that hasn't stopped New Hampshire Republicans from already spending over a million early dollars against Gov. Maggie Hassan, Democrats' best possible candidate to take on GOP Sen. Kelly Ayotte next year. The biggest boost Republicans could give Ayotte's reelection campaign at this point would be to either damage the popular Hassan ahead of her campaign or maybe even dissuade her from running at all.
So, though Hassan says she's still weeks away from deciding whether to wage a Senate bid against Ayotte, Republican outside groups have already gone on the attack with big-budget advertisements ostensibly attacking Hassan's state budget proposals but also assailing her directly.
While New Hampshire is no stranger to attacks on prospective candidates—Democrats went after Scott Brown in 2014 before he decided to run for Senate, too—both sides say the hits on Hassan highlight the outsized impact her candidacy could have on who controls the Senate in 2016. That these groups would choose to spend on Hassan, ignoring declared candidates in other competitive Senate races, underscores the unique impact this one candidate could have on the Senate map.
For Democrats, recruiting Hassan is their best shot at unseating one of the most formidable incumbents on their 2016 Senate target list. Ayotte is popular in New Hampshire, but the same polling shows Hassan to be equally or even more well-liked. Recent polls from Dartmouth and the University of New Hampshire showed Ayotte and Hassan already deadlocked within the margin of error, while other Democratic candidates don't do as well. In 2014, an election cycle that wiped out many Democrats nationwide, Hassan was reelected by 5 percentage points, running ahead of Sen. Jeanne Shaheen, a Democratic fixture in state politics.
It adds up to a potentially dangerous situation for Republicans. Though Ayotte has done many things right to prepare for reelection, they say, New Hampshire's tendency to sway with the national tide makes the seat vulnerable to a strong challenger, and Hassan is the Democrat who fits that mold.
"Maggie Hassan skated by in 2012 and 2014, but she'll quickly learn that challenging a popular incumbent in Senator Kelly Ayotte is a gut-wrenching task," National Republican Senatorial Committee spokesman Jahan Wilcox said of the ads. "The scrutiny of running for Senate is intense, and if she runs, hopefully Hassan knows that she'll be in the fight of her political life."
That is certainly the case since Impact America Action—an obscure outside group whose principals include former Ayotte strategists—placed a $1 million-plus TV ad buy criticizing Hassan's spending proposals. The June purchase dwarfs any other non-presidential media buys 17 months out from Election Day.
"Maggie Hassan has a spending problem," Impact America Action's ad charged. "As governor, Hassan first proposed a $1 billion spending increase, after that $700 million more.... Call Maggie Hassan and tell her to stop the spending."
In March, Crossroads GPS (the nonprofit arm of the best-known Republican super PAC) dropped six figures on similar digital and radio hits going after Hassan for the revenue increases in her budget proposal.
"Super shadowy outside groups with deep ties to Kelly Ayotte are so concerned about how vulnerable she is going into 2016 that they've already begun swinging wildly and airing ads against potential opponents," said Sadie Weiner, a spokeswoman for the Democratic Senatorial Campaign Committee. "It's clear that Republicans are very panicked about Kelly Ayotte's chances of being reelected."
Nearly every day since Hassan's reelection as governor, the state's Republican Party has attacked her with media blasts, suggesting she's abandoned her responsibilities and failed to govern.
Though none of these attacks specifically mention the Senate race, operatives from both parties say the intention is clear.
Unlike some of the other Senate battlegrounds where Democrats are down to just one make-or-break candidate, New Hampshire has a handful of other current or recent elected officials who would make solid candidates. But Republicans say a race against Hassan would be a completely different contest than one against any of her backups.
"If you had a race between Maggie Hassan and Kelly Ayotte, you literally have a race between the two most popular political figures in the state, both of whom people like a great deal," said Tom Rath, a Republican strategist and, like Ayotte, a former state attorney general.
"[Hassan's] not viewed as an overly partisan figure," said Rath. "Most of these issues are concerning budgets she's a) signed or b) proposed, and the one that she signed was basically the Republican budget.... It's going to be hard to get at her."
New Hampshire GOP Chairwoman Jennifer Horn said Hassan was "extremely critical" to Democrats' efforts to put the seat in play. "Virtually any other name that might even be mentioned if the governor didn't run has really no chance at all," Horn said in an interview.
Rath and other Republicans say the GOP's control of the state legislature, as well as New Hampshire's unique executive council that oversees the governor's office, has left Hassan little room to stake out partisan policy positions. Almost everything she's done, including expanding the state's Medicaid program, was achieved with bipartisan support.
"On so many initiatives, like Medicaid expansion, they were with her when it happened," said Kathy Sullivan, a Democratic National Committeewoman and former state party chair. "It's hard to criticize her for what's happening in our state when she's had Republican support."
So when Hassan proposed a budget that increased spending and revenues this spring, Republicans saw an opportunity to capitalize on one of their few points of distinction—one that nonprofit groups can take on as issue advocacy without ever disclosing their donors.
Horn outlines Republicans attacks against the governor like this: "She's been incapable of presenting a balanced budget. Both times it's had to go to the hands of the Republicans in the Senate to be balanced. ... She's asked for nearly a billion dollars in additional spending this time. That's simply unsupportable and unnecessary."
But while state policy fights around the country have gotten more public and expensive in recent years, the underlying point of this early campaign is obvious. Gov. Maggie Hassan's budgets might have inspired alarm among Republicans, but her potential candidacy has unleashed GOP worries—and a seven-figure campaign to try to make that worry go away.