Republican Leaders Begin Plotting a Way Forward on Trade, With or Without Democrats
Without major Democratic support, Republicans are huddling on Monday to plan the next steps.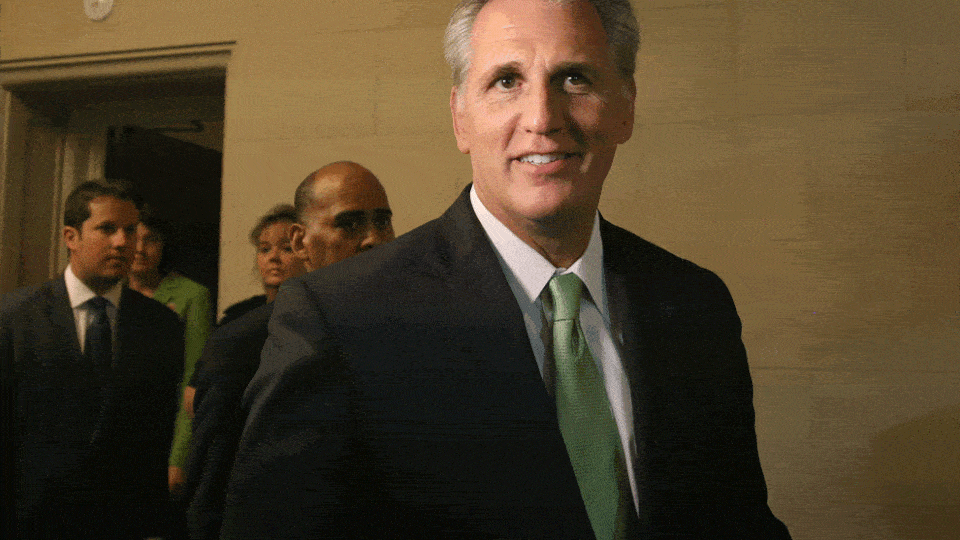 Republican leaders are not holding out hope that Democrats will change course and unite behind President Obama's trade proposals, which may force them to plot the next play without them.
After a mere 40 Democrats voted Friday for Trade Adjustment Assistance—legislation that gives benefits to workers displaced by future trade deals—Republicans watched with surprise as the typically disciplined Democratic Party at least temporarily sank Trade Promotion Authority, a key agenda item for the Obama administration which would limit Congress to an up-or-down vote on trade deals.
"It is almost like a civil war within the Democratic Party," House Majority Leader Kevin McCarthy said during a pen-and-pad with reporters Monday.
Now, the entire 12-nation Trans-Pacific Partnership trade deal's future is in limbo, with GOP leaders unsure of whether it will even be possible to salvage the TAA if Democrats continue to block it. McCarthy said over the weekend he had received no indication that a watershed number of Democrats were now ready to vote to pass TAA. As it stands now, leadership has no plan of when or if they will bring it back up.
"It could be the case where it had to fail before it could pass. Or it could be you overplayed your hand, you failed, and it might not be there again," McCarthy said.
While more than 80 Republicans supported TAA on Friday—a record for the conference—McCarthy said he didn't forecast a scenario in which Republicans would carry TAA, which is considered a Democratic priority, on their shoulders alone.
McCarthy and other Republican leaders have been trying to cast the failed vote on Friday as a sign of Democratic instability. McCarthy noted Monday that he was stunned when Minority Leader Nancy Pelosi took such a strong stand against Obama on the floor just minutes before the vote. While she never told McCarthy she planned to vote for trade legislation, the Republican leader says he was under the impression that she was lobbying her colleagues to get behind the president.
"She was leading the debate inside her conference," McCarthy said. "If you talk to Democrats in the conference, she was the one leading it as why they should vote for [trade]."
Republican leaders plan to huddle for their weekly leadership meeting on Monday afternoon. There, McCarthy expects firmer timing decisions to be made. But one thing is for sure: McCarthy says Republicans won't be able to wait forever for Democrats to get on the same page.
"The longer something like this sits out there, the harder it is to bring it back," he said.
Correction: An earlier version of this story misstated the full name of TAA. It is Trade Adjustment Assistance.