Presidential Campaigns Expand Beyond the Early States
Marco Rubio recently added Alaska- and Wyoming-based advisers to his campaign, part of a larger GOP trend of preparing for a long primary race.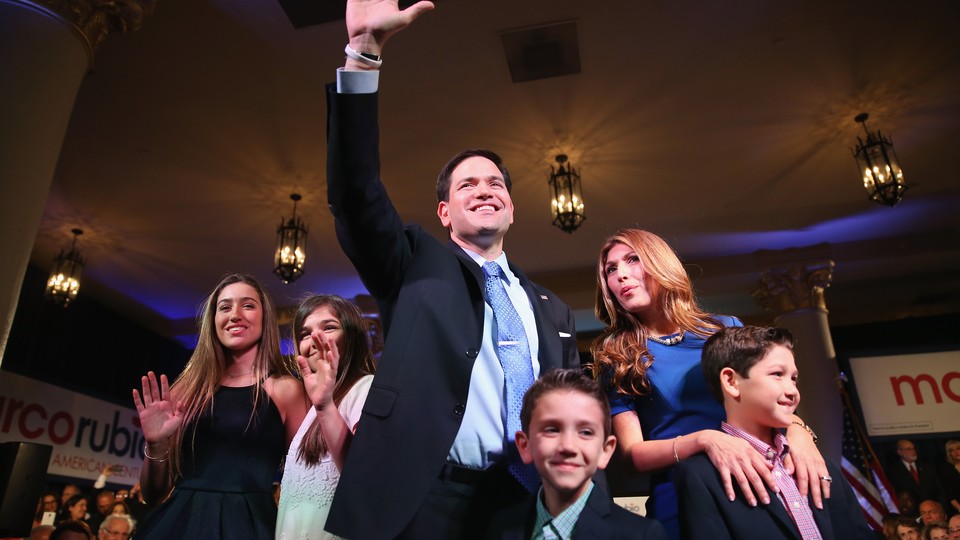 Last week, Marco Rubio quietly expanded his presidential campaign to include new state-based advisers. The latest hires, however, were not based in Iowa or New Hampshire but in Alaska and Wyoming, two even less-populated states not known for their political influence.
Historically, a victory in one of the earliest primaries or caucuses has been a must-have to clinch the Republican presidential nomination, and that's not likely to change in 2016. Still, as the field of Republican White House hopefuls continues to grow and no clear front-runner emerges, Rubio and a few other candidates are preparing for the possibility of a drawn-out nomination battle by building campaign teams in smaller, later-voting states that may become unusually important next year.
With so many Republicans running for president, there's a good chance several different candidates will still be in contention by the time the race reaches states like Alaska and Wyoming. Both states are on track to hold caucuses on March 1, the earliest they can do so without incurring penalties from the Republican National Committee. There won't be a huge number of delegates at stake in either Alaska or Wyoming, and they'll be competing for attention with several larger states (most notably, a handful in the South). But even a small number of delegates could prove pivotal in the long run, and Rubio is hoping get a leg up on the competition.
"A little bit of an investment here can go a long way in getting some delegates," said Wyoming Republican Party chairman Matt Micheli, who chaired both of Mitt Romney's presidential campaigns in his state. "With 487 candidates, every delegate is going to be important."
Rubio signed up state Rep. Tim Stubson to chair his campaign in Wyoming. Stubson said he had considered joining one other presidential campaign—though he declined to name names—but that he chose Rubio because he felt he was the candidate with the most "staying power." Stubson is the only staffer Rubio currently has on the ground in Wyoming, but the state lawmaker said he will soon beginning recruiting volunteers in the state.
"It's a little unique," Stubson said. "It's been a long time since you've had at least the prospect on the Republican side of a nomination lasting into the spring."
Rubio is the only candidate with a chairman in Wyoming so far, though Micheli said there has been more local presidential activity than usual. Aside from Rubio's team, Micheli said he's also been in contact with the campaigns of Jeb Bush, Ben Carson, Ted Cruz, Carly Fiorina, and Rand Paul—all of whom, he said, are treating the 2016 campaign "more like a marathon than a sprint."
In Alaska, Rubio recently recruited six Republicans to aid his White House bid. Art and April Hackney, two veteran GOP consultants, will serve as the campaign's cochairs in the state. Suzanne Downing, who is currently the Alaska GOP's communications director, will be a senior adviser for the campaign, while three other operatives will head up efforts in different regions.
The Hackneys, who chaired both of George W. Bush's campaigns in Alaska, were torn between Jeb Bush and Rubio before going with the younger Floridian.
"I was very much wrestling, because our initial inclination was to support Jeb because of our connection to the Bush family," Art Hackney said. "But we kept being drawn to Rubio, and I just came to the conclusion that he is the candidate who can beat whoever the Democratic nominee is."
Hackney said it's important to start organizing now in Alaska, even if it's not at the very front of the primary calendar. As a large state with a small number of people scattered across remote areas, it can be a difficult place to campaign, especially for newcomers. But with an experienced team in place, Hackney argued, Rubio won't have to worry about spending much time or money there before the state's 2016 caucuses. So far, no other candidate has officially locked up staff in Alaska.
"I'm not patting myself on the back, but you have to attract the best and the brightest," Hackney said. "In Alaska, the Rubio people don't have to do a great deal. We are very experienced, we know all the people involved. We will carry water for them. That's what you want."
Additionally, Rubio is not currently paying his staffers in Alaska and Wyoming, spokesman Alex Conant said, so the campaign can continue to concentrate its resources in the states that kick off the primary contest.
In addition to delegates, the less-traveled states can also be important sources of campaign cash. Rubio has visited Idaho twice over the past three months to attend events sponsored by Frank VanderSloot, who was a national finance cochairman for both of Romney's White House campaigns.
Rubio has "really extended himself," VanderSloot told National Journal. "You've got to be pretty impressed; Idaho is not normally the first stop for some of these candidates. It looks like we're getting a lot more attention this go-around than we ever have from anybody."
Ted Cruz has aggressively sought to win backers outside of the first four primary states as well. So far, Cruz has announced campaign chairs in Michigan, California, New Jersey, North Carolina, and Tennessee.
And Rand Paul has also begun to expand his already-large campaign apparatus, naming Rep. Raúl Labrador of Idaho as his Western states cochairman last month. Paul spokesman Sergio Gor said the senator "will compete in every corner of this nation," adding that "we intend to announce both staff and surrogates in various states over the next few weeks."