President Obama's Man on a Motorcycle
Working to usher in an era of safer transportation.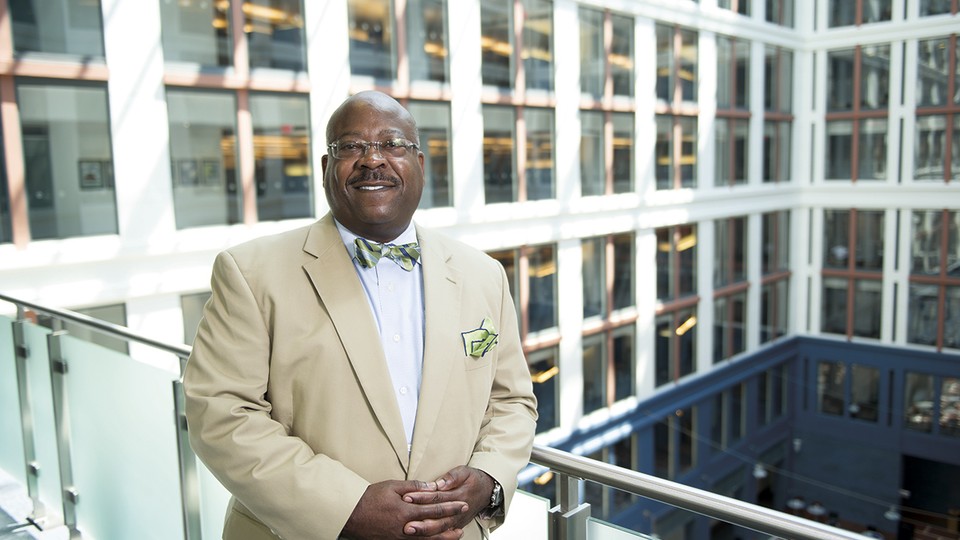 I had always wanted a motorcycle since I was a kid," Gregory Winfree, the Transportation Department's assistant secretary for research and technology, tells me when I visit him at the agency's big, shiny building near the riverfront in Southeast D.C. One of his early memories, he says, is being in the backseat of his mom's Plymouth Fury and looking out the window at a guy riding a Triumph. "He looked over and gave me a thumbs up," Winfree recalls, "and I just thought that was the coolest thing." When he was in his early 30s and finally able to indulge his passion, Winfree bought not one bike but two.
Greg Winfree is the assistant secretary for the Department of Transportation. (Chet Susslin)
Perhaps a man with a lifelong love of motorcycles is not your intuitive pick to lead the administration's effort to advance transportation safety through technological development, but Winfree says that element of the job is part of what drew him to it. "I liked the safety focus," he says, explaining that it has been a consistent undercurrent throughout his career. "I've been with a major plastics company and a major pharmaceutical company as counsel, then worked in mining and minerals," he says. "In all of those areas, there's a strong reliance on science and engineering. And, of course, they require a strong safety culture."
A native of Freeport, Long Island, the 50-year-old Winfree earned a bachelor's of science degree in communications and public relations at St. John's University in 1986 and a law degree from Georgetown University in 1989. He worked at a D.C. law firm before joining the Justice Department in 1991, where he served as a trial attorney in the housing and civil-enforcement section of its civil rights division. Two and a half years later, Union Carbide in Danbury, Connecticut, recruited him to join the chemical company as senior litigation counsel. Winfree then worked as director of litigation for Wyeth Pharmaceuticals and, after that, at mining company Phelps Dodge, where he ran the litigation shop in Phoenix, Arizona. In November 2009, he got the call to come back to Washington as chief counsel for the Transportation Department's Research and Innovative Technology Administration, which manages research and development programs aimed at creating technologies used to improve transportation. He tells me he jumped at the chance to serve the first African-American president. "I said to myself, 'If there's anything I can do to help him get four more seconds of sleep a night, then I'm all in.'"Š" He became deputy administrator of RITA in July 2011, and also served as chairman of the agency's Innovation Council. He was made administrator that winter. Then, in 2014, he became the department's first assistant secretary for research and technology.
One of the more high-profile programs under Winfree's purview is the research effort within the Intelligent Transportation Systems Joint Program Office around "connected vehicle technology," which would allow cars and trucks to send mobility and safety information to one another—and to drivers—through wireless networks. With roughly 33,000 highway fatalities a year, Winfree says, it is a vital initiative: "We need to get this crash number down as low as possible, and connected-vehicle technology promises to address 80 percent of unimpaired drivers' crashes." Winfree says Americans can expect to see some such technologies on the roads as soon as 2017.
The department's "next significant push on safety," Winfree says, will be in the area of automation—such as automatic breaking and adaptive cruise control. "The first 50 years of safety in transportation focused on having vehicle occupants survive crashes; the next 50 years is going to be avoiding crashes altogether," he says. "There will be a time in the not too distant future when kids in elementary school will wonder how cars ever crashed in the first place."
As sanguine as he is about the potential of these technologies, Winfree is also aware that there may be some resistance to the vehicle-tracking and data-gathering they require—not least of all from some of his fellow motorcycle riders. But he notes that vehicle-awareness technology is particularly important for bikers, as they're notoriously difficult to see on roads. "I think it's got a huge upside and a huge benefit," he says. "And I hope the motorcycling community sees it for what it is."