Politicians Cancel Campaign Events in Wake of Church Shooting
Nine people are dead after a gunman opened fire at a church in Charleston.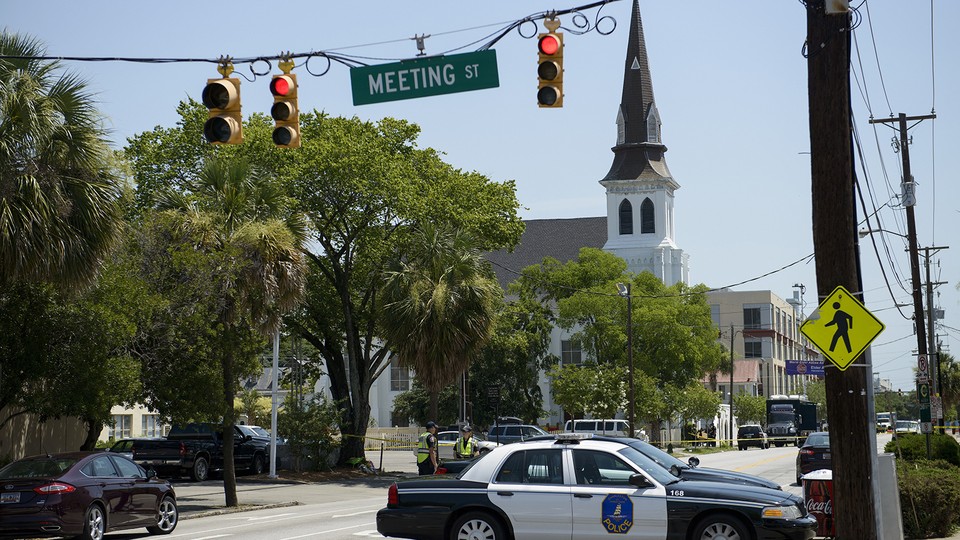 Around 8 p.m. on Wednesday night, a 21-year-old white man identified as Dylann Storm Roof entered the historically black Emanuel African Methodist Episcopal Church in Charleston, S.C. After sitting with a prayer meeting for almost an hour, the man took out a gun and opened fire on the congregation.
He killed nine people, including Rev. Clementa Pinckney, a Democratic state senator. On Thursday morning, a black cloth covered Pinckney's desk in the statehouse chambers.
Attorney General Loretta Lynch said Thursday morning that the Department of Justice has opened a hate crime investigation into the shooting. Shortly after her announcement, news broke that Roof had been apprehended by police in Shelby, North Carolina.
The Emanuel AME Church has a long history in the black community, particularly the civil rights movement in the South. Dr. Martin Luther King Jr. visited the church in 1962.
South Carolina Sen. Tim Scott—the first black senator to be elected in the South since Reconstruction—sent his sympathies to the victims of the shooting and their families on Wednesday night, and called the act of violence "despicable."
"We will come together as a city and as a state to lift up those who need us most right now," he said. His office said he plans to leave Washington to travel to Charleston. "I hope for their sake, and for the people of Charleston, that the perpetrators of this terrible crime are swiftly brought to justice."
Scott's South Carolina colleague, Sen. Lindsey Graham, put out a statement Thursday morning responding to the shooting.
"Our prayers are with the families of the victims and the people of Charleston. We are all heartbroken by this tragedy," Graham said. "There are bad people in this world who are motivated by hate. Every decent person has been victimized by this hateful, callous disregard for human life shown by the individual who perpetrated these horrible acts."
Graham's campaign later announced that the senator, who is running for president, has canceled all political activities planned for this weekend in Philadelphia and New Hampshire and will return home.
In a Thursday morning statement, South Carolina Gov. Nikki Haley, seemingly holding back tears, said "we woke up today and the heart and soul of South Carolina was broken."
South Carolina Rep. Trey Gowdy called the shooting "the personification of evil."
"I was a district attorney in a previous life, so you see plenty of evil," said Gowdy, whom Scott called last night when the news broke. "You never get used to it. You never, ever are numb."
Asked whether he considered the shooting a hate crime, which the Justice Department is investigating it as, Gowdy said, "All violent crime is motivated by hate and anger and a disregard for other people's bodies or property."
Georgia Rep. John Lewis said he thinks the massacre is "a premeditated hate crime."
"See, I grew up in the rural South and every Wednesday night as a child, we went to Bible study prayer meetings," Lewis said. "I am very troubled by this. If you cannot go to a church and study the Bible and pray, where have we come in terms of as a nation and as a people?"
Many presidential candidates expressed their condolences for the victims and their families over Twitter. Hillary Clinton, who spoke in North Charleston on Wednesday, called the news "heartbreaking." Rick Santorum said the shooting was an "assault on our religious liberty."
Jeb Bush, who announced his presidential candidacy on Monday, was scheduled to attend events in Charleston Thursday, but canceled them in light of the tragedy.
"Governor Bush's thoughts and prayers are with the individuals and families affected by this tragedy," a spokesperson said in a statement.
Dr. Ben Carson called the shooting "a manifestation of the evil that has gripped our society."
"Someone close to me lost relatives last night in that tragedy," he said in a statement Thursday afternoon. "We all lose when senseless tragedies like this remove vibrant lives from our midst."
Former Rep. Gabrielle Giffords—who was shot in the head in Tucson, Arizona in 2011—released a statement with her husband, Capt. Mark Kelly, through their gun control group Americans For Responsible Solutions.
"Once again, a senseless act of gun violence has brought terror, tragedy and pain to one of our communities. And once again, gunfire and bloodshed has visited one of America's houses of worship," the statement reads. "This time, a shooting has shattered the community at Emanuel A.M.E. Church, whose congregants have stood so often on the side of the needy and of peace. Our thoughts and prayers are with the people of Emanuel A.M.E. Church, and the families of those who were taken in this tragedy."
This is a developing story and will be updated.
---
Lauren Fox and Marina Koren contributed to this article