Police Look to Boost Security Screening at Hill Garages
Staffers can drive into garages and enter House office buildings without ever being searched. That may change soon.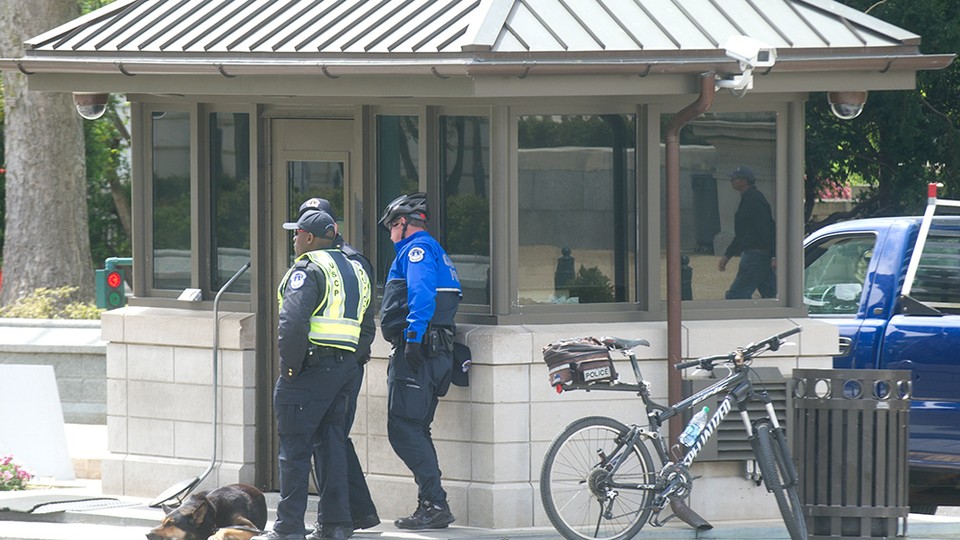 Frequent visitors to the Capitol and its office buildings know the drill: Enter, remove all bags, send personal items through an X-ray machine or let a Capitol Police officer inspect inside, and walk through a metal detector.
It's a standard security checkpoint—but not for many House staffers who drive to work. In their case, as a National Journal reporter experienced last year, an officer meets the car at a barricade. But once a staffer parks, he or she can enter some House buildings without going through a metal detector or ever having bags searched.
But that may soon change.
At a House Administration Committee hearing Wednesday, House Sergeant at Arms Paul Irving briefly mentioned a garage security-enhancement project. Its purpose: to address "existing vulnerabilities" and to enhance the security of the chamber's office buildings.
"The goal ultimately is to restrict the number of access points, so that everyone can undergo security screening," Irving said during the hearing. "There will be some conveniences that will be dispensed with, but I will say that we will do everything we can do to make sure members have access to the doors that they require."
It's a multi-phase project. The first would install the infrastructure and hardware to be able to lock down the garage entrances during an emergency. The second requires a design and feasibility study performed in conjunction with the Sergeant at Arms, the Architect of the Capitol, and the Capitol Police to ensure that all who enter the House Office buildings undergo "a consistent level of screening to ensure the safety and security of all those who work and visit our House office buildings." (There is a security checkpoint with metal detectors and X-ray machines for both visitors and staffers before they enter the U.S. Capitol through an interconnecting tunnel in a House Office building).
In an interview after the hearing, Irving was sparse on the project's details and timeline, saying he is still working with the committee and leadership on the project. "We have some more issues that we need to work through. "¦ Some of it is funding-related, some of it is the—you heard me speak to it today—the business process of the institution," Irving said. "We have to be very mindful of ensuring that members get to where they need to go unimpeded, so those issues we're working through."
There is a degree of screening now when entering the garages (last summer, a Capitol Police officer inspected the trunk and checked the driver's parking sticker and ID when a National Journal reporter went through a House Office garage with two senior staffers). Even before the project is complete, Irving said the security screening will be enhanced, though he again declined to go into the specifics.
Lt. Kimberly Schneider, Capitol Police spokeswoman, wrote in an email that "while we do not discuss our security operations, the U.S. Capitol Police (USCP) constantly assesses and reassesses our security procedures in close coordination with the Capitol Police Board. The USCP utilizes the funds provided by the Congress to maintain robust security."
This gap in security is not unlike the one that existed in 2013 at Washington Navy Yard, where shooter Aaron Alexis, a government contractor, parked in a garage, walked into building #197 with a backpack, and proceeded to an elevator.
Earlier this week, a summer intern for Rep. Lynn Jenkins was arrested for possessing an unloaded 9mm handgun while entering the Longworth building. He came in through a street entrance. While the congresswoman's office said the event is believed to be an accident, 25-year-old Joshua Wheeler didn't make it all the way into the building.