Perry: I Have Best Pro-Life Record in GOP Field
The former Texas governor told a Faith and Freedom Coalition conference that "no candidate has done more to protect life."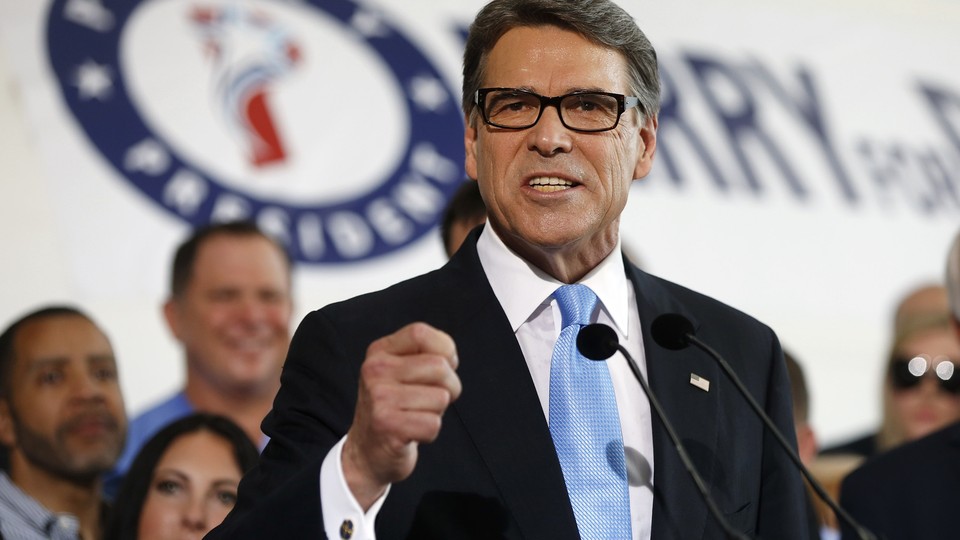 Addressing a crowd of Christian conservatives Saturday morning, Rick Perry attempted to distinguish himself from a crowded and growing field of Republican presidential contenders, saying he had the strongest pro-life record of any candidate in the race.
Towards the end of his 15-minute speech at a Faith and Freedom Coalition conference in Washington, Perry ticked off a list of anti-abortion measures he enacted in nearly 15 years as the governor of Texas, including a ban on abortions after 20 weeks, and parental notification and consent laws.
Most of the other GOP White House hopefuls who took the stage before an evangelical crowd at Washington's Omni Shoreham Hotel over the past three days highlighted their pro-life stances, too. But few—if any—did so to the same extent as Perry.
"You know, a lot of candidates, they say the right things about protecting life, but no candidate has done more to protect unborn life," Perry said, adding that "no one has shown more unwavering conviction concerning life of the unborn and to protect unborn children."
Perry's pro-life pitch plays into a larger argument he is making on the 2016 campaign trail: that no Republican White House hopeful can match his record and experience on economic and social issues as Texas's longest-serving governor.
"After eight years of a president whose rhetoric always exceeded his record, it's time to elect a president whose record speaks louder than his words," Perry told the crowd. "It's going to be a 'show me, don't tell me' election."
Whether this argument helps him gain traction in the GOP nominating contest remains to be seen. Perry is polling in the single digits among Republican voters nationally, putting him at risk of not qualifying for the first presidential primary debate in August.