Pence Still Struggling After Indiana Religious-Freedom Controversy, According to Potential Challenger's Poll
The Indiana governor's numbers are still down after the uproar earlier this year.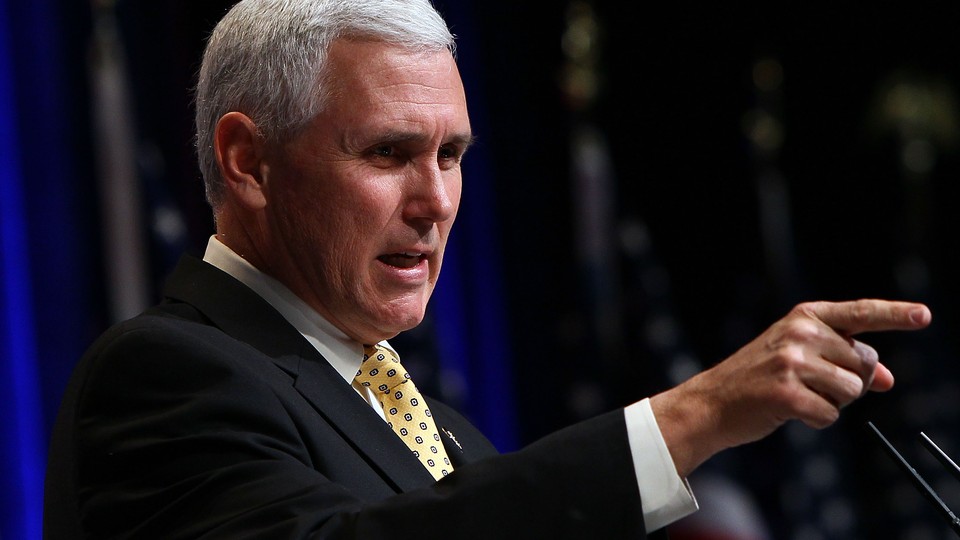 The furor over Indiana's religious-freedom bill has died down, but the damage done to Gov. Mike Pence has remained, according to a new poll released Wednesday and paid for by a potential Republican primary challenger.
Christine Matthews, the president of Bellwether Research and a onetime adviser to former Indiana Gov. Mitch Daniels, released a survey Wednesday showing Pence with favorable ratings from just 34 percent of voters, compared with 43 percent who view him unfavorably. The poll also shows equal shares of voters (46 percent) approving and disapproving of Pence's job performance, and he tied two potential Democratic gubernatorial opponents in hypothetical matchups. Pence is scheduled to announce his intention to seek reelection on Thursday.
Pence's numbers were largely the same as they were in an April poll Bellwether conducted for Howey Politics Indiana, a news organization, though Pence's favorability figures did decline between the two surveys. Though the latest Bellwether survey was commissioned by former Angie's List CEO Bill Oesterle—a former Daniels campaign manager who stepped down from his position in April to get involved in state politics again (and potentially challenge Pence or recruit a challenger to Pence)—the released results did not include any Republican primary ballot tests.
Pence's polling drop—his approval ratings were in the 60s at the end of 2014, per a Ball State University survey—came earlier this year after he signed off on a religious-freedom bill, which opponents perceived as a means to give businesses license to discriminate against gays and lesbians. It prompted national media attention and widespread backlash.
But even though it has since faded from the headlines, Pence's support for the Religious Freedom Restoration Act continues to be a drag on his popularity. Voters cited Pence's record on education and their disagreement with him on the religious-freedom issue as the top two reasons they'd like to see a new person as governor. A plurality of voters surveyed in the Bellwether poll still say the religious-freedom law will negatively impact on the state's economy, and a majority support adding an LGBT nondiscrimination provision to state law.
Matthews wrote that the results suggest "that even though RFRA is no longer making headlines, it has not been forgotten. This may be one of those situations where a sleeping giant has been kicked and is now wide awake." There was some good news for Pence in the survey: A majority of voters are still satisfied with "the way things in Indiana are going." But it isn't reflected in how Indianans think about him right now.
The survey shows Pence running neck and neck with two Democratic candidates: State Superintendent of Public Instruction Glenda Ritz (42 percent to 42 percent) and Pence's 2012 opponent, former Indiana State House Speaker John Gregg (40 percent to 41 percent).
Pence still has plenty of time to recover in conservative-leaning Indiana before the November 2016 general election, but at the very least, Wednesday's poll results don't suggest he is on a quick path to recovery. The poll surveyed 1,000 registered voters between May 29 and June 3, and had a margin of error of plus or minus 3.5 percent.