The Spreading Opposition to Confederate Symbols
As South Carolina's leaders call for the battle flag to come down, activists across the country are focusing on other legacies of the Confederacy.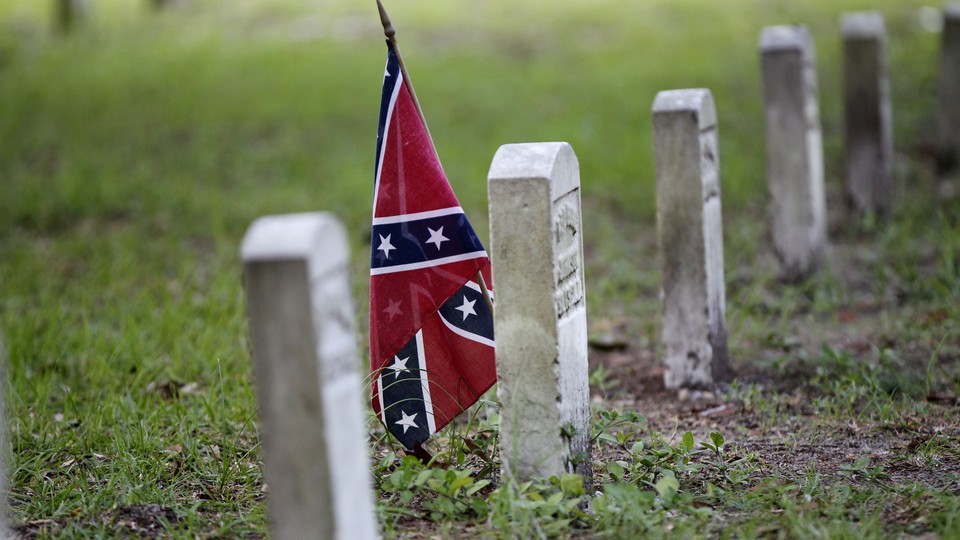 Updated on June 23, 2015 at 3:10 p.m.
The ground seems to be shifting quickly on Confederate emblems—not just in South Carolina, but across the country. In the Palmetto state, both the House and Senate voted in favor of debate on removing the flag of the Army of Northern Virginia from the capitol grounds. The next steps will not likely occur until July. Elsewhere, Virginia Governor Terry McAuliffe announced that—following a Supreme Court ruling last week—the state would cease offering license plates with the flag, while Tennessee Governor Bill Haslam said he supported doing the same. Meanwhile, as sales of Confederate flags surged online, both Amazon and a leading flag maker announced they would follow Walmart, Sears, and other retailers in ceasing to sell Confederate merchandise.
---
The change in South Carolina politics over the last few days has been nothing short of shocking. The flag of the Army of Northern Virginia seemed firmly ensconced on the grounds of the state capitol in Columbia. Governor Nikki Haley insisted that discussion of the flag's status was for another day. Senator Lindsey Graham said that while it would be "fine" with him to revisit that decision, it was merely a symbol.
It turns out that symbols matter. On Monday, Haley stood up at a press conference and called for the flag to be removed, insisting that the legislature act immediately. If it didn't, she would call a special session to address it. She was flanked by Tim Scott, a black Republican senator, and Graham also voiced his support for her move. That followed a call over the weekend for the flag's removal from Mitt Romney, and the RNC followed Haley's announcement with an endorsement. Walmart also said Monday that it would quit selling Confederate merchandise.
It isn't as though the flag only now became a lightning rod, though the massacre of nine black South Carolinians in Charleston clearly shifted the tide. Democratic and even Republican presidential candidates have called for it before—John McCain did so in 2000, though only after losing the state's primary—and in 2000, state legislators moved the flag from atop the capitol to a site nearby on the grounds. But removing it altogether still seemed too politically difficult in the first state to secede from the union.
Even in February 2015, when Public Policy Polling (caveat lector) asked about the flag, half of South Carolinians backed keeping it, with only 40 percent opposed. That despite the fact that nearly half also felt it was bad for the state's image. (Astonishingly, 35 percent said they thought it was good for the Palmetto State's reputation.)
It's still possible that South Carolina legislators could hold a speedy vote and in doing so reject the idea of removing the flag. Given that doing so would require bucking all three statewide elected officials and the national Republican Party, it seems unlikely—though one legislator has already likened Haley's call to a "Stalinist purge." (The Charleston Post & Courier is conducting a running whip count here.)
The question for the coming days is this: Is the fury directed at the flag in South Carolina, ignited by the Charleston massacre, contained within the Palmetto State's borders and subject to local pressure and grief? Or can the righteous anger and arguments directed at that flag work in other states as well?
If it's the latter, there are many places for it to spread. Elements of either the battle flag or the flag of the Confederate States of America were incorporated into the flags of several other Southern states, most notably Mississippi. Major highways are named for Jefferson Davis and Robert E. Lee. Statues of Lee, Davis, and CSA Vice President Alexander Stephens represent their states in the U.S. Capitol's Statuary Hall. The database of the National Center for Education Statistics shows at least 20 schools named for Robert E. Lee, and nine apiece for Stonewall Jackson and Jefferson Davis.
In 2011, then-Representative Jesse Jackson Jr. told me about traveling through the South after his election, hoping to better understand American history. He was shocked by what he saw—even as soon as he crossed the border from Washington into Virginia and discovered he was on the Jefferson Davis Highway. "In the South, many states are replete with high schools named after the generals who were some of the great traitors of our country's history," he said. "Jefferson Davis has nothing named for him in Washington, and Abraham Lincoln has very little named for him in Virginia." (Jackson was later convicted of wire and mail fraud and resigned.)
The first, most obvious place for the battle against Confederate symbols to continue would be Mississippi, where the state flag wholly incorporates the battle flag. Evangelical leader Russell Moore, in a widely cited post on Friday, called for its removal from the flag of his native Mississippi. Late Monday, Republican state House Speaker Philip Gunn called for the removal of the Confederate flag. But support for the flag, at least among other white conservatives who dominate government, seems to remain high. Another state legislator delivered a broadside against Romney for his comments about South Carolina. Governor Phil Bryant cited a 2001 referendum in which two-thirds of Mississippians voted down an attempt to remove the Confederate standard from the state flag. "A vast majority of Mississippians voted to keep the state's flag, and I don't believe the Mississippi Legislature will act to supersede the will of the people on this issue," Bryant said in a statement. Recent polling on the flag is sparse, but a 2014 poll found that if the Civil War broke out today, only 50 percent of Mississippians would side with the Union, while nearly 30 percent would secede.
There are plenty of other targets. On Monday, Representative Jim Cooper called on Tennessee to remove a bust of Confederate General Nathan Bedford Forrest from its state capitol. In Texas, more than 1,700 students signed a petition to remove a statute of Jefferson Davis from the grounds of the University of Texas-Austin.
Also Monday, Baltimore County, Maryland, asked the city of Baltimore to join in rechristening a park named for Robert E. Lee. A Confederate monument in the city was vandalized with graffiti reading "Black Lives Matter." It's hard to imagine there won't be similar cases of both political pushes and vigilante action against Confederate monuments in the next few days—in part because the burgeoning national network of civil-rights activists that has coalesced since Ferguson seems to have taken up the flag cause as its own. DeRay Mckesson, one of the most prominent spokesmen of that movement, tweeted a Vine of a Confederate flag burning, and #TakeItDown rallies inspired by Charleston's are planned.
It's an interesting and somewhat surprising turn for the activist movement. Until now, post-Ferguson protests have tended to focus on a single, tangible issue: police violence against people of color. As Johnetta Elzie, another high-profile activist, told Jay Caspian Kang: "Our demand is simple: Stop killing us." The flag is a far more symbolic issue, if still clearly connected to the question of violence against black Americans. There was a gathering sense of unease already on Monday, a worry that the focus on removing the flag might provide a too-easy exit for leaders in South Carolina to declare victory and move on without grappling with deeper, systemic strains of racism in a state where the black poverty rate is nearly three times as high as the white rate; black incarcerations rates are nearly four times as high; black arrest rates are disproportionately high; and black high-school graduation rates lag white rates.
There are reasons to think that the push to get rid of monuments named for Confederates may sputter. The RNC's statement on South Carolina notably didn't mention Mississippi, and Republican presidential candidates' timid tiptoeing around the flag issue in South Carolina doesn't seem to portend bold demands from them.
That shouldn't obscure the fact that there are detectable shifts in attitudes toward the Confederacy and other white-supremacist monuments already, in the last decade and a half. One factor is surely the simple passage of time, as connections to the old Confederacy fade, while changing attitudes about race and shifting demographics in the south are two more. In 2013, a Florida high school's name was changed so it no longer honored Forrest, who was also the first grand wizard of the Ku Klux Klan. Officials in other jurisdictions have removed the names of Confederate leaders, though some efforts have failed. In 2003, Ole Miss phased out its Colonel Reb mascot. In the last year in North Carolina alone, Duke and East Carolina Universities renamed buildings honoring white supremacist Governor Charles Aycock, while the University of North Carolina renamed a hall honoring a purported Klan leader.
It's also unimaginable that a Democratic presidential candidate—or likely any but a very few Republican presidential candidates—would say, as Howard Dean did in 2003, "I still want to be the candidate for guys with Confederate flags in their pickup trucks."
One reason that South Carolina's abrupt shift on the flag is so surprising is the very reason that so many Southern states have incorporated prominent Confederate symbols and names. It has often been at moments of pitched cultural battle that Southern authorities have dug in most deeply: Mississippi added the Confederate saltire to its flag in 1894, as Jim Crow laws were gaining steam. South Carolina raised the flag in 1961, as the civil-rights movement was reaching its peak. Many Confederate symbols were adopted as reactions to Brown v. Board of Education. Now, with national pressure bearing down on Columbia, South Carolina's leaders have taken the opposite tack—they've seen the reason, or at least the expediency, in following national pressure. In that sense alone, this might be a turning point for the fight against Confederate symbols.