Obama's Trade Agenda Rises Again
Another round of votes this week in both chambers may give the president a pre-recess win on a revived fast-track bill.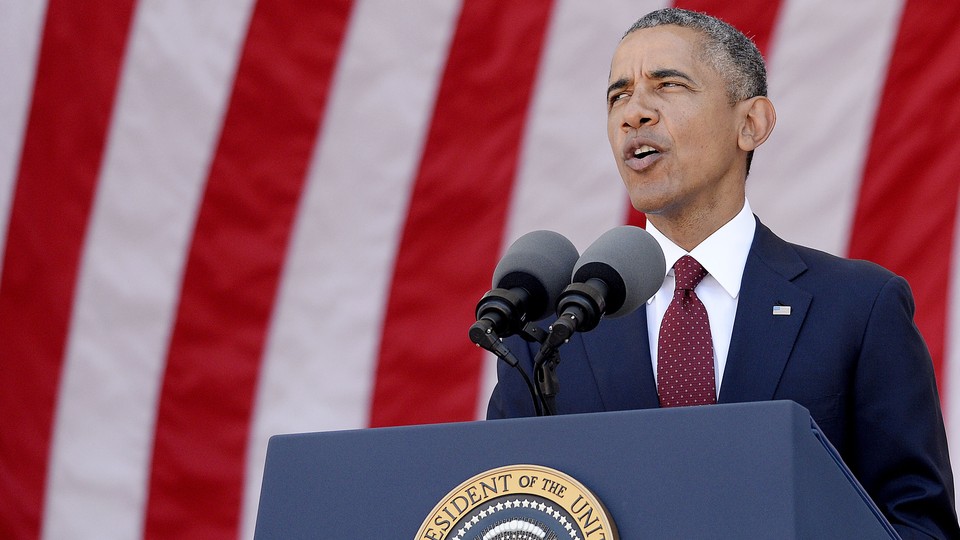 The fate of President Obama's top policy priority lies in the hands of about a dozen Senate Democrats—again.
This week, the Senate is expected to pass a "fast-track" bill that would pave the way for major free trade deals like the upcoming Trans-Pacific Partnership pact, which would strengthen the economic and strategic ties of 12 Pacific Rim countries composing around one-third of the world's trade. That deal would be the most significant since NAFTA and is only possible if a small crew of Senate Democrats join Republicans to pass the so-called trade promotion authority bill limiting congressional debate on trade deals for the next six years to an up-or-down vote. The administration says it needs that authority to assuage its allies that Congress won't tinker much with the their carefully negotiated pact.
To get there, the pro-trade, largely coastal-state Democrats want assurances. They want to make sure that related bills, including one helping workers displaced by such deals, will be taken up and passed afterwards. They'll have to hope—in a leap of faith—that Senate Majority Leader Mitch McConnell will not drop them. McConnell said last week that even though his fellow Republicans have major reservations about the trade adjustment assistance bill, "the votes will be there to pass it" in order to get TPA done. The goal is for Obama to sign both bills by the July 4 recess.
It's likely that the votes are there to get it done. Obama has kept up the pressure, inviting the cadre of pro-trade Senate Democrats to the White House last week while progressive leaders in the House consider dropping the hostage tactic of voting against TAA to sink the overall package. If House Democrats keep up their opposition to TAA, Senate Democrats would be more likely to balk.
But it'll be close. A month ago, the Senate's trade package got 62 votes, only two more than necessary, after Senate Democrats got assurances the TAA and TPA bills would be tied together, and some Senate Democrats appear to be backing off now that they they'll be voted upon separately.
"My position has been pretty clear from Day One," Sen. Ben Cardin of Maryland said. "I have consistently voted against all efforts to deny us the opportunity to keep the full package together. I think it should be one vote."
"I think if you did it that way, it's the most direct way to the voters to understand what we're doing rather than these convoluted procedures that lack accountability and have not been able to reduce the result," he added. "I'm not going to announce how I'm going to vote, but I do tell you that I have a very strong preference to have this all included as one package."
And not all Republicans are sure they'll stick with how they voted before. Sen. Richard Burr of North Carolina could switch his TPA vote to nay, while Republican Sen. Mike Lee of Utah could switch his to yea after his TAA concerns are lifted. Some dealmaking already is underway; Ohio Republican Sen. Rob Portman, who like Burr is up for reelection this cycle, got his controversial, auto manufacturer-backed amendment addressing currency manipulation into the TAA bill. That provision could help Portman address some Rust Belt issues. While supporters believe TPP will broadly benefit the U.S.—boosting economic output 0.4 percent annually by 2025 in the most widely cited Peterson Institute study—the manufacturing and auto industries are expected to take a hit.
But the vast majority of Republicans, controlling both chambers of Congress for the first time under Obama, are willing to set aside their differences to give him—and the next president—greater leverage to negotiate international trade deals.
"I know it's hard to do, but if we step back a few paces and recall what we were all asking for a few weeks ago, we should be able to take some satisfaction in this," McConnell said Thursday. "It means that, before July 4, the president will have signed TPA, TAA, and AGOA and Preferences, and that we will be well on our way toward enactment of a robust customs package. That would be quite an achievement.
"All it's going to take is some hard work and some faith in one another," he added.
The House, meanwhile, remains mostly in wait-and-see mode. TAA failed by a wide margin last week while packaged with TPA, but most expect the Democrats that defeated it to drop their opposition if TPA passes the Senate.
Some Democrats, including Rep. Steve Israel, have urged colleagues to support the aid package now that they can no longer do anything to block TPA. The labor unions and progressive groups who have applied pressure to stop fast-track have largely avoided weighing in on the now-separated TAA vote.
Still, some progressives and others have raised objections to the GOP plan of attaching TAA to a trade preferences bill. But they've stopped short of pledging to block its passage. As long as most of the 86 House Republicans who supported TAA last week stay on board, it's expected to pass the House with strong Democratic support.
CORRECTION: The original version of this article incorrectly stated that Rep. Sander Levin no longer planned to oppose Trade Adjustment Assistance as a means to halt passage of Trade Promotion Authority.
---
Alex Brown contributed to this article