Obama's Fast-Track Bill Inches Another Step Forward
Trade Promotion Authority clears the Senate's vital 60-vote threshold.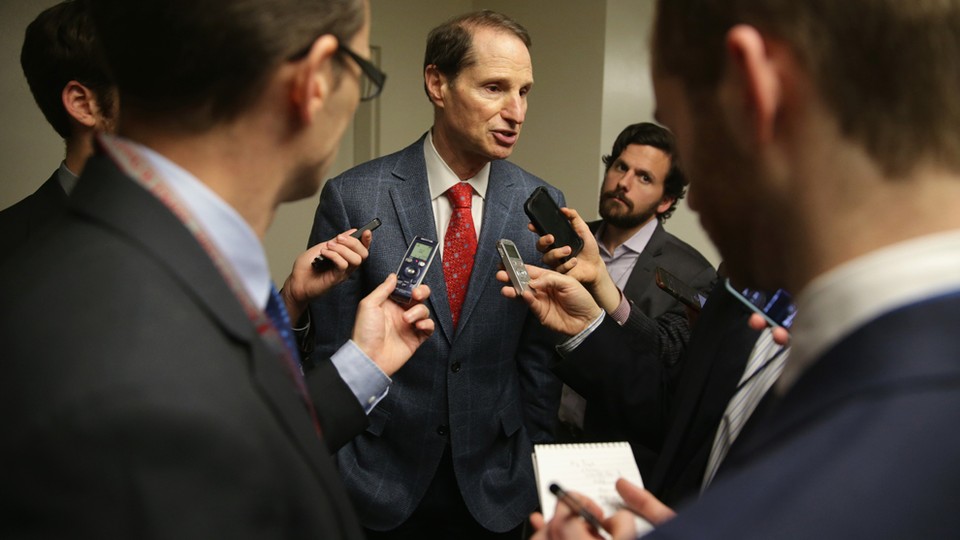 President Obama is one step closer to sealing the most important trade pact in decades after the Senate narrowly voted Tuesday to advance the so-called "fast-track" bill.
The move is a promising sign for the administration, which has suffered two defeats in the past few weeks at the hands of its Democratic colleagues in the House and Senate despite the most aggressive lobbying effort since the Obamacare debate. The administration has labeled Trade Promotion Authority one of its highest priorities.
With the absence of Sen. Bob Corker and Sen. Ted Cruz switching his vote, the bill cleared a procedural hurdle with the bare minimum 60 votes. As Nevada Sen. Dean Heller walked onto the floor to cast his vote, his colleague, Sen. John Barrasso, called him, "Mr. 60!"
The bill would set up a framework for Congress to reject or ratify, but not change, trade deals for the next six years. The current and previous administrations have argued that TPA is necessary to negotiate and seal deals, as potential partners are wary of congressional interference. The TPA bill is expected to pass Wednesday and a related measure providing support to workers displaced by such pacts, Trade Adjustment Assistance, is likely to get a vote Thursday.
"We have demonstrated we can work together on a bipartisan basis to achieve something that is extremely important for America," said Senate Majority Leader Mitch McConnell on the chamber floor before the vote. "Not only when we confirm this Trade Promotion Authority will we have the mechanism in place for the president to finalize an extraordinarily important deal with a number of different Asian countries, but it will indicate that America is back in the trade business. It will also send a message to our allies that we understand they're somewhat wary about Chinese commercial and potentially military domination and that we intend to still be deeply involved in the Pacific."
But the trade debate isn't over yet. Democrats in both chambers are suspicious of Republican leaders and whether they will deliver on their assurances to hold a vote on TAA. Sen. Tim Kaine, who voted for the measure Tuesday, said he would vote against the upcoming Trans-Pacific Partnership deal, the most significant trade deal since NAFTA, unless that assistance is passed.
"We still need vigorous enforcement in TAA," said Kaine. "For my sake, I got assurances I need that made me feel comfortable voting today. But I've got a backstop, which is if those assurances are not met, then I will vote against the treaty when it eventually hits the table. I'm not going to vote for TPP when there is no program to retrain workers who are affected by trade."
House Speaker John Boehner issued a statement Tuesday morning aimed at addressing those concerns.
"We remain committed to ensuring that both TPA and TAA are passed and enacted into law," Boehner said. "The House has passed TPA as a stand-alone measure. The House will consider TAA once it passes the Senate as part of a new trade-preferences bill. And we are ready to go to conference on the customs bill. Our goal is to get TPA and TAA to the president's desk this week and deliver this win for the American people."
The debate over free trade has split the Democratic Party for decades. Obama has had to pressure around two dozen House Democrats and around a dozen Senate Democrats for months to try and get this done. Still, many of their congressional leaders have opposed the deal on ideological grounds, arguing that the deal will exacerbate income inequality and hurt American jobs.
"My colleagues who support this legislation are acting in good faith based on what they believe is right," said Senate Democratic Leader Harry Reid in a statement. "I simply disagree with them. Every day in this chamber, we make a choice about whether we will serve large business interests or America's middle class. Today, I believe we made the wrong choice."
Asked by a reporter Tuesday what was next for the trade package, Reid said: "I am the wrong person to talk to. I hate the whole program. So, talk to somebody that likes it. I hate it."
This article has been updated.
---
Ben Geman contributed to this article