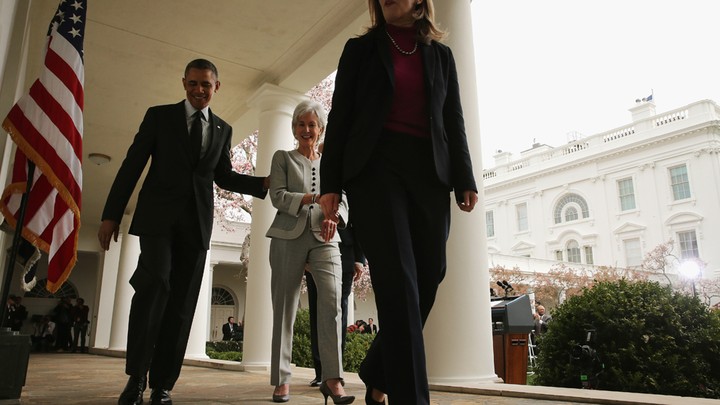 President Obama is not interested in any Republican legislation put forth as a solution to a Supreme Court decision expected at the end of the month that could strike a fatal blow to Obamacare, Health and Human Services Secretary Sylvia Mathews Burwell said Wednesday.
Burwell referred specifically to Sen. Ron Johnson's bill that would extend subsidies under Obamacare until August 2017 while repealing the law's individual and employer mandates.
"With regard to the Johnson piece of legislation, that piece of legislation, from our perspective, is repeal," Burwell said at a House Ways and Means Committee hearing Wednesday. "It actually takes away subsidies from all over time. "¦ That is a bill that, from our perspective, is repealing. We've spoken to the issue, something that repeals the Affordable Care Act" is not something the president will sign.
"The president has said he will not sign something that repeals the act," she said.
And then when asked about other proposals put forth thus far:
"At this point, we have not seen something that addresses the specific issue in question," Burwell said.
The case in question, King v. Burwell, is brought by conservatives opposed to ACA. It challenges the legality of subsidies offered on federally established exchanges, which are received by 6.4 million people.
Ways and Means Chairman Paul Ryan repeatedly pushed Burwell to say what the administration is thinking it needs to do should the Supreme Court strike down the subsidies. And like other top Republicans, Ryan made it clear his party isn't interested in quick fixes to the law.
"The answer isn't just to tweak it here and there and we'll be OK," Ryan said. "The answer is to repeal and replace this law with patient-centered reforms."
Burwell continued a theme Obama used Monday and Tuesday in presenting the case as a simple question about four lines in the law that the White House feels shouldn't have been taken up in the first place. And she said only Congress and states could fix any problems arising from the decision.
"If the Court says that we do not have the authority to give subsidies, the critical decisions will sit with the Congress and states and governors," she said.
We want to hear what you think about this article. Submit a letter to the editor or write to letters@theatlantic.com.
Caitlin Owens is a health care reporter at National Journal. Her work has previously appeared in the Los Angeles Times, The News & Observer and The Charlotte Observer. She is a graduate of the University of North Carolina at Chapel Hill.