Obama Hits the Hill to Try to Save Trade Agenda
Democrats remained divided ahead of Friday's crucial votes. Can the president persuade the last holdouts?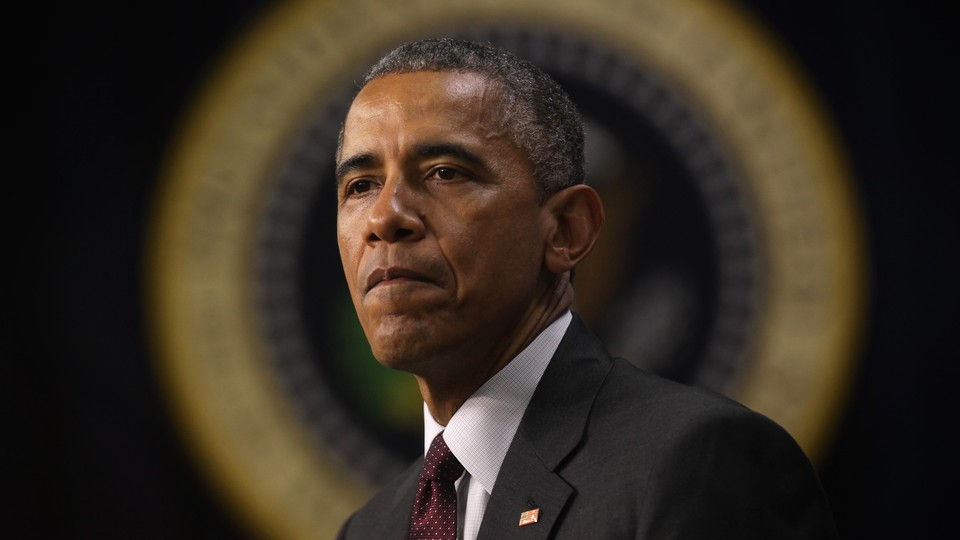 President Obama is heading to the Capitol for a last-ditch effort to save his trade agenda, as two patchwork coalitions are aggressively whipping votes ahead of a suspenseful Friday showdown that features intense intra- and interparty fighting.
Obama will arrive on the Hill at 9:30 a.m. to meet with lawmakers, according to a Democratic aide, illustrating the huge premium he has placed on getting Trade Promotion Authority passed though a divided chamber.
Eight Democrats sided with House Republicans on Thursday to squeak through a rule vote on trade, a rare move that Democratic Rep. Gerald Connolly said he felt compelled to do "to keep it alive."
Now, trade proponents on the Right and Left will have to find the votes for a pair of contentious measures, both of which have met resistance from progressives and conservatives even as the White House has teamed up with Republican leaders for an unusually intense lobbying campaign. First, the House will take up Trade Adjustment Assistance, a program to help workers hurt by the impact of trade. Without its passage, the larger Trade Promotion Authority bill coveted by the White House and House GOP leaders can't come up for a vote.
TAA was expected to pass with mostly Democratic support, but it has quickly become a flash point for progressives who argue it's paid for with a cut to Medicare—even though House leaders say they have a fix in place that will find the revenue elsewhere.
That's not good enough for some progressives.
"People who vote for TAA tomorrow will be hanging out there having voted to cut Medicare because the Africa bill isn't going to pass the Senate by tomorrow," Rep. Peter DeFazio said. "Then you're John Kerry, and you're explaining why you voted to cut it before you voted not to cut it. "¦ Then [Republicans] can legitimately, just like they did with Obamacare, run an ad against you saying you voted to cut Medicare."
If TAA does end up passing Friday, it will quickly be followed by TPA, which would set negotiating parameters on a pending Pacific trade deal but strip Congress's ability to amend or filibuster the deal. The centerpiece of the trade package, TPA, has the support of roughly 25 Democrats and close to 200 Republicans. Its backers think it can pass, but it won't get a chance unless TAA finds a way to get through first.
That uncertain support sets up a repeat of Thursday's drama, where several Democrats—including Connolly, Rep. Ron Kind, and Rep. Henry Cuellar—swooped in to save a rule vote that was tied at 206. A Democratic aide said GOP Whip Steve Scalise approached Kind before the vote, knowing Republicans were unlikely to push it through on their own. The pro-trade Democrats, he said, were willing to lend their support in order to save their agenda for another day.
By one count, more than 70 Democrats are set to vote against TAA, according to an aide to a progressive member. That's how many signed on to a letter opposing the Medicare cuts. "We think this thing goes down," said the aide, granted anonymity to talk strategy.
Obama has been relentless in trying to persuade members of his own party to back the trade measure. On Thursday night, he went to Nationals Stadium to attend the Congressional Baseball Game and chat with lawmakers. One sign in the crowd read "Let's Make a Trade," according to the White House pool report, and some fans chanted "TPA!"
With fractures in the Democratic caucus on TAA, Republicans likely will have to provide more votes than they anticipated. Leaders were urging members Thursday to back the measure, calling it integral to the trade package supported by most of the GOP.
Still, many see the program as a bailout. "TAA is paying people not to work, that's the shorthand version of that, and we just don't need to get involved in that," Republican Rep. Steve King said. "Who decides who's been displaced, and who gets a check for being displaced. That's hokey, government-run economics. That's just simply leverage being run by the Democrats."
And Republican Rep. Robert Aderholt said he's concerned where the money would be coming from to fund the program.
Democrats see the leverage argument differently on TAA. "It's only because of our affection for that particular program that they're using it to get us to the only thing they care about, which is Trade Promotion Authority," said Rep. Keith Ellison, a cochair of the Congressional Progressive Caucus. "You don't get three Cabinet secretaries in here to convince Democrats to vote for something that they always vote for unless you have an ulterior motive."
With sudden opposition on both sides, TAA's position is tenuous—and more of a question mark than the TPA bill that has been whipped for weeks. Still, House Rules Committee Chairman Pete Sessions said he remained confident it would pass, explaining that many of the 34 Republicans who voted against the rule did so for procedural reasons. "The process unfortunately became a big problem and now people can vote as they choose," he said. "And I think [TAA] will pass the process."
The fight over TAA has ignited the open warfare that House Democrats had largely avoided on trade. And while both pro- and anti-trade members credited Minority Leader Nancy Pelosi's approach to the issue, progressives ultimately rejected the deal she and Speaker John Boehner worked out on TAA.
At an internal meeting Thursday, Democrats sparred with a trio of Cabinet officials sent to make the case for TAA. White House Chief of Staff Denis McDonough, Treasury Secretary Jack Lew, and Labor Secretary Thomas Perez addressed the caucus, with Lew calling the vote "a life-or-death moment for TAA."
DeFazio said that message wasn't well-received. "There was very outspoken concern about what they're trying to jam down our throats," he said. "If there's only 50 Republicans [for TAA], they're a long way from passing it right now."
Kind, the New Democrat Coalition chair and a leading trade backer, said it was "hand-to-hand" inside the meeting, while Rep. Steve Israel called it a "wrestling match."
AFL-CIO President Richard Trumka also met with the Democrats to counter the administration's message on trade, and he too faced backlash. Rep. Cedric Richmond, according to an aide present in the meeting, called him out for targeting fellow Democrats who support trade.
Organizations such as the AFL-CIO and MoveOn have mounted a furious lobbying campaign to stop the trade deal, and recent salvos have accused Democratic backers of supporting Medicare cuts. While the progressives say their opposition to TAA is based solely on the merits, others see them as willing to kill an important program just to block TPA. Connolly said some—even those who oppose TPA—have described that tactic as "odious," and Israel called it a "foolish strategy."
Conservatives have mounted plenty of their own opposition against TPA—and an amendment, according to Rep. Mick Mulvaney, could have added 20 to 25 conservative supporters to the bill but was ruled out of order and, thus, never put to a vote on the floor.
"I'm very confident that would have been a margin of victory," the South Carolina Republican said. "The frustrating thing to me is instead of making what is simply a procedural acquiescence to Republicans, they went off and gave the Democrats money."
Whether Friday will mark a landmark victory for Obama or a defeat at the hands of his own party remains to be seen. "Anybody who tells they know where we're going to land is the last person you should be listening to," Israel said. "The one thing that's clear is this is going to be a very close vote."
---
Rachel Roubein and Lauren Fox contributed to this article