Obama Gives Moving, Emotional Eulogy for Beau Biden
The president spoke at the funeral of Joe Biden's eldest son.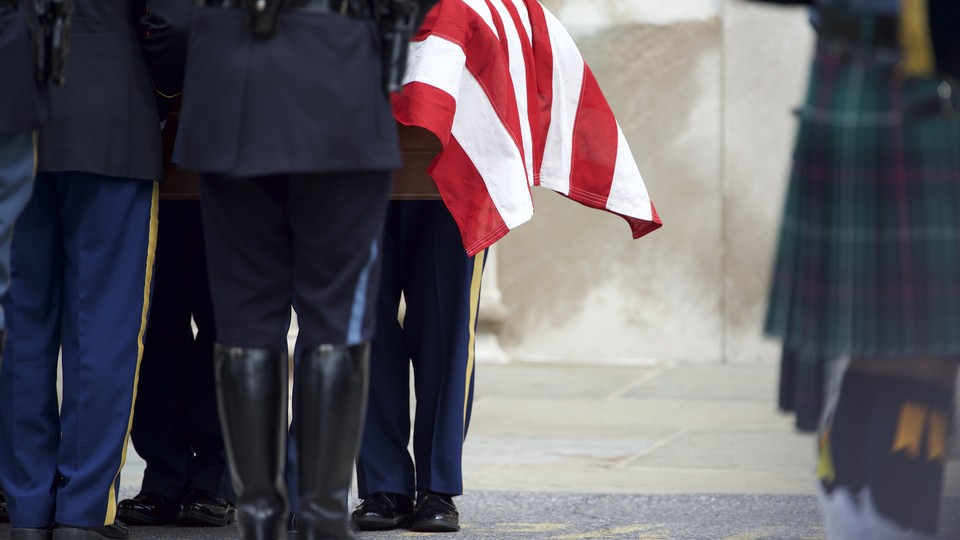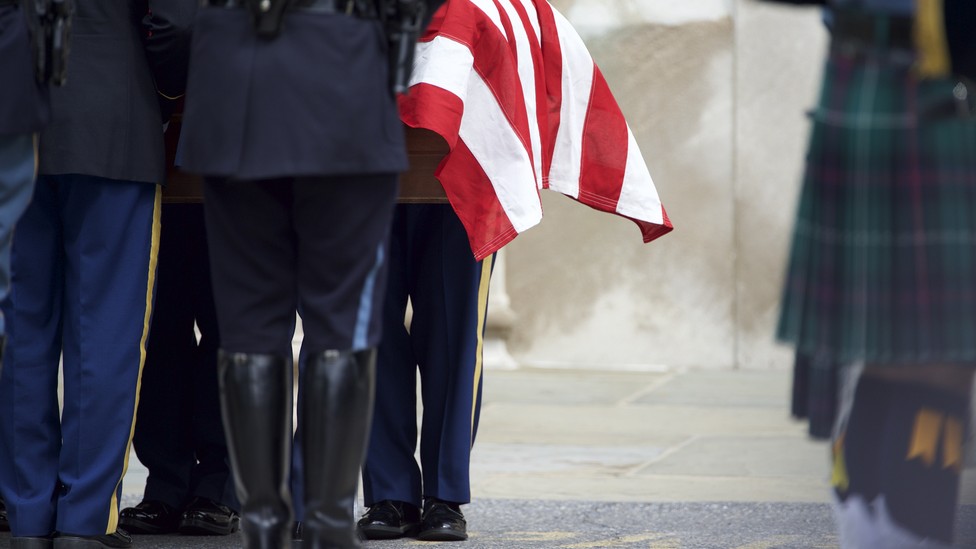 President Obama's voice cracked, and he reached for a handkerchief.
"He made you want to be a better person," he said of Beau Biden, the eldest son of the vice president. "Isn't that finally the measure of a man? The way he lives, the way he treats others, no matter what life may throw at him."
Obama delivered a deeply moving eulogy Saturday at the funeral of Vice President Joe Biden's son, Beau, who died May 30 at 46 from brain cancer. It was a speech he wrote himself, aides say, and his heartfelt admiration for Beau and the Biden family showed as he choked up throughout, calling Beau an "original" who "loved deeply and was loved in return."
While it's easy to make a name for yourself "if you're loud enough, or controversial enough," Obama said, Beau "brushed away the possibility of privilege for the harder, better reward of earning his own way."
"To get that name to mean something, to have it associated with dignity and integrity, that is rare. There is no shortcut to get it," he said. "But if you do right by your children, maybe you can pass it on."
Obama called the vice president the night Beau died, and was asked to give voice to the Bidens' grief at Saturday's mass of Christian burial at St. Anthony of Padua Church in Wilmington, Delaware. The honor reflects the deep bond the two men have forged over seven years in the White House, one of political partnership, but also family bonding and shared grief.
"People think of them as the president and vice president of the United States, but they're human, and they're in unique positions where there are very few people who can appreciate the nature of their responsibilities," senior White House adviser Valerie Jarrett told Bloomberg Politics. Their close friendship, she said, "has strengthened and grown over time. They certainly have shared their life experiences with one another, both painful loss and extraordinary happiness, just as all good friends do."
Biden's first wife and daughter were killed in a car accident just weeks after he was elected to the Senate in 1972. Obama's mother died of ovarian cancer in 1995. Right before the 2008 election, Obama's grandmother, who helped raise him, died, and two years later, Biden's mother died at age 92. Obama attended her funeral and consoled him in the months that followed.
"Rather than use his childhood trauma as justification for a life of self-pity or self-centeredness," Obama said of the tragedy that left Beau's mother and sister dead and him and his brother hospitalized, "that very young boy made a very grown-up decision. He would live a life of meaning. He would live a life for others. He would ask God for broader shoulders."
Beau, the former attorney general of Delaware, Iraq War veteran, and rising political star, was diagnosed with brain cancer in 2013. After doctors removed a small lesion from his brain, the cancer went in remission. But it returned this spring, and last month, Beau was taken to Walter Reed National Military Medical Center in Bethesda, Maryland, where he died.
Obama described Beau's public service with reverence, recalling that he always kept a notebook in his back pocket "so he could write down the problems of everyone he met" and "go back to the office and get them fixed."
"He did in 46 years what most of couldn't do in 146," he said. "He left nothing in the tank."
The funeral comes after a week of intense public mourning for the Bidens. The family—Joe, his wife Jill, Beau's widow Hallie, and others—received mourners for hours at a public wake Friday at St. Anthony's.
More than a thousand guests attended, including Hillary and Bill Clinton, Delaware Gov. Jack Markell, Majority Leader Mitch McConnell, Minority Leader Harry Reid, and a slew of other politicians and administration officials.
Obama learned early on that the Biden family "rule," he said, is that they would be there for each other before they even asked for help. Telling the vice president, "Joe, you are my brother," Obama said he, Michelle, and his daughters have "become part of the Biden clan."
And, speaking directly to Beau's survivors, Obama gave "his word as a Biden."
"The Biden family rule applies: We're always here for you. We always will be."