Obama, Emboldened, Addresses Race as Never Before
In a eulogy for one of the Charleston shooting victims, the president spoke in unapologetically progressive tones on race, racism, gun violence, and inequality.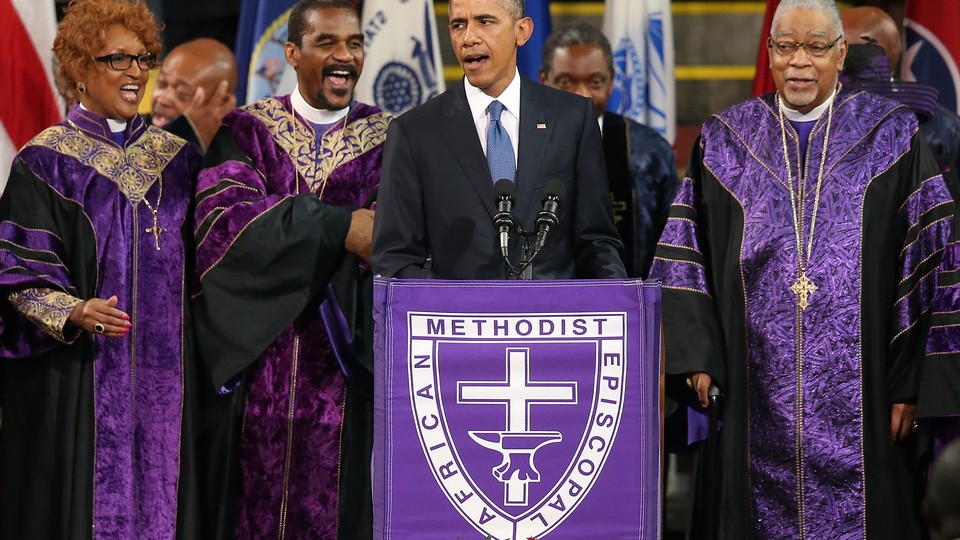 President Obama came to Charleston on Friday to deliver a eulogy for Clementa Pinckney. But he left having done much more.
Without caution or apology, Obama spoke about racism—its history and present. He spoke about gun violence, about inequality. And on each, Obama had few words of comfort. Rather, he had calls for change.
His words weren't intended to comfort the political middle; they were a bid to move it. In his address, Obama aimed to spark a meaningful conversation, rather than fall into what he said would be a "comfortable silence" that would be a "betrayal" of the lives lost last week when a white supremacist shooter opened fire at a Bible study session at the Emanuel African Methodist Episcopal Church and killed Pinckney—a state senator and the church's pastor.
Obama used cadences reminiscent of his 2008 campaign speeches, rhetorical patterns common in historically African-American churches but a far cry from the professorial pauses he uses for his State of the Union addresses or Washington-centric policy speeches.
And then, in a nod to the African-American audience who sat in front of him and the Christian faith of those who'd lost their lives, he sang.
"Amazing grace, how sweet the sound, that saved a wretch like me," he sang, leading more than 5,000 funeral attendees in the hymn. "I once was lost, but now I'm found, was blind but now I see."
It was an Obama seldom, if ever, seen since he took office in 2009. Instead, it was perhaps a window into the next, final phase of Obama's presidency, a chapter that could promise less of a focus on optics and more on the boldness and honesty that marked the earlier stages of his political career.
Regardless of what's to come, Friday's address went beyond Obama's previous actions in one major way: He spoke about race and racism with a directness he held back from before.
"Maybe we now realize the way racial bias can infect us even when we don't realize it," he said. Beyond explicit prejudice, Obama called for a recognition of "the subtle racism" that leads those making hiring decisions to "call back Johnny, and not Jamal, for a job interview."
"By recognizing our common humanity, by treating every child as important regardless of the color of their skin or the station into which they were born, and to do what is necessary to make opportunity real for every American," he said. "By doing that, we express God's grace."
"Every time something like this happens, somebody says we have to have a conversation about race," Obama continued. "We talk a lot about race. There's no shortcut. We don't need more talk."
Spoken at a funeral, his words could have been criticized as exploiting tragedy for political gain, but Obama was unapologetic about linking a social change, faith, and Pinckney's life and death. The grand tradition of the AME church, he noted in his speech, is to embrace the interwoven relationship of church and political life—and he did that in full.
Though Obama was reluctant to talk about race during most of his time in office, lately he's been more candid in addressing it. In an interview this week, he opened up about the "long shadow" that Jim Crow and the legacy of slavery has cast on American life.
"That's still part of our DNA that's passed on. We're not cured of it," he said. "And it's not just a matter of it not being polite to say n----- in public. That's not the measure of whether racism still exists or not. It's not just a matter of overt discrimination. Societies don't overnight completely erase everything that happened 200 to 300 years prior."
He also reopened a conversation about guns and gun violence, revisiting a topic just days after he conceded that there was little chance of new laws being passed.
"For too long, we've been blind to the unique mayhem that gun violence inflicts upon this nation. Sporadically, our eyes are open. When eight of our brothers and sisters are gunned down in a church basement, 12 in a movie theater, 26 in elementary school," Obama said. "But I hope we also see that 30 precious lives cut short by gun violence in this country every single day ... the vast majority of Americans, the majority of gun owners want to do something about this. We see that now."
With gun policy frozen, much of the public discourse following the shooting, and the root of Obama's remarks in the eulogy on race, has centered around the Confederate flag. That began when photos surfaced of alleged gunman Dylann Roof, 21, posing with Confederate paraphernalia, reigniting a debate over the flag's ugly history. The backlash against the flag, a relic of slavery and racism from the Civil War, was swift: South Carolina Gov. Nikki Haley called Monday for the flag's removal from its perch across from the statehouse in Columbia, and retailers such as Amazon and Wal-Mart announced they would no longer sell merchandise bearing its image.
Obama praised Haley's words and actions, and he was direct in linking the flag to racism, subjugation and slavery. "We all have to acknowledge the flag has always represented more than just ancestral pride," he said as the crowd rose in applause. "For many, black and white, that flag was a reminder of systemic oppression and racial subjugation."
Michelle Obama and Vice President Joe Biden also attended, along with Hillary Clinton (who canceled a fundraiser in Philadelphia to make time for it), House Speaker John Boehner, and other lawmakers. In total, more than 5,000 people packed into the College of Charleston's TD Arena for the funeral. Thousands more gathered Friday outside of the arena in the blistering heat, hoping to make it inside for the services. Many were denied entry.
Toward the end of his eulogy, Obama moved to honor not only Pinckney, but all of the AME worshippers killed last week, his voice rising with each in succession.
"Clementa Pinckney found that grace. Cynthia Hurd found that grace. Susie Jackson found that grace. Ethel Lance found that grace. Depayne Middleton Doctor found that grace. Tywanza Sanders found that grace. Daniel Simmons found that grace. Sharonda [Coleman-] Singleton found that grace. Myra Thompson found that grace."
"They have now passed it on to us," he said. "May we find ourselves worthy of that precious and extraordinary gift as longs as our lives endure."