Are Democrats Prepared to Abandon Obama on Trade?
Lawmakers facing a looming House vote are torn between a president they want to support and an issue on which they've felt burned before.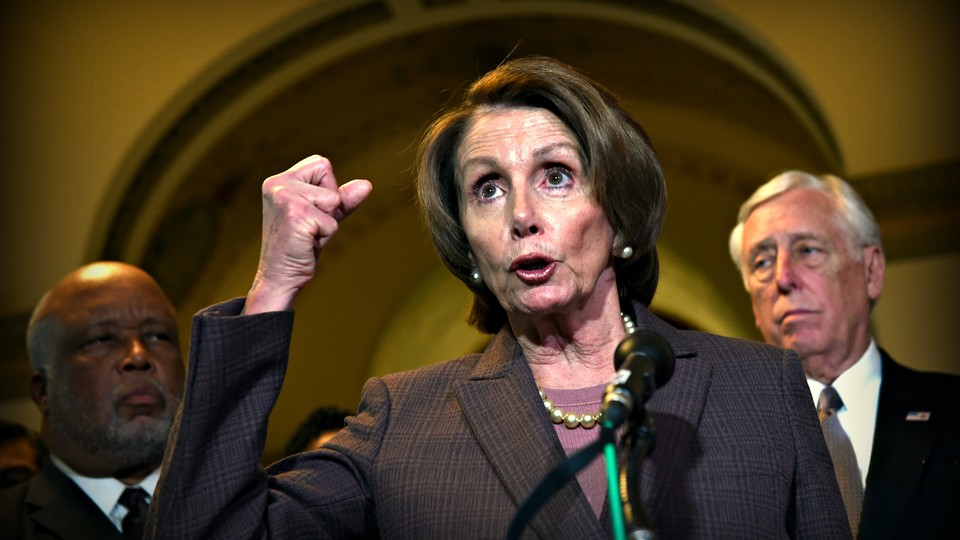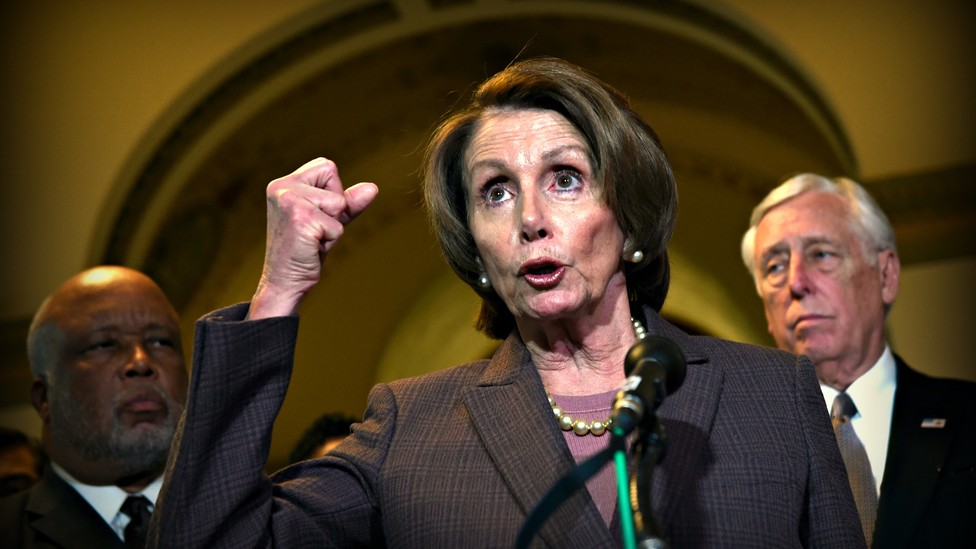 Sometime in the next two weeks, the House will hold one of the biggest votes of Barack Obama's final two years in office, on whether to give the president the authority to negotiate trade deals that Congress won't be able to amend. And unlike just about every other key vote during his administration, Obama will need only about 20 to 25 Democrats to support him—barely one-tenth of his own party.
This really shouldn't be that difficult. Led by Nancy Pelosi, this Democratic caucus has stood loyally by Obama for his entire roller-coaster presidency—delivering him not only landmark stimulus, healthcare, and financial-reform legislation during his first term but also a series of hold-your-nose-and-vote-yes budget deals with Republicans in his second.
Yet despite months of public pressure and an aggressive private push from a man famously averse to schmoozing and arm-twisting, Democrats remain overwhelmingly opposed to a bill that Obama sees as crucial to extending his economic legacy. Some of the senior critics include lawmakers like Representatives Chris Van Hollen and Rosa DeLauro who regularly credit Obama with rescuing the nation from the Great Recession and transforming its healthcare system. And in another first for the Obama presidency, the White House has been left to whip votes without the public support of a single Democratic leader in Congress. "This thing is too close to call," said Representative G.K. Butterfield, a North Carolina Democrat and the chairman of the Congressional Black Caucus. "I predict it will either pass or fail by a handful of votes."
Passage of Trade Promotion Authority would clear the way for the administration to finalize major trade agreements first with Pacific Rim nations (the Trans-Pacific Partnership) and then with the European Union. The bill passed after a contentious debate in the Senate, but the tougher battle has always been forecast for the House, where the Republican waves of 2010 and 2014 have ousted centrist Democrats and left a caucus that is both much smaller and more liberal. Republicans are predisposed to support trade deals, but the GOP leadership has consistently said it would need Democratic votes, because a few dozen of their 245 members won't support anything that gives Obama more power.
Senior congressional aides in both parties say there are around 200 Republican votes for the bill, but just 17 or 18 Democrats—out of 188 total—in favor of it. That puts the count dangerously near the threshold of 217 or 218 (depending on how many absences there are) that the measure needs to pass. In recent weeks, the parties have bickered over which one bears the blame for TPA's precarious status. The Obama administration has put on a full-court press over the last few months, with the president making calls and inviting groups of Democrats into the Oval Office for personal meetings. Overall, the administration said it has held more than 1,700 briefings for lawmakers with officials from the president on down—that works out to more than three for every member of the House and Senate, although some trade proponents complain that Obama's loudest critics on the left have refused to attend them.
Republicans, and some Democrats, have long complained about the president's poor relationship with Congress and what they see as his disregard for even the most token forms of outreach. (A round of golf, perhaps?) Yet even Obama's critics acknowledge he has made a strong effort on trade. The problem, they say, is that the pleas from a lame-duck president don't appear to have made much difference. "There's no evidence that their engagement has moved a single vote from no to yes," one top Republican aide told me, speaking on condition of anonymity, so as to be able to discuss the sensitive negotiations candidly.
Butterfield exemplifies Obama's challenge, as do many members of the Congressional Black Caucus who often passionately defend the president but tend to find themselves the targets of his lobbying on the toughest votes. "My default position is no," Butterfield said in an interview, repeating an explanation he says he delivered to Obama at the White House earlier this spring. But he has not completely closed the door to changing his mind, saying that while he is "leaning no," he wants to see evidence from Obama and other proponents that the trade deals under consideration will create jobs in his district—and not merely grow the economy overall.
Broadly speaking, Democrats were traumatized by the experience of NAFTA, the Clinton-era agreement that they say never delivered on its promises, and which they blame for the outsourcing of jobs. (The position can sometimes be hard to square with the laudatory statements many of the same Democrats make about Bill Clinton's economic record during the '90s.) "NAFTA was a disaster—in my district anyway," Butterfield said. "In some places in the country it may have been a bonanza, but in my district it was a disaster."
Obama and his allies have made several substantive arguments for why Democrats skeptical of trade deals should still give him the authority to negotiate them. First, they point to enforceable labor and environmental standards that making the Trans-Pacific Partnership "the most progressive" trade agreement in history. And they argue that it's not a question of whether to trade with Pacific nations, but whether the U.S. can determine the rules, or whether a competitor like China will continue to undercut U.S. companies. "China will fill the vacuum if we're not there," said Representative Ron Kind of Wisconsin, chairman of the business-friendly New Democrat Coalition. Those arguments have resonated with lawmakers, but Obama has had to fend off criticism from Elizabeth Warren and others that the public cannot see the details of the pending agreements and that members of Congress can only review them in a "secret room" in the Capitol. The administration counters that the deal is still being negotiated and that the final agreement will be public for 60 days before Congress votes to approve or reject it. As Kind acknowledged: "It's tough to sell something that doesn't exist yet."
The most potent argument for fence-sitting Democrats—both stated and implied—goes back to trust, loyalty, and politics. Obama has suffered all kinds of snubs and defeats at the hands of Republicans, but never one of this magnitude from his own party. "Do you really want to be the instrument of this kind of devastating loss for this president?" asked Representative Gerry Connolly, a Virginia Democrat and TPA supporter. An even more discouraging thought for Democrats is that with Republicans running both chambers of Congress, this might be the last significant legislation that Obama can get during his presidency. "A lot of my colleagues don't want to contemplate that proposition," Connelly said.
Butterfield said Obama hasn't made this kind of hard sell, but he has framed Trade Promotion Authority as a question of trust. "Give me some degree of confidence that I'm going to do the right thing," he said the president told him. "That's a pretty compelling argument, because I do trust the president, and I believe he has the best interest of middle-class Americans at heart." And yet, Butterfield still isn't sold. "I'm looking to the proponents to prove to me that real jobs are going to be created, and they haven't met that burden," he told me.
Campaigning against TPA are labor leaders, who have reportedly threatened to back primary campaigns against Democrats who support the trade deal. But it's unclear whether rank-and-file Democrats share the concerns of their representatives or of labor and progressive leaders. A Pew Research Study released last week found 58 percent of Democrats—including 59 percent who identify as liberals—believe that trade agreements have been "a good thing for the U.S." That's a slightly higher percentage even than for Republicans, whose representatives overwhelmingly back Obama on this issue.
The battle between the Obama and liberal activists has left Democratic congressional leaders caught in the middle. In the Senate, Minority Leader Harry Reid made clear his opposition to TPA, but he let it pass anyway. The top three Democrats in the House—Pelosi, Steny Hoyer, and James Clyburn—have all remained neutral thus far, adding another layer of mystery to the vote. (The same goes for Hillary Clinton, who plans to dodge the question until the final trade deal comes out.) Supporters have noted that Pelosi has worked with the administration to set up briefings for lawmakers, and Hoyer has backed trade deals before. "Not one of those three leaders wants to see this president fail," Connolly said.
On the Republican side, Paul Ryan—the party's most trusted policymaker—has been leading the effort to shore up support, and with several Obama allies still among the persuadable, officials have been sounding more optimistic in recent days. "There's growing confidence we can get this done," the senior Republican aide said. Kind added: "I do expect it to pass. This is very big, and we've never lost a trade vote before."
If it does pass, it may come down to Democrats like Butterfield, torn between a president they want to succeed and an issue on which they've felt burned before. Butterfield predicted the vote would be close—one of those held open for a long time, as members lobby their undecided colleagues on the floor and others duck into the cloak room to take last-minute calls from the White House. And what would he do if Obama was on the line at that moment, asking for his trust one more time? "I would go into deep prayer," Butterfield replied.