Obama Climate Rules To Face String Of Attacks On House Floor
House tees up vote after vote on EPA regulations.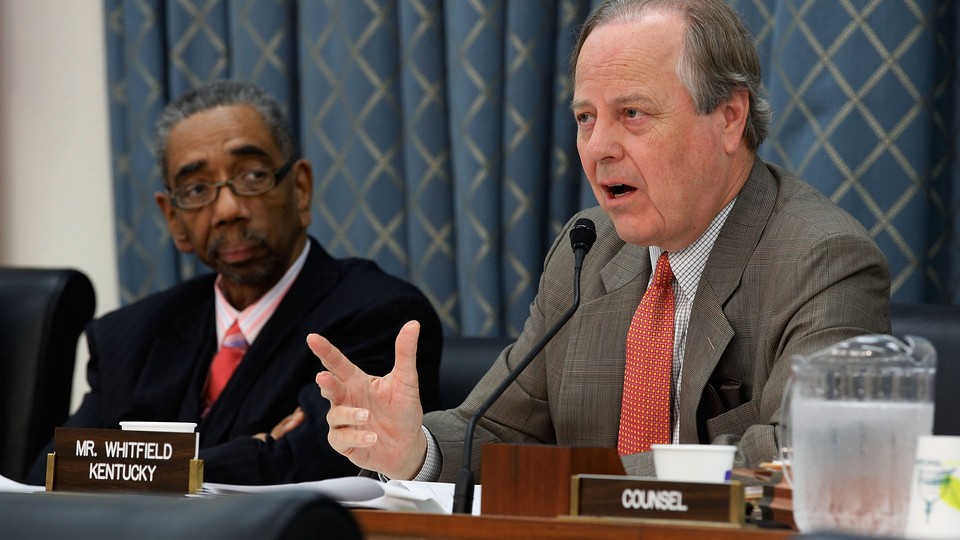 Last week, the White House and its allies celebrated Pope Francis's call for action on climate change, in part by touting the Obama administration's ongoing effort to regulate greenhouse gas emissions.
This week, House Republicans will send their own message: No dice.
And in case anyone misses their intentions, they'll vote twice. The House has teed up two votes on bills that would scale back the centerpiece of Obama's climate plan—fittingly, two years to the week after Obama gave a speech on climate change that cemented the issue.
First up is a bipartisan bill that would give states the choice to opt out of the Environmental Protection Agency's carbon emission rules for existing power plants. The "Ratepayer Protection Act" from GOP Rep. Ed Whitfield of Kentucky also would put a hold on implementation of the standards until all legal battles are settled, a process sure to stretch on for years.
Later in the week, the House will take a second swipe at the power plant rule by voting a fiscal 2016 spending bill that would bar the EPA from enforcing the rules, cut the agency's budget, and attack several other prominent EPA regulations on air and water pollution.
The power-plant rules—set to be finalized this summer along with rules for new power plants—form the backbone of Obama's second-term climate agenda. The proposed rule requires a 30 percent carbon pollution reduction from power plants from 2005 levels by 2030, with states crafting individual compliance plans.
Republicans say the rule is an overstep that will effectively cripple the coal industry and lead to widespread unemployment in fossil fuel states. They've vowed to stop the rule at all costs—whether through legislation, the courts, or both—and have made attacks on the rule a staple in hearings and speeches.
The opt-out approach written in the Whitfield bill—which passed the Energy and Commerce Committee in a 28-23 vote in April—has emerged as a major strategy for Republicans. The EPA has said it will impose a federal plan on any state that refuses to submit a compliance plan.
Senate Majority Leader Mitch McConnell has put his weight behind the opt-out plan, sending a letter to all 50 governors urging them to opt out. Similar language is included in the Senate's Interior and EPA appropriations bill as well.
A Senate Environment and Public Works subcommittee also will hold a hearing on another version of the opt-out bill from GOP Sen. Shelley Moore Capito of West Virginia on Tuesday.
The House Science Committee will also hold another hearing on the climate rule, hearing from the U.S. Energy Information Administration about the agency's recent report that found coal plan retirements could more than double under the EPA climate rule.
The House spending bill also takes broad swipes at the EPA's climate agenda beyond a rider blocking funds being spent on the power-plant rule. The $30.17 billion bill would cut the EPA's budget by 9 percent compared to fiscal 2015 and is well below President Obama's request. The bill also looks to cut from the agency's regulatory programs and keeps staffing levels at their lowest level since 1989 to "focus [EPA's] activities on core duties, rather than unnecessary regulatory expansion," according to the committee.
The bill also is chock full of riders to block the EPA's rule defining its Clean Water Act regulatory authority, an Endangered Species Act listing for the sage grouse, and a proposal to lower the ozone standard.
Democrats have said the overall funding levels are too low and that the riders are getting in the way of important environmental work, but were unsuccessful in removing them in a committee vote. A spokesman for the House Natural Resources Committee minority said that committee's members plan to offer a flood of amendments large and small on the bill.
"This bill drastically underfunds a lot of necessary programs and has too many unrelated bad policy riders at the same time," said Adam Sarvana, spokesman for Natural Resources ranking member Raul Grijalva, an Arizona Democrat. "We have a lot of members who want to address its shortcomings. Our level of effort will match the need to improve the bill."
Whether Democrats are successful or not, the spending bill's future is clear; in a five-page letter to appropriators, the White House outlined a litany of "serious concerns" with the bill and is all but sure to issue a veto threat. Office of Management and Budget Director Shaun Donovan said the bill would prevent the government from addressing climate change's economic and health impacts.
"These riders stand in the way of meeting these responsibilities—hamstringing permitting and future regulatory work, and creating significant ambiguity regarding existing regulations and guidance," Donovan wrote.