Mitch and Rand's Relationship Status: It's Complicated
Each man has accused the other of hurting the country. Is it just a "family squabble?"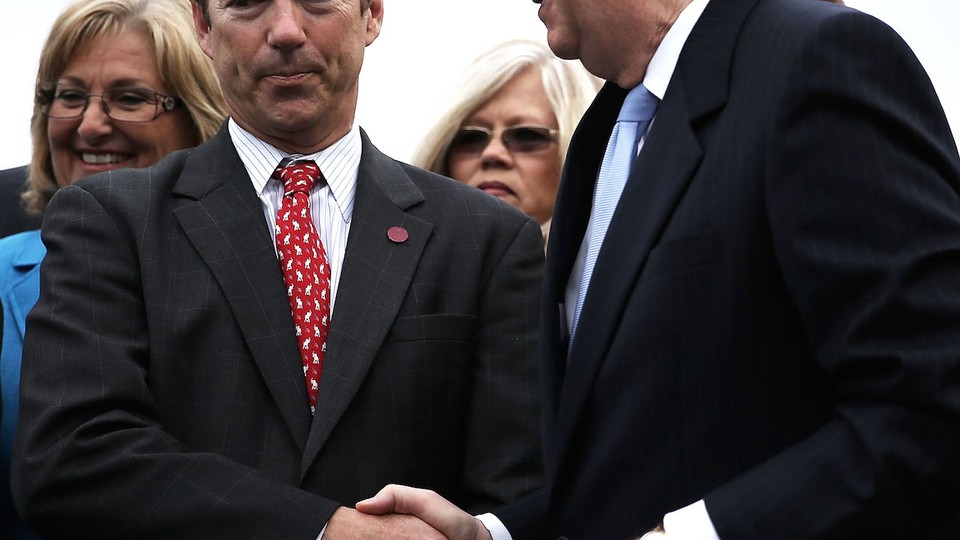 Mitch McConnell says Rand Paul is the best man in America to be commander in chief. Yet he also says Rand Paul's signature national security policy puts America in danger.
Tension between those two facts—and between these two powerful Kentucky Republicans—came to a head this weekend, as key espionage provisions of the Patriot Act expired amid strident efforts by Paul to blockade the wishes of his own party and patron.
By Monday, both sides were seeking to play down the dispute—with McConnell reiterating his presidential endorsement and Paul dubbing it just a "difference of opinion." But whether the split is merely a "family squabble," as Paul ally Jesse Benton put it, or a more significant break in their long and complicated relationship won't be clear until the next time their bond is tested by a divide on the Senate floor or the 2016 campaign trail.
During the fight, McConnell warned that those—like Paul—who oppose extending the Patriot Act are putting the U.S. in danger of future terrorist attacks; he accused opponents of "disarming [the country] unilaterally as our enemies grow more sophisticated and aggressive."
Paul, meanwhile, criticized "a flaw in government" for the delay in taking up legislation (a decision made by McConnell, and even questioned by Speaker John Boehner and his staff). "People wonder why Congress is so unpopular? It's 'cause we go from deadline to deadline and then it's, 'Hurry up, we have no time to debate; you just pass it as is,' " Paul said.
As tensions grew in a late Sunday night session, Paul blasted supporters of extending the bill for using "fear and intimidation tactics" to dismiss his point of view. The junior senator from Kentucky went as far as to say that "people here in town "¦ secretly want there to be an attack on the United States so they can blame it on me."
Adding to the strain, Paul and his team did not give the leadership much warning about his strategy, as he typically does given his close relationship with McConnell. Although Paul had indicated for weeks that he would oppose a continuation of the Patriot Act, it had not been clear that he would reject even a brief extension of a few days.
That led, in part, to the awkward scene a week ago of McConnell being rebuffed by the GOP-controlled Senate as he sought to extend the spying powers by as few as two days.
As the dust settled on Monday, both Kentuckians said their relationship had not suffered any significant damage.
McConnell said Monday that he still supports Paul for president, despite the fact that his policies, in the leader's terms, would put the United States in danger. McConnell's office would not clarify the disconnect between those positions, except to say that Paul still has his support for president.
And Paul, for his part, said that despite his disappointment in not getting any amendments on the USA Freedom Act, he and McConnell still have "a good relationship."
"I just had a very cordial conversation with [McConnell]," Paul said. "We're friends and colleagues, and we work well together. We have a difference of opinion on this. "¦ I've always found him to be very professional and not to hold a grudge and not to hold things personally."
Paul also stepped back from his comments suggesting that some would be pleased with a terror attack, saying that they were made "in the heat of the moment" and noting that he hadn't specified whether he was referring to any senators.
Paul spoke to reporters after a much more subdued back-and-forth with the Senate majority leader on Monday. McConnell asked for unanimous (meaning Paul's) consent to move forward and pass the bill Monday evening given that, as he put it, "There's no point in letting another day lapse when the endgame is clear to absolutely everyone. We know how this is going to end."
But Paul objected, pushing the vote back an additional 24 hours. That means another day in which the federal government will not be able to use its congressionally granted surveillance powers—powers that McConnell and other Republicans insist are necessary to keeping the country safe.
"It doesn't change a thing," said Benton, who is running the super PAC backing Paul's presidential bid and served as campaign manager for McConnell's 2014 reelection through the primary. "I would almost equate this is to a family squabble: You can get maddest at a family member and then get just right over it."
Things haven't always been so familial for McConnell and Paul. McConnell forcefully backed Paul's opponent in the Kentucky Senate primary in 2010, only to endorse Paul once he won the nomination. But that all changed when McConnell himself faced reelection last year and the two formed a politically beneficial bond. Paul endorsed McConnell early on in the race, helping to make an already long-shot primary opponent look unviable, and McConnell in turn backed Paul for the presidency.
Paul's communications director for the presidential campaign, Sergio Gor, noted that the arguments of the last week represent a policy disagreement, not a personal one, that "won't get in the middle of their friendship and mutual respect for each other."
"They both respect each other, they're legitimate friends, they have a legitimate partnership to help each other," Benton said. "Long-term going forward, this is just a minor bump in the road."
That bump in the road is much more significant between Paul and other members of the Republican conference, some of whom have spent the last week taking him to task, accusing the Kentuckian of fighting simply to raise money for his presidential campaign. "I think nobody questions my sincerity," Paul told reporters Monday, noting that he'd fought a similar battle in 2011.
The tension between Paul and his colleagues has muddled his message to some degree. Paul said Monday that he felt there was "still some misunderstanding about what I want." Members say he could have cleared that up at a conference luncheon on Sunday, but Paul said that the "tension on the floor" was such that he'd decided against it. "I didn't think it was going to be that collegial," he said.
Benton said Paul was comfortable with being unpopular in the halls of Senate. "Rand may be a minority amongst elected officials in the Congress, but if you looked at young people who are looking for a party official to call home "¦ this is a huge issue for them and they love this."
As for blocking McConnell's repeated requests to move forward, particularly now that the outcome is clear, Benton said: "They understand what this is. They understand this is not personal."