McCain Now the GOP Hawks' Mentor, if Not Their Leader
The former GOP presidential nominee has yielded some of the national-security spotlight to his fellow senators, but they still look to him for guidance.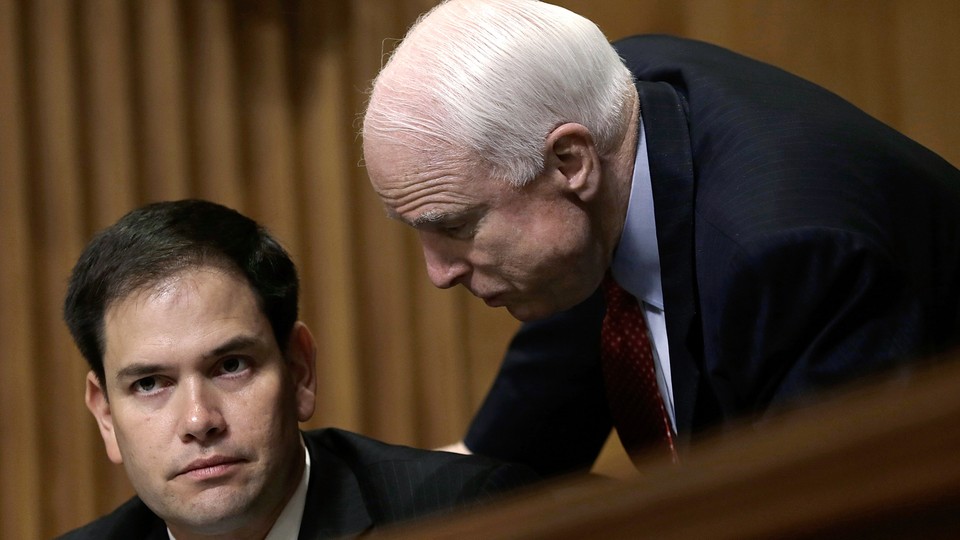 For a time after his loss in the 2008 presidential campaign, John McCain was the unquestioned leader of the hawkish wing of the Republican Party. Now, with others taking up the muscular foreign policy mantle in the Senate and the presidential campaign, that's no longer true—and that's just fine with him.
"The more, the merrier," McCain said in the Capitol on Tuesday. "The more people we have that are engaged in national-security issues, the better. I like it."
Then for the first several months of the year, McCain must have felt giddy among the many colleagues who have taken the spotlight to showcase their national-security acumen—or brazenness. In March, freshman Sen. Tom Cotton of Arkansas led many of his GOP colleagues, including McCain, to sign and send a controversial letter to Iranian leaders reminding them that a nuclear deal with President Obama could be modified by Congress. A few months later, Foreign Relations Chairman Bob Corker led the passage of the Iran nuclear review bill, which passed with only one nay—Cotton, who, like McCain, is extraordinarily skeptical of the administration's negotiations.
This week, the Senate passed an NSA-reform bill over the objections of Sen. Rand Paul, a presidential aspirant with Senate Majority Leader Mitch McConnell's endorsement, and the hawks. McConnell and Senate Intelligence Chairman Richard Burr played the biggest roles in trying to keep the Patriot Act alive. But along the way, McCain found himself reprimanding Paul—telling his colleague on the chamber floor to "learn the rules of the Senate"—with almost the entire GOP conference.
And while McCain may still top the charts in Sunday show appearances, two of the GOP presidential contenders—Lindsey Graham and Marco Rubio—are biting at his heels to showcase their own muscular brand of global affairs. Graham, a McCain acolyte who this week announced his candidacy to insert a forceful national security angle into the race, has positions similar to all of the major candidates in the race, save Paul. But even Paul has felt the pressure, offering a budget amendment this year to increase Pentagon funding to Rubio levels—a stark turnaround from his own 2011 budget. (Sen. Ted Cruz has characterized his foreign-policy platform as the "third point on the triangle" between Paul and McCain.) As FiveThirtyEight points out, Republicans' attitudes have changed dramatically since Edward Snowden's 2013 revelations, favoring much more government intervention to protect the country against terrorism.
"Since 1980 there's probably never been this much emphasis on foreign policy and national security as there is in this election campaign," said McCain this week. "Which obviously gives some advantage to Lindsey Graham. And it's not an accident these other candidates are emphasizing—no matter who they are—national security and foreign policy.
"I think that you're going to see things worsen in the world because there's no strategy for winning," he added. "And so I think by the time the real primary votes start it'll be the one dominant issue, along with the economy."
While McCain hasn't been the leader on reforming the National Security Agency or shaping the Iran nuclear deal—areas clearly in the domain of the Intelligence and Foreign Relations committees—he has been instrumental in guiding the new crop of military veteran senators. In particular, McCain has taken Cotton under his wing, supporting him during his competitive House primary and, after Cotton's victory in 2012, taking him to conferences in Munich and Halifax—as he took two other military veterans on the Armed Services committee, Joni Ernst of Iowa and Dan Sullivan of Alaska, on a recent trip to Singapore.
"He could obviously run the entire show and take all the time himself," said Cotton in an interview. "But he never does that. Even when I was a brand new congressman less than a month in, he gave me just as much time as every congressman and senator that he took. And those are conversations with heads of state or senior ministers. I think that speaks very well of how he hopes to mentor and coach the next generation of leaders for our country."
McCain's next goal as Senate Armed Services chairman is to guide the major defense authorization bill through Congress. Facing a White House veto threat because the bill yields to the sequestration caps and a Republican-led House committed to keeping them, McCain has decided to boost defense with a budget gimmick: an additional $38 billion in a separate wartime account.
But Democrats adamantly are behind Obama, who wants to see a roughly 7 percent increase in 2016 over sequestration levels. Nondefense appropriations have "either fallen or remained essentially frozen" four of the past five years, according to the Center on Budget and Policy Priorities, and members like Sen. Dick Durbin, the Democratic whip, see breaking the caps just for defense as "not as direct and honest as it should be." On Tuesday, Senate Democratic Leader Harry Reid called the defense bill a "waste of time" due to the veto threat, and even Sen. Jack Reed, the ranking Democrat on the Armed Services Committee, opposes busting the caps for just the Pentagon.
"I don't think it's possible at all," Reed said. "First of all, national security involves much more than the Department of Defense. The FBI, Homeland Security, the Coast Guard, etc.—that's all part of national security. So if you're thinking about national security, which we are, you have to have relief."
McCain sees the defense reauthorization bill—a bipartisan measure that has been passed for the past 53 consecutive years—as no place for the political posturing over sequestration.
"Such intransigence reveals a troubling misalignment of priorities on the part of the White House," said McCain on Tuesday at the American Action Forum, a center-right think tank. "It is the first duty of the federal government to protect the nation."
Corker said he knows the White House contenders' foreign policy positions will get an outsized share of attention, and "that's why in office and through our committee staff we are constantly trying to be forward on issues and to act somewhat as a North Star on many of these issues." Regardless of who leads on each individual issue, Corker said McCain "certainly is always a significant part of any foreign-policy discussion."
"He's earned that."