Masto Campaign Hires Fundraising Team
The Harry Reid-endorsed Nevada Democrat has built up a Senate campaign quickly this spring.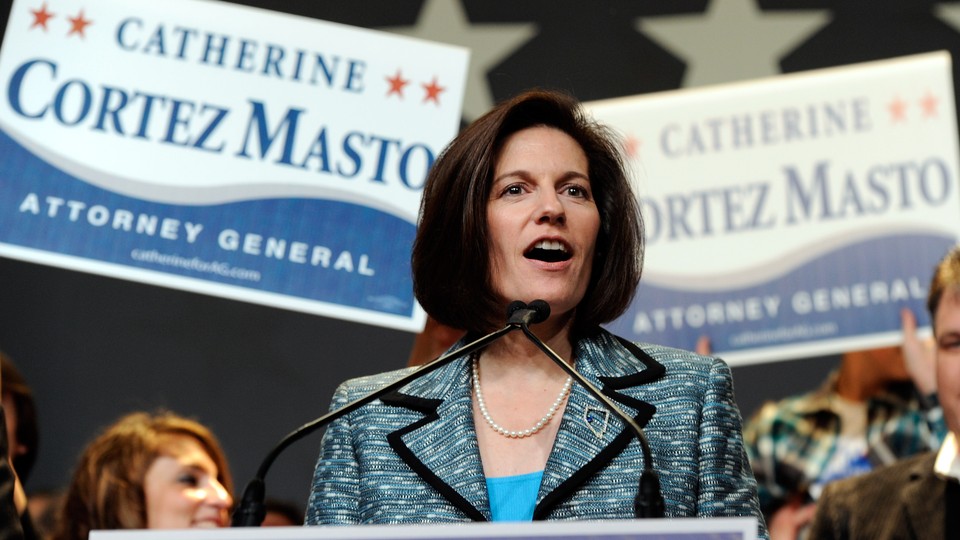 Nevada Democrat Catherine Cortez Masto's campaign has built its fundraising team for her upcoming swing-state Senate race.
Eben DuRoss, a former regional fundraiser for the Democratic Senatorial Campaign Committee, started last month as Masto's finance director, according to an aide on the campaign. DuRoss most recently worked for Planned Parenthood, raising money for the group's political efforts.
He'll be joined by Tyler Langdon and Joann Saridakis, who will serve as deputy finance directors. Both served most recently as fundraisers for other Democratic candidates in the state, where Masto just finished two terms as attorney general.
They join a campaign that has been assembled quickly since Masto announced in April that she would run for the Senate seat being vacated by Senate Minority Leader Harry Reid, the retiring incumbent. Scott Fairchild, a former House chief of staff and national campaign director for the League of Conservation Voters, became Masto's campaign manager shortly after she declared her intentions to run.
National Democratic pollster Fred Yang will conduct the campaign's polls.
Masto's campaign in blue-trending Nevada is close to a must-win for Democrats as they try to retake the Senate majority in 2016. Many expect she will face Republican Rep. Joe Heck in the general election, a swing-district congressman who is widely expected to become a candidate for Senate in the coming weeks.