Martin O'Malley: I Wish Baltimore Got Body Cameras for Cops When I Was Mayor
The presidential hopeful on Wednesday discussed the law enforcement policies in place during his mayorship.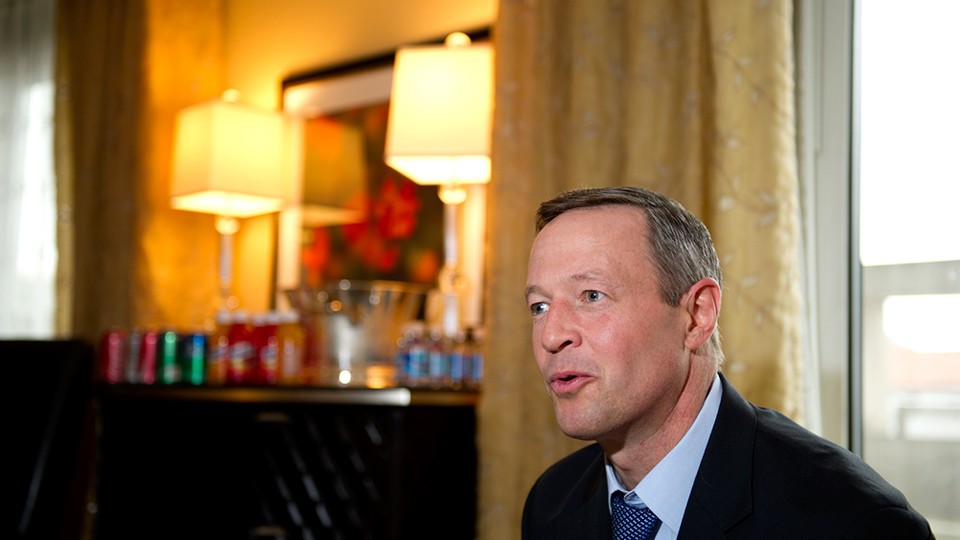 Newly minted presidential candidate Martin O'Malley is proud of his record on crime as mayor of Baltimore, which has come under scrutiny in recent weeks. But he also has one regret: he wishes the city had provided body cameras for police officers sooner.
"I wish in retrospect that we had been leaders and implemented body cameras as well," O'Malley said Wednesday during a question-and-answer session with the U.S. Hispanic Chamber of Commerce. "That will help."
The former Baltimore mayor said the city installed security cameras during his tenure, but he wishes the city had gone further and equipped police officers with body cameras. The use of wearable cameras has shown to decrease negative interactions between police and civilians, and has been held up as a potential method of bringing about more accountability for officers. A plan to equip police in Baltimore, after the death of Freddie Gray in April, is under debate in the city.
O'Malley's comments came after Javier Palomarez, the group's CEO, asked him about the fact that "some community leaders" have called his policies in Baltimore "the very cause for the mistrust" between police and minority citizens.
O'Malley defended his record as mayor, saying he took over a city where crime and violence had run rampant.
"When I was elected mayor of Baltimore in 1999, our city had become the most violent addicted and abandoned city in America," he said. "And I was running as a minority white candidate in a majority African-American city. So all summer [during the campaign] we talked about the reality that we shared."
He noted that when voters had a chance to evaluate his performance as mayor, he was reelected with 88 percent of the vote—and said he would not have been elected to two terms as governor without the support of Baltimore's voters.
By the end of his term as Maryland governor, he said, his accomplishments extended beyond reducing Baltimore's crime rate and included lowering the prison population.
"When I was done with being eight years of governor, we had the trifecta of not only driving violent crime down to a 30-year low, we reduced our recidivism rate by 30 percent, and we reduced our incarcerated population to the lowest levels it had had in 20 years," he said.
O'Malley said Wednesday that the country can learn from what happened in Baltimore and in other cities where police actions have come under the microscope.
"These policing incidents are the spark but the rage that erupted in Baltimore that night is not only about policing and only about race," he said. "It's about the fact that our economy is leaving huge portions of our population behind."
He added: "That sort of extreme desperation, extreme poverty, creates conditions for extreme violence."
The question-and-answer session marked O'Malley's first public appearance in Washington since he announced his candidacy on Saturday. O'Malley has put heavy emphasis on his tenure in Baltimore during the lead-up to his candidacy, and announced his campaign there —underscoring the city, and his time there, as a key part of his biography.