Look, Washington: A (Kansas) Reporter Who Defies His Sources!
Statehouse correspondent John Hanna opens a closed meeting by declaring it so.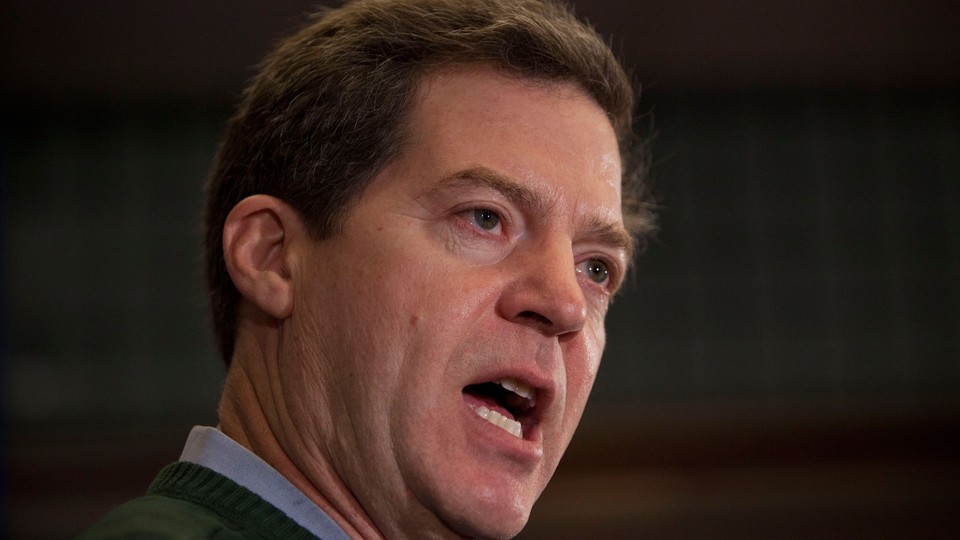 In the middle of a budget stalemate in the middle of the country, Associated Press correspondent John Hanna passes a closed conference room en route to his basement office in the Kansas Statehouse. Glancing through a door window, Hanna sees Gov. Sam Brownback's budget director addressing 27 Republican lawmakers.
That's interesting, Hanna tells himself—the caucus was not publicly scheduled, as would be the custom in Kansas, and the state legislature is struggling to fix an $800 million deficit mostly caused by Brownback's 2012-2013 tax cuts. A long-awaited debate on the House floor was just canceled. Why are they meeting in secret? Hanna opens the door, walks in, and stands against a wall.
"This is a private meeting," one lawmaker barks. "You weren't invited."
(RELATED: How to Kill the Background Briefing)
Hanna crosses his arms. "I know that," he says, nodding at the Brownback aide, Shawn Sullivan, "but I'd like to hear what he has to say." After a few minutes of awkward silence, Budget Committee Chairman Marvin Kleeb shrugs. "It's OK," he says. "He can stay."
Just like that, a private meeting was made public. No lawyers. No protests. No big scene. No indignant editorials or begging from the journalist community. Just one reporter reminding the government who's in charge of his beat: "I'd like to hear what he has to say."
This 30-year veteran of state legislative coverage for the AP could be a model for reporters in Washington, where "background" briefings and email, "quote approval," and other erosions of journalist authority are too often met with passive-aggressive acquiescence. Hanna flipped the script.
(RELATED: Why Bill and Hillary Clinton May Want to Throttle Me)
In doing so, he learned that Sullivan was threatening, on Brownback's behalf, to lay off prison guards, cut aid to public schools, and reduce payments to health care providers and nursing homes if legislators didn't agree to increase taxes. This is information the public needed to know in time to influence the debate—and to better understand the impact of Brownback's short-sighted decisions.
An advocate of trickle-down economics, the former GOP senator persuaded lawmakers a few years ago to slash taxes by more than $700 million, including a $210 million full income-tax exemption for farmers and business owners. The theory: They would use the tax windfall to invest in their businesses, which would create jobs and lift the economy.
It didn't work. The state budget is now projected to run an $800 million deficit, which would violate the state constitution, forcing Brownback to backtrack. He wants to repeal just $24 million in tax cuts to farmers and small businesses—and increase sales and cigarette taxes, which disproportionally hurt the poor.
(RELATED: The Day Bill Clinton and I Killed a Man)
On Sunday, the Senate approved his budget and the tax bill. The House balked, its floor debate was canceled, and Hanna stumbled on the secret meeting to discuss the public's business. There are certainly bigger stories in the world. Nothing nefarious was afoot. It's not even clear whether the gathering violated state open-meetings laws.
None of that is the point. "If the governor has a contingency plan to cut a budget, the public ought to know about that," Hanna told me today. (Disclosure: I used to work for the AP, and I know Hanna.)
"This is no big protest on my part," he said. "My thinking is, just because they tell you a meeting is private doesn't mean you have to leave." I asked Hanna what he would have done had Sullivan insisted that he go. "I can't say where something like that would have played out, because it didn't happen."
In March, Hanna and his competitors in the statehouse press corps walked out of a GOP "off the record" briefing, refusing to abide by terms that Washington journalists often jointly accept.
Reporters tell me they're afraid to stand their ground and anger potential sources. That's not something that worries Hanna, a soft-spoken reporter known for his humble effectiveness. "So? They may or may not get mad. If you cover politics—or anything, actually—there will at some point be a conflict with everybody you deal with."
"And what generally happens is, if you're accurate about what they say and what they're proposing and you're fair in reporting it," Hanna said, "those places where they're upset with you tend to be smoothed out. The respect for the work you're doing and the professionalism you show tends to overcome momentary disagreements."
I asked him, as reporters do before ending an interview, if there was anything else I should ask. Anything else he wanted to say.
"It's not about confrontation," Hanna replied. "It's about getting information."