Kasich Cites Faith to Defend His Health Care Position, Other Programs for the Poor
While other Republicans focused on social issues at a Faith and Freedom conference, John Kasich emphasized the need to help low-income Americans.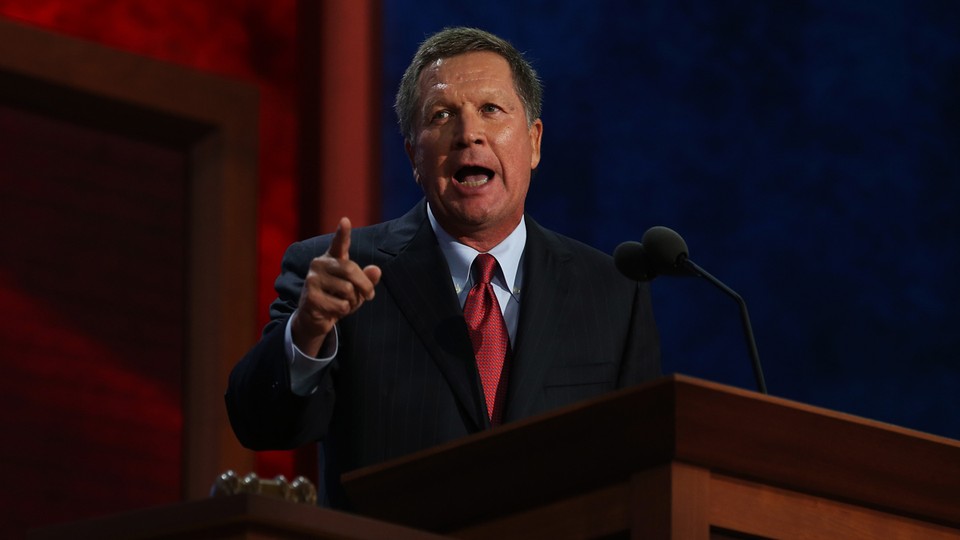 As he inches closer to launching a presidential campaign, Ohio Gov. John Kasich used his faith Friday to defend his policies—including the ones that have put him at odds with some conservatives.
Most the speakers who took the stage at a conference hosted by the Faith and Freedom Coalition in Washington cited their Christian beliefs when discussing same-sex marriage, abortion, and religious freedom. But Kasich—who has faced criticism from fellow Republicans for his positions on Medicaid, immigration, and prison reform— largely avoided discussing social issues, instead saying he felt a calling to help those in the bottom rungs of society.
"If you're mentally ill, we're not locking you up in prison. If we can avoid it, we want to treat you. We want you to be on your feet to live your God-given purpose. I've been criticized for this, by the way. I've been criticized for this," Kasich said.
"The drug addicted? They can be in your family," he said. "Get them treated and get them on their feet to live their God-given purpose. The working poor? We want you to get decent health care. And guess what, we don't want you to be poor, we want you to graduate from the poor. You're minority? We're going to include you, and we're going to lift you. If you have a son or a daughter who's autistic, you're going to get insurance. We're not going to bankrupt you."
Kasich's decision to accept federal funding to expand Medicaid in Ohio has been particularly controversial among conservatives, as many view it as an embrace of President Obama's Affordable Care Act. But as he has prepared to run for president in 2016, Kasich has forcefully defended his decision, setting him apart from some of his fellow GOP governors who rejected expansion of the program.
After his speech, Kasich elaborated to a group of reporters on how his faith informs his political views.
"I'm just saying to you that my faith talks about things like the widowed, the poor, the disenfranchised. I mean it's basically—it's kind of something that is part of you, Kasich said. "What my faith does for me, I hope—it gives me strength; it allows me to have patience; it helps me to love my enemies; it helps me to care more about other people, to be more empathetic to other people."
Kasich has avoided many of the presidential cattle calls put on by conservative groups this year across the country, so Friday's appearance marked one of his first major opportunities to attempt to win over some of the party's activists.
Overall, he was well-received by the crowd, and even earned a standing ovation from many attendees when he wrapped up. He told the crowd he served as an altar boy as a child at his family's Catholic church, but drifted away from religion as an adult. The audience remained silent as Kasich described the crisis of faith he experienced after his parents died in a car crash in 1987.
"The more I wrestle, the stronger I get," Kasich said, drawing an "amen" from one audience member.
Kasich is expected to officially enter the race for the Republican nomination next month. He insisted that he "didn't come here for politics" Friday—even though the event's online agenda listed him as a "2016 Presidential Candidate."