John McCain's 2016 Tightrope
The candidate will likely face a strong primary challenge, and he already has a tough opponent aiming for him in the general.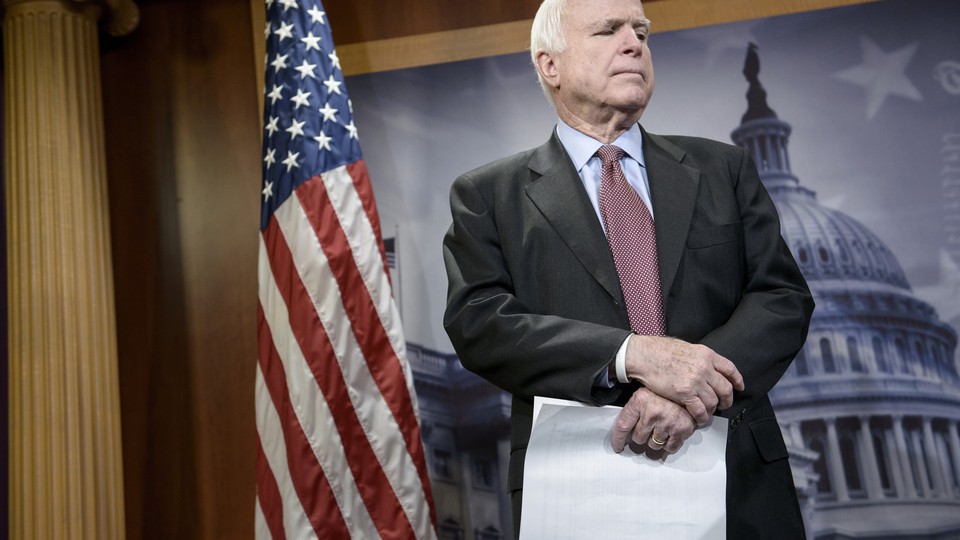 The last time John McCain ran for reelection, his strategy was clear. Up against tea-party-backed primary challenger J.D. Hayworth, McCain tacked right on a host of issues, moving away from a then-recent string of moderate stances that had roiled Arizona conservatives. Most notably, the avowed champion of comprehensive immigration reform filmed a memorable ad vowing to "complete the danged fence" along the state's border with Mexico.
The strategy worked. McCain burnished his credentials with conservatives, buried the lesser-known Hayworth in ads, and won his primary by 20 points, moving on to cruise through the general election (over former Tucson Councilman Rodney Glassman) with nearly 60 percent of the vote.
In 2016, McCain's path to victory is already more complicated. Conservative groups have again named him a top target, saying his voting record reveals a moderate who feints to the right in a bid to fool voters before reelection. The tea party may or may not get its favorite to challenge McCain in Rep. Matt Salmon, but a strong challenge from the Right appears inevitable. And this time around, if McCain heads right to head off the Right's challenge, he's more likely to pay for it later.
Democratic Rep. Ann Kirkpatrick became a surprise entry into the race last week. She's a three-term House member with a history of winning in one of the country's most competitive swing districts, which she did most recently in 2014—improving on her 2012 showing at a time when a red wave was sweeping Democrats out of their seats en masse. Factor in her proven track record as a fundraiser, and she represents the strongest Democrat to challenge McCain since he first ran for the seat in 1986.
This all puts McCain in a bind: Head too far right, and he risks crippling himself in the general election; stay too close to the middle with a tea-party challenger, and he risks never getting there at all. And while the incumbent, with a formidable fundraising operation and near-universal name identification, remains the heavy favorite, the double-sided political squeeze has McCain critics on both ends optimistic.
"Before, you could run to the right and run back to the left for the general," said Adam Brandon of FreedomWorks, one of the conservative groups vowing to support Salmon if he joins the primary. "If [McCain's] looking at it for the first time thinking, 'I have a decent challenger from the Right and a decent challenger from the Left; where do I go from here?'—that's a whole new dynamic."
Democrats expressed similar enthusiasm. Terry Goddard, a former Arizona state attorney general who ran twice as the Democratic nominee for governor, said McCain's "proven tendency to run right" had never been tested against a credible general-election challenger. "He's sacrificed a lot of what many of us respect him for in the process. "¦ If he does that again and Ann holds him accountable for it, that's a very different election. It is potentially a one-two punch."
McCain's supporters could be forgiven for a bout of deja vu at his critics' excitement. After all, it was six ears ago that he was facing a challenge from his right, with an ascendant tea party livid over his stances on gay rights, climate change, and immigration. But despite that "McCain in twilight" narrative, the longtime senator won a crushing primary victory and a comfortable triumph in the general.
"John McCain's strong record of defending America's national security, standing up for veterans, and focusing on Arizona's economic growth and job creation place him in strong position as he seeks reelection," said McCain spokesman Brian Rogers.
Part of his 2014 success came from a solid move back to the Right. According to National Journal's vote ratings, McCain bounced between being the Senate's 44th- and 49th-most conservative member between 2002 and 2006. By 2010, he was tied for first place with stalwart conservative former Sen. Jim DeMint. He also came out in support of a controversial anti-immigration bill in Arizona aimed at allowing police to question people they believed to be in the state illegally.
The moves failed to appease McCain's conservative critics then, and those critics are livid over what has happened since. McCain, who played an integral role in the Senate's bipartisan "Gang of 8" immigration bill in 2013, was back down to a 49 percent on Heritage Action's scorecard during the 113th Congress. In the first five months of 2015, he has already risen back up to 73 percent.
In May, the McCain campaign tweeted news that he'd received a 91 percent rating from the American Conservatives Union "for fighting for conservative ideas & values." The ACU quickly responded to assert that while the number was accurate, he'd received a 52 percent rating on their scorecard in 2013, and was not considered an ally.
Now, it appears McCain's run will be defined largely by two questions: Can he again garner enough support on the Right to head off a primary challenger? And if he makes the moves needed to get that support, can Kirkpatrick cross far enough into the political middle to make him pay for it later?
For their part, the Far-Right groups that failed to unseat McCain in 2010 say they're ready to jump in again if a strong candidate like Salmon emerges. Sources say Salmon is considering the race seriously, though he hasn't commented on such a move. Conservative activists say that if they have a candidate, the rise of voting scorecards and rapid-response technology has made them much more prepared than ever to hold the senator accountable on his votes over the past six years.
Democrats, meanwhile, are touting Kirkpatrick as the first general-election challenger McCain has faced who can raise enough money to effectively highlight McCain's rightward shift. McCain, said Goddard, has "run right in the primaries and never been held accountable for it, either because his opponent didn't have the wherewithal or just didn't use the issues presented. It's no question she's his toughest challenger.... If Ann can hold him accountable if he swings far right—if she can make him stay there—that would be very harmful to him."
(Kirkpatrick may still face a primary of her own. A Supreme Court decision expected to come down any day could compel redistricting that affects other members of her delegation, most notably Rep. Kyrsten Sinema, who has not ruled out the Senate race.)
McCain's allies concede that if he were to face sitting members of Congress in both races, it's "unquestionable" that this would be his toughest reelection yet. But even a tougher race than usual doesn't mean that the iconic war hero and chairman of the Senate Armed Services Committee is in real danger.
And recent history suggests that Arizona remains a solidly red state, even in presidential years. In 2012, Democratic Senate nominee Richard Carmona lost, 46 percent to 49 percent, to then-Rep. Jeff Flake. (The two were racing for the state's open Senate seat vacated by retiring Republican Sen. Jon Kyl.) And in 2014, none of the Republican incumbents succumbed to challenges from the Right, and none went on to lose in November.
With 2016's emerging focus on national security, fueled by the rise of ISIS and Russia and other international unrest, McCain's allies say his hawkish views will help shield him from a primary challenge in a way that they didn't last time around.
"The landscape is just so good for McCain at this point. With everything in 2016 pointing toward a national security/foreign policy frame, there isn't a better position that McCain could be in than what he is right now," said Sean Noble, a longtime Arizona political consultant who supports the senator. "If there's anything that the Republican base is about, it's national security. That trumps immigration, taxes, and everything else."
Chuck Coughlin, another Arizona consultant and McCain ally who worked on his '86 campaign, called the 2010 race "an aberration," and said the senator was unlikely to pursue the same strategy in what's expected to be the final race of his career. Particularly on immigration, Coughlin said a Democratic challenger gives McCain "more latitude" to embrace centrist ideals he's long held.
"His solutions, we've tested—without putting the Gang of 8 proposal on it, but essentially the components of it—and it's very popular with Republicans," Coughlin said. "And I believe you'll see him holding onto that issue this cycle."