John Boehner Doesn't Have an Immediate Path Forward on Obamacare
The House speaker said Republican discussions about the law had centered on what to do if the Supreme Court ruled against the Affordable Care Act.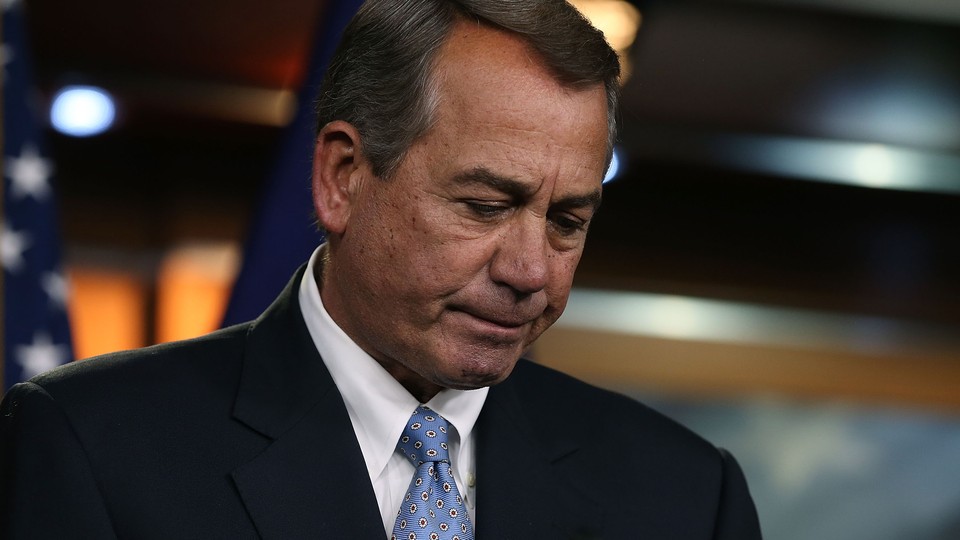 House Republicans don't know what they're going to do exactly about Obamacare.
In a press conference Thursday morning—just after the Supreme Court ruled in favor of the law's subsidies—Speaker John Boehner wasn't able to describe a path forward: There has been "no decision" made on whether they'll use the reconciliation process to continue their anti-Obamacare battle, and Boehner says he's "not sure" if the House will vote on a Republican alternative.
"Most of the discussion so far was if the Court ruled against the administration in King v. Burwell what the response would be," Boehner said. "So that's where most of the conversation has been this year."
Though the Republican Party has devoted much effort into railing against Obamacare, the Supreme Court's 6-3 ruling in favor of the law's insurance subsidies isn't necessarily bad for the party. If the Court had ruled against the Affordable Care Act, Republicans would've needed to come together around a solution to preserve more than 6 million Americans' health care coverage. In recent days, divisions remained over how to best approach a fix.
But Boehner didn't reveal any twinge of relief at his press conference, calling the law "fundamentally broken" and saying Republicans would do "everything we can to put the American people back in charge of their health care."
He said Obamacare "needs to be dealt with" but said it'll be hard to do so while President Obama is in the White House.
Asked if he's disappointed in conservative Chief Justice John Roberts, who wrote the Court's opinion, Boehner wouldn't answer definitively.
"I'll let the legal eagles around the country debate the chief justice of the Supreme Court," he said. "I'm just a mere speaker of the House."