Jeb Bush's 'Lose the Primary to Win the General' Could Just Mean 'Lose the Primary'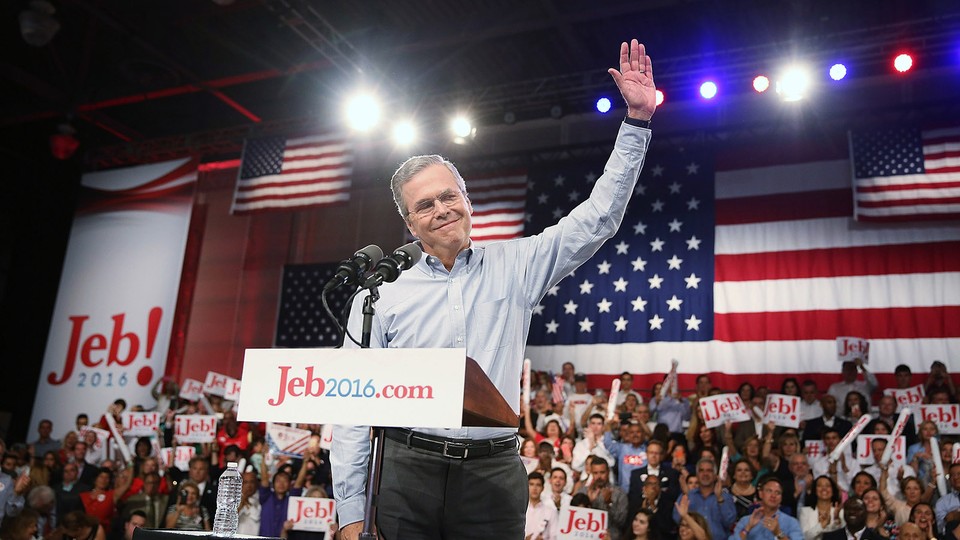 In declaring his campaign for president, Jeb Bush opens a maverick White House bid that could reshape Republican politics for a generation and make him the third member of his family to occupy the Oval Office in three decades.
Or, his candidacy could crater after colliding with the party's most conservative elements and become a cautionary tale for future candidates—dynastic or not—who'd dare to buck the GOP grassroots.
"Our country is on a very bad course. And the question is: What are we going to do about it? The question for me is: What am I going to do about it? And I've decided," Bush said Monday afternoon at Miami Dade College in Florida. "I'm a candidate for president of the United States."
(RELATED: Inside Jeb Bush's Stealth Campaign to Woo Christian Conservatives)
A favorite of the GOP establishment, the former Florida governor enters the race with an overwhelming fundraising advantage and an expansive campaign operation, buoyed by his and his family's deep political network. But in promising to turn the page on the Obama era and boost the country's ailing middle class, the scion of one of America's most prominent political clans must convince a skeptical Republican base that he is his own man.
"We don't need another president who merely holds the top spot among the pampered elites of Washington. We need a president willing to challenge and disrupt the whole culture in our nation's capital," Bush said in his announcement. "And I will be that president."
He faces a crop of fresh-faced governors and senators, and lingering hostility from GOP activists who view much of the Bush family legacy as one of conservative betrayal and political compromise. And his support for an immigration overhaul and the Common Core education standards are anathema to many of the hard-line conservatives who play an outsize role in some of the early-nominating states.
"The next president of the United States will pass meaningful immigration reform so that that will be solved—not by executive order," Bush said, going off-script and addressing immigration activists in the audience who shouted questions at the lectern.
Bush, however, sees his campaign as an opportunity to persuade his party on those hot-button issues while he touts his deeply conservative record as a former two-term governor of the nation's largest swing state. In Florida, he cut some $20 billion in taxes, privatized government services, and launched the country's first private-school voucher program, a measure that was later struck down by the state Supreme Court. At the same time, he abolished affirmative action in university admissions and state contracting, restricted abortion rights, and expanded gun rights, including signing Florida's controversial "stand your ground" law. On Monday, Bush said he was "a reforming governor, not just another member of the club."
"There's no passing off responsibility when you're a governor, no blending into the legislative crowd or filing an amendment and calling that success," he said, making a dig at his competitors in the Senate.
(RELATED: Hillary Clinton, Jeb Bush and the Legacy Trap)
Bush's success in the GOP primary may turn on whether that record satisfies conservatives who view him as too moderate for today's Republican Party, largely because of his stances on immigration and education.
His refusal to pander to the party's base—or "fake anger to placate people's angst," as he put it in March—represents a direct challenge to traditional campaigning, one that Bush hopes will help him win the general election and attract legions of new voters to the GOP, including voters in the nation's fast-growing Hispanic population. The Spanish-speaking former governor from Miami with a Mexican-American wife could be a bridge to Latinos, who have left the GOP over past nominees' harsh rhetoric on immigration.
Arguing that a candidate needs to be willing to "lose the primary to win the general," Bush and his campaign will determine whether future presidential contenders reach beyond the base—or play to it.
"I will campaign as I would serve, going everywhere, speaking to everyone, keeping my word, facing the issues without flinching, and staying true to what I believe. I will take nothing and no one for granted," Bush said at the end of his speech. "I will run with heart, and I will run to win."
---
Marina Koren contributed to this article