Jeb Bush is Courting the Latino Vote. How Much Will It Help?
He's as well-liked as other candidates with Hispanic ties, but still trails Clinton.
Former Florida governor Jeb Bush announced his presidential candidacy Monday afternoon in a filled auditorium at Miami Dade College's Kendall campus. By 2016 standards, he's a relative latecomer: 14 candidates have already launched their campaigns.
Bush has plenty of assets, including a famous last name and a formidable head start in fundraising. But now that he has formally announced, campaigns will get a closer look at another yet-untested advantage: his potential appeal to Hispanic voters.
Though not Hispanic by blood, Bush has always touted a close connection with Latino culture—he speaks fluent Spanish and recently celebrated his 41st wedding anniversary with his Mexican-born wife, Columba. A consistent advocate of creating a pathway to legal status for immigrants, he was well-liked by the Florida Hispanic community during his tenure as governor, and has even been dubbed an honorary Cuban-American by a handful of prominent Cuban-American politicians.
With his official campaign announcement, he joins two other candidates with Latino ties, Sens. Ted Cruz and Marco Rubio, in the GOP field for 2016. Bush has already made overtures toward courting the Hispanic vote in 2016. Will he be successful? And how much does this demographic matter to the outcome of the overall presidential election?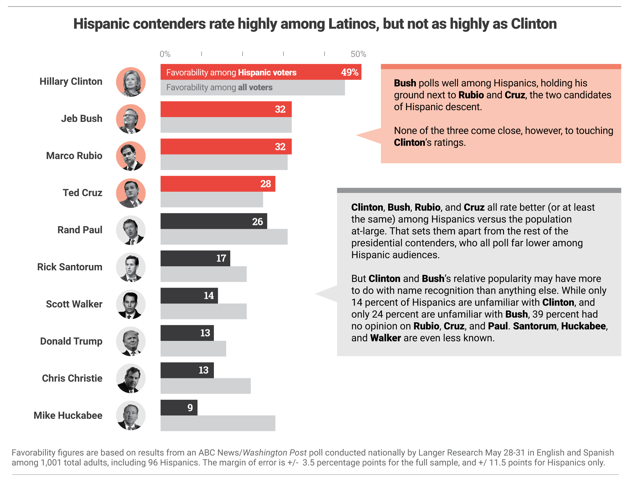 If Bush is able to leverage his appeal among Hispanics, it may help him win him the election: In 2012, Mitt Romney narrowly lost Florida, costing him 29 electoral votes. Seven other states with sizable Hispanic populations also saw razor-thin victories.