Jeb Bush and New Hampshire Republicans' Other Political Dynasty
One possible candidate for governor, Chris Sununu, has a familiar name in the state, thanks to a family tradition of winning the state's top posts.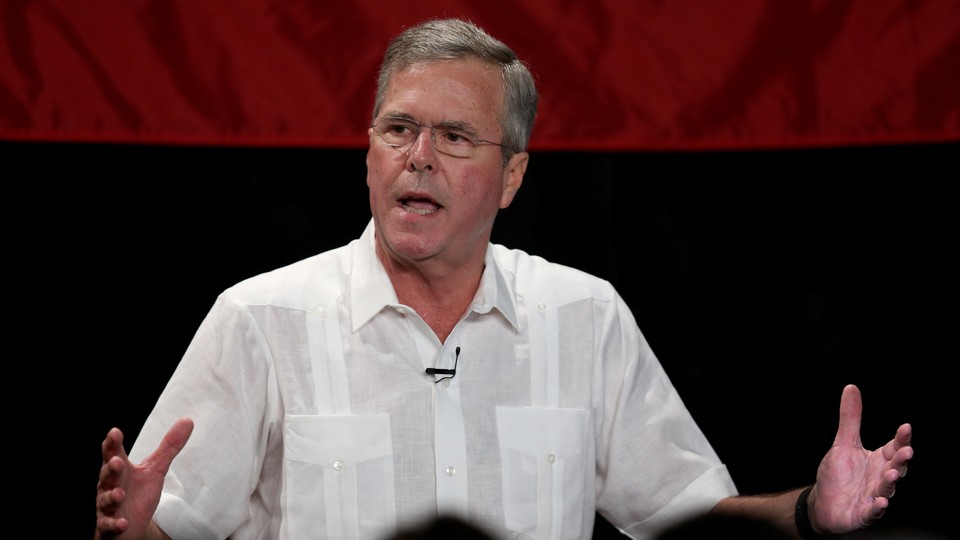 In voicing their concerns about Jeb Bush, New Hampshire Republicans say they're hesitant to elect a third member of one family's political dynasty. But there's another Republican in the state who's the third leg of a political dynasty, and without the "Bush" name, voters seems much more bullish.
Republican Chris Sununu, the son of former New Hampshire Gov. John H. Sununu and the brother of former Sen. John E. Sununu, is seen as a possible gubernatorial candidate—and initial surveys show him polling highly among the state's constituents.
Sununu is serving as powerful executive councilor—one of five people (three of them Republicans) who collectively have veto power over much of what the governor does.
Should he run, he'd start off with an 18-point deficit against incumbent Democratic Gov. Maggie Hassan, according to polling by Dartmouth College. However, it's possible Hassan will challenge Republican Sen. Kelly Ayotte in 2016, leaving the governorship open. (Hassan has been mum on her deliberations, but Republicans are taking no chances, attacking her before she has made any official moves.)
If that happens, initial surveys prove promising for Sununu. A poll by the University of New Hampshire and TV station WMUR show him winning the open seat against his less-well-known fellow executive councilors, Colin Van Ostern and Chris Pappas.
"He obviously has a lot of good will built up given his family's history of distinguished service, but he also is a new candidate of a new generation," said Ryan Williams, who has worked for both John Sununus.
Jeb Bush would love for New Hampshire voters to take a similar stance on his lineage, but thus far, it appears his name is working against him. Almost 1 in 5 New Hampshire Republicans said they wouldn't vote for Bush given his heritage, according to a Bloomberg Politics/Saint Anselm College poll. In the same survey, nearly 60 percent of Republicans said Bush's "potential candidacy is based more on ... his family connections to politics." A plurality (35 percent) of Republican respondents in a Suffolk University poll said the first word or phrase that came to mind when they thought of "Jeb Bush" was some reference to his family. And more than any policy issue, 7 percent said they were "tired of the Bushes" or that there had been "too many Bushes."
It's not all doom and gloom for Jeb Bush, however. For one, the donor network that he inherits from his family ties is tremendous. And despite voters' dynastic concerns, early polling indicates that the Florida Republican remains in the top tier of candidates looking for the GOP nod in the second contest of the Republican primary. And as the public takes a brighter view of both the first and second President Bush—as is happening in CNN's latest national poll—it may serve to blunt some concern over the family name, or even swing it toward an advantage.
It's not unusual for New Hampshirites to find repeat surnames on their ballots. Hugh Gregg and his son Judd, both Republicans, have served as governor. Judd Gregg also represented the state in both chambers of Congress and, like Chris Sununu, on New Hampshire's Executive Council. Perkins Bass and his son Charles Bass, also Republicans, represented the same congressional district in the state, and Perkins Bass' father, Robert, was a governor. As for Democratic Rep. Ann McLane Kuster, her great-grandfather, John McLane, was also governor; her father, Malcolm McLane, was mayor of Concord; and her mother, Susan McLane, was a Republican state legislator. And Democratic Sen. Jeanne Shaheen's daughter, Stefany Shaheen, is on the Portsmouth City Council. Plus, it's not uncommon for members of different families to face off for the same seat.
"We have so many of them [political dynasties] they bump into each other sooner or later," said former New Hampshire attorney general and longtime political adviser Thomas Rath.
Having a politically familiar name has its benefits. For example, Judd Gregg said his status as his father's son increased his name ID in his first political run and boosted his candidacy. "Honestly, I don't think I probably would have been viable had it not been for my father's strong reputation and people taking a look at me because of that," Gregg said. "And that was a huge plus."
The difference in Bush's and Sununu's early performance is not entirely based on concerns of political dynasties, said Dave Carney, a former aide to George H.W. Bush and Gov. Sununu. Chris Sununu built up a much more robust network in the state as a businessman and public servant, though the former Florida governor has been wooing key activists there.
"I just think they're [voters] waiting to, you know, get the chance to see Jeb. I mean, he hasn't done anything yet. ... You can't have excitement about something you can't touch and feel and smell," Carney said.
And there's reason to believe Bush will yet earn Republicans' trust as independent from his family. Renee Plummer, who is active in Republican politics in the state, remembers seeing him speak to, and impressing, a group in New Hampshire.
"He came in as ... George's son and George's brother," Plummer said, "but he emerged that day as presidential candidate Jeb."