'It Frickin' Hurt Like a Motha'': Politicians on the Agony of Congressional Baseball
And the agony of Republican defeat.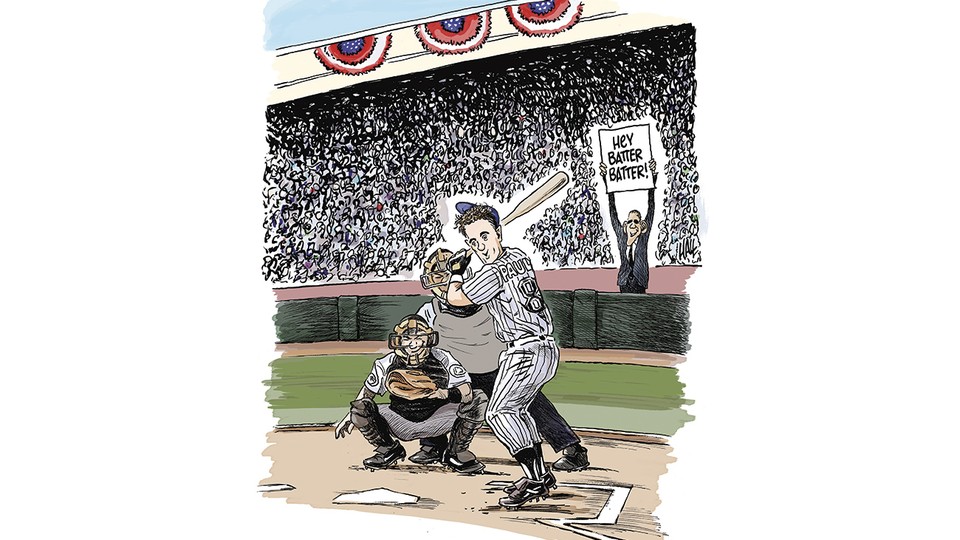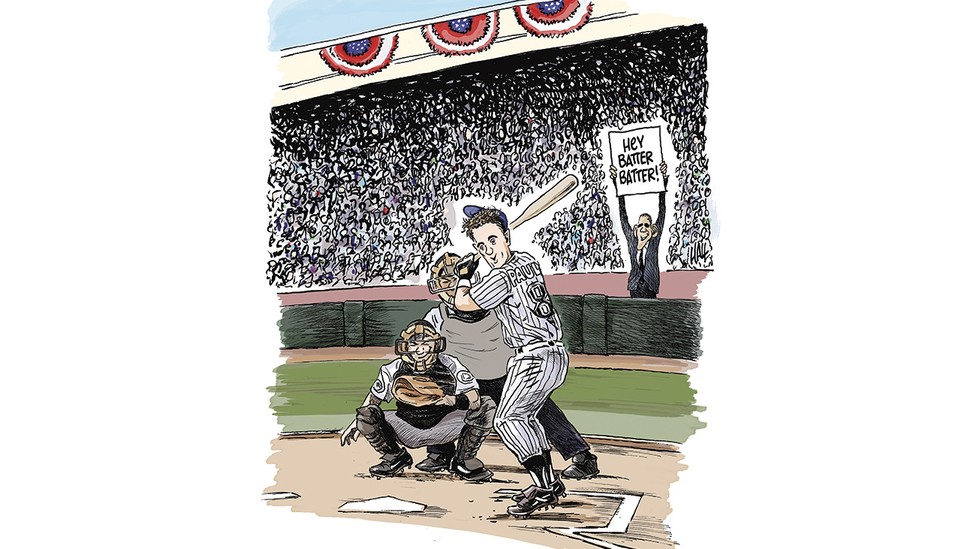 Rand Paul tipped his hat and gave a little bow to President Obama before stepping back into the batter's box at Nationals Park. It was a critical moment in last week's annual Congressional Baseball Game: Down 2-to-1, the GOP had runners on second and third with two outs, and Paul was down to his last strike. For the past seven weeks, the senator from Kentucky had been resisting the demands of his presidential campaign, driving his Mazda hatchback "almost" every morning to the Republicans' 6:30 a.m. practices. After losing six years in a row—including a 22-0 humiliation in 2013—Paul's party was desperate to win again. "We must, absolutely must beat the Democrats," Paul said, half-seriously.
Now, in front of nearly 10,000 chanting staffers, lobbyists, fans, and fellow members of Congress, the senator was facing off against Rep. Cedric Richmond, the Louisiana Democrat and former college player dubbed "the Babe Ruth of Congress" by The New York Times for his dominant batting and pitching performances. And the president, a surprise visitor, was standing in front of the Democratic dugout, arms crossed.
Richmond delivered. Paul swung and missed. Inning over. Obama cheered, gave one clap and a fist-pump, and left the ballpark after shaking players' hands and waving to the fans. Following his departure, Republicans mustered just one more run and ended up losing again, 5-to-2—and speculating about whether the president's unexpected arrival had doomed them.
To be sure, most spectators saw the president's cameo—the day before a major vote on fast-track authority for the Trans-Pacific Partnership—as a matter of politics, not baseball: a ploy to rally skeptical Democrats behind the deal. But that didn't stop Republicans from griping—some more seriously than others—that the entire affair had affected the outcome of the game itself. Was this the curse of the Bambino or the curse of Obama?
"Well, I think he timed it," said a stone-faced Rep. Roger Williams, the Republican coach from Texas who was drafted by the Atlanta Braves in 1971 and played a few years in the minor leagues. "He came right in the middle of our rally; I was a little annoyed by that," said Rep. Ryan Costello, the freshman Republican shortstop from Pennsylvania. "I blame him for all the loss," added Rep. Mick Mulvaney of South Carolina, tongue firmly in check. "It was a little intimidating with the president there," said Sen. Jeff Flake of Arizona, who'd managed a single in front of Obama before Paul's whiff.
If the president was dabbling in gamesmanship, it wouldn't be the first time a politician had gone to extreme lengths to win the charity game, which dates back to 1909. At one point, in 1958, House Speaker Sam Rayburn felt compelled to cancel the series, saying it had become too physical. (The game resumed in 1962.) Those who have participated in recent years can attest that the physicality hasn't diminished, and they have the memories of torn ACLs and fractured arms from violent collisions to prove it. Rep. Joseph Crowley of New York can point to the muscle he popped in his leg three years ago ("It frickin' hurt like a motha'"Š"). In 2003, Rep. Kevin Brady, the Texas congressman, slid headfirst into the catcher (then""Democratic Rep. Tim Holden), breaking and dislocating his shoulder. "I mean, he just crushed me," said Brady, a 19-game veteran who says he has also broken his nose and turned both calf muscles in previous editions of the game. "We just compete," Brady said. "I mean we're all competitors. We like to win."
The Republicans' losing streak appears to have ratcheted up their intensity. After the 22-0 shellacking a couple of years back, some disgruntled players asked House Speaker John Boehner to can their manager, Rep. Joe Barton of Texas, who'd been approaching the game as something less than a win-or-die prospect, giving everybody on the team a chance to play by using different lineups for batting, base-running, and fielding. Barton kept his job—tradition dictates that the manager gets to choose his successor, and as Barton rightly noted at the time, Boehner is "not the owner of the Republican congressional baseball team." But Barton now tends to leave his best players in the game, and Williams, who once coached the Texas Christian University baseball team, has taken the lead as coach, running high-tempo practices that often surprise new players.
"The first time I came out here, I realized how serious it was," Rep. Marlin Stutzman of Indiana told me at the final 6:30 a.m. practice, a day before the game. "I came out here in sweats and tennis shoes. The next day I was like, 'I can't go out there like that. They take this too seriously.' And it's a good thing." But he also adds, "I'm starting to feel the aches and pains." Indeed, Mulvaney wonders whether the practice sessions don't hurt as much as they help, given the age of many members. "Sometimes I wonder, the more we practice, the worse we get," he told me. "Because all we do is get broken down. I can barely move my arm. We're old. There's just no two ways about it."
As important as winning is, there's a distinct element of wish-fulfillment for politicians who grew up nursing big-league dreams. This year, Democratic Sen. Joe Donnelly of Indiana had a highlight he'll surely replay for years: The big first-baseman dove to catch a ball, got up, then fell, and got up again in time to touch the base and get the runner out. Four years ago, Republican Rep. Chuck Fleischmann of Tennessee had his moment. Fleischmann began playing baseball at 6 years old, but he stopped competing in high school when his mother was battling terminal cancer. Fleischmann says he'd "always prayed" he would land in the Baseball Hall of Fame someday—and in 2011, when the 5-foot-4 ("and a half") second-baseman made a diving play that was captured by a National Journal photographer, he did. The photo was sent to Cooperstown as part of a Congressional Baseball Game collage. "I got there God's way, not my way," he says.
The bad moments linger, too, of course: The Republican players still cringe at years-old memories of egregious errors and flailing strikeouts, and complain about lack of playing time. They're playing for their party but also—these are politicians, after all—for themselves. Before the game, Republican House Whip Steve Scalise told me his personal goal this year was to "steal home on Cedric like I did last year." He and Richmond are friends who represent different parts of New Orleans, and Scalise figured the pitcher's dander would be up after he showed a picture of his successful steal to folks from back home when they visited the Capitol.
Richmond never had a chance to bean Scalise, who didn't have an at-bat against him. But the next day, their hometown newspaper, The Times-Picayune, incorrectly reported that Richmond had struck Scalise out. This was adding insult to injury, and it was not long before a highly unusual correction appeared: "An earlier version of this story said that Richmond had struck out Scalise. Though he was announced as the hitter, and his face appeared on the scoreboard, it was some other Republican that got called out on strikes from a Richmond curve ball, according to Scalise's office." Sometimes small victories have to suffice.
CORRECTION: The original version of this piece misquoted Rep. Steve Scalise. The quote has been corrected. The original version also misspelled Rep. Mick Mulvaney's name, which has been corrected.