Inside the Mind of an Uncommitted Republican Mega-Donor
Frank VanderSloot raised millions for Mitt Romney's campaigns. Now, he's trying to decide who to support in 2016.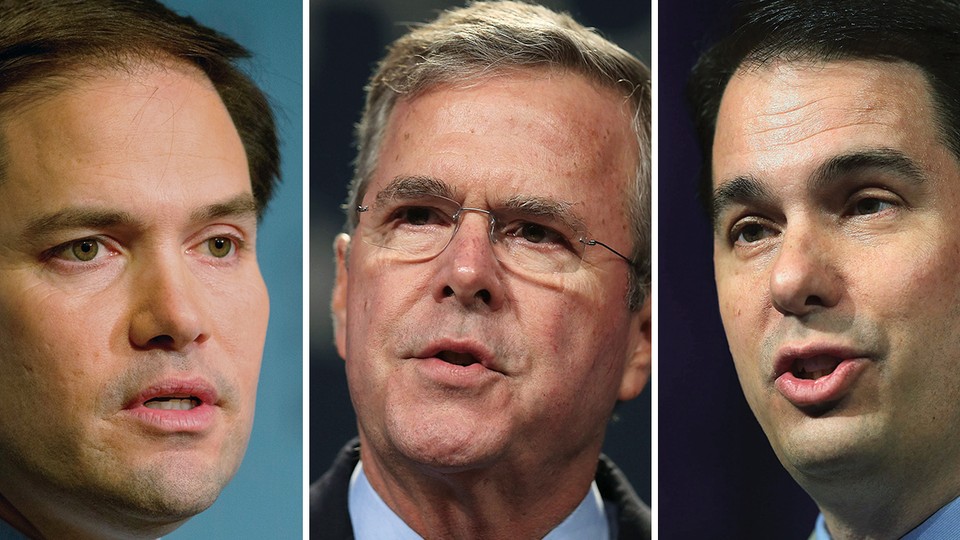 Like every serious Republican presidential contender, Marco Rubio has been making the rounds in the early primary states in recent months. But in April, the Florida senator found himself traveling to Idaho—yes, Idaho, not Iowa—for a day.
Idaho doesn't have the traditional clout of the states that kick off the Republican presidential nominating process, but it is home to one of the GOP's top fundraisers: Frank VanderSloot. And his support is up for grabs.
VanderSloot is one of the many GOP mega-donors still weighing their options as the party's field of White House hopefuls grows and takes shape. VanderSloot invited Rubio to speak at his company's headquarters in April, and this month, he cosponsored an Idaho Republican Party event that Rubio also addressed.
VanderSloot would be a valuable addition to any campaign: He said he raised between $2 million and $5 million for Mitt Romney's campaign in 2012, when he cochaired the finance committee. VanderSloot's Idaho Falls-based health products company, Melaleuca, also contributed $1 million to the pro-Romney super PAC Restore Our Future, while VanderSloot himself gave $300,000 to ROF and American Crossroads, another super PAC that worked to elect Romney in the fall of 2012.
Rubio is the only White House hopeful to make the trek to visit VanderSloot in person this year, and VanderSloot said he is leaning towards supporting the senator from Florida. But Wisconsin Gov. Scott Walker and former Florida Gov. Jeb Bush are also on the donor's short list—and he said he might end up backing more than one candidate during the primary.
VanderSloot spoke with National Journal this week to share his thoughts about the 2016 presidential race, offering a window into the behind-the-scenes courtship of donors. The transcript of that conversation has been lightly edited and condensed for clarity.
National Journal: Have you decided who you're going to support in 2016?
VanderSloot: There's a lot of them, aren't there? So, we basically have our three favorites. That would be Marco Rubio, Jeb Bush, and Scott Walker. And not necessarily in that order, and for different reasons. I think they're all good guys. One thing about the large number of [candidates], I think it does show the strength of the Republican Party. I think we've got a lot of young up-and-comers, articulate and good leaders, as well as some of those who, you shake your head and say 'Really? Do they really think they can win the election and they've got what it takes to run the place?'
I'm worried about Jeb Bush. I worry whether he can become elected. Our two favorites would be Rubio and Walker. I've spent some time with Jeb Bush, and some time with Scott Walker—not as much probably with Governor Walker—and a lot of time with Marco Rubio, time we've invested in trying to see who they are and what their plans are, whether they have a strategy for the White House.
Rubio has traveled to Idaho twice this year. What were those events like?
He's really extended himself. You've got to be pretty impressed; Idaho is not normally the first stop for some of these candidates. It looks like we're getting a lot more attention this go-around than we ever have from anybody, including from Marco Rubio, but the other candidates as well. It's interesting that we're getting that much attention.
Why do you think that is?
I think that we played a larger role in the last election than we ever have as a state, in regards to individuals within the state stepping forward and digging deep into their pockets. So I think even though we don't have as many voters here, our economy has done well, we were pretty active in organizing some of those fundraisers and they were very successful, and we've moved up our primary election, while in the past everything had pretty much been decided before we did our primary.
Have any other presidential candidates besides Rubio made it out to Idaho over these past few months?
It's possible that somebody could come and us not know about it, but it's not very likely. I don't think anybody else has been here except for Marco Rubio.
How are you staying in contact with some of the other campaigns you're considering helping?
We've stayed in pretty close contact all the way along with those three campaigns. To me, Marco Rubio seems to be the candidate that could win the election if he were able to win the primary. If he got the nomination, I think that he could rally a lot of independents and several Democrats. I think he has the skills that we've lacked ever since Ronald Reagan of being able to explain to people why we do what we do. Neither of the Bushes had that, and I don't think that Jeb has it very well, though he's better.
So I think that Marco Rubio can go toe-to-toe. He's young, and some people don't feel like he's got the experience, but he surely can lay things out where you say, 'That makes a lot of sense.' I think he's just got to get out there in front of people.
So it sounds like you are leaning towards Rubio?
We are. We are.
But you're still considering Bush and Walker?
Yes. I think Scott Walker has surely got a track record that you can't argue with. And Jeb Bush is going to have the money. It's his to lose. I think it's going to be interesting how it sorts out. You've got the charisma versus the track record versus the money. Not that Jeb Bush doesn't have a track record, but I think the strongest track record of accomplishments while in office has to go to Scott Walker, in my opinion.
Do you have a set budget for what you're willing to spend on the 2016 campaign?
We don't have a set budget. But I do think that we would be of the mind to step forward and help more than one. These are three good guys, and they'd all make good presidents. Personally, I think Rubio and Walker would probably do the best job in office.
Do any candidates have an advantage in terms of trying to tap into the Romney fundraising network?
We stay in touch with those folks, and my impression is that they are absolutely keeping their powder dry and being very careful to not give any appearance that they're behind one candidate or another. And quite honestly, I don't think they are. They're playing a role of being supportive and encouraging, but we haven't seen any indication that they're leaning one direction or another. And that would be important to us—it might even have influence on us. Probably not, but it might.
We've talked to individual candidates suggesting that the Romney campaign has been very encouraging to them. I'm not at liberty to identify folks, but I'll just say that behind the scenes they're encouraging to perhaps more than one. They may have a favorite, but they have not made any indication of that.