Independent Redistricting Commissions Remain Legal, But They're Not Democrats' Silver Bullet
Election-reform advocates will push for more independent commissions after they were judged to be constitutional. But it's not easy to take redistricting power away from legislators.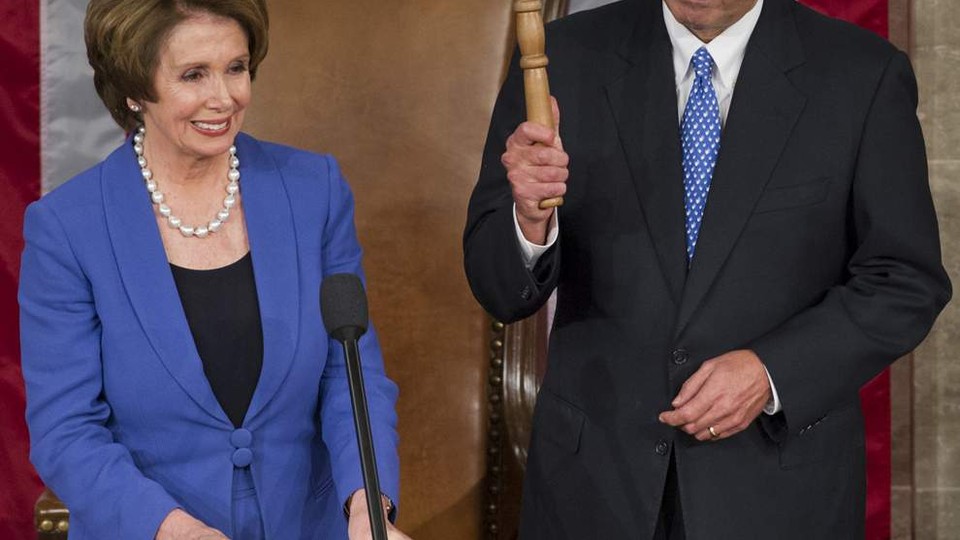 After Monday's Supreme Court rulings, it remains legally possible for advocates to push for more state commissions to take redistricting powers out of the hands of partisan legislators. But it also remains very difficult—both for good-government advocates and for Democrats seeking to repair their structural disadvantage in the House of Representatives.
The Court decided a major case in favor of Arizona's independent redistricting commission, which Arizona voters created via ballot measure in 2000, rejecting Republican state legislators' argument that the Constitution gives federal redistricting authority solely to state legislatures. (The Constitution does specifically say "legislature," but the Court ruled 5-4 that it includes voters exercising their own lawmaking power via direct democracy.)
The continued viability of redistricting commissions could be especially important for Democrats: Republicans control 68 of the 98 partisan state legislative chambers, which would give the GOP a large degree of control over the next round of congressional redistricting. Many of those majorities are entrenched thanks to district lines they drew themselves. Independent commissions are one way Democrats could get more favorable congressional lines drawn next decade.
Judging from other advocates' reactions, the Court's ruling could spur a widespread push for more commissions before the next nationwide redistricting.
"People are just energized by this," said Kathay Feng, national redistricting director for Common Cause, a progressive group that supports independent commissions. "We feel that this is a green light to take on the innovation that the Supreme Court affirmed should be happening."
Feng said the group is "already mobilizing" to push for independent commissions in states that don't have them, including Illinois, Michigan, North Carolina, Minnesota, Indiana, Ohio, "and other states." In most cases, that would benefit Democrats: Republicans control the legislatures in Michigan, North Carolina, Indiana, and Ohio. Minnesota's is split, while Democrats control the legislature—and drew an aggressively gerrymandered congressional map—in Illinois.
But there's a big difference between pushing for a commission and enacting one in these states, raising doubts as to whether independent commissions could noticeably dent Republicans' control of the redistricting process.
Arizona and California, for example, created their independent redistricting commissions via ballot measure, but those states also have relatively easy procedures to get citizen initiatives on the ballot. In most states, there is no option for ballot measures that circumvent the legislature, so any commission that takes power out of the hands of legislators would have to be approved by the lawmakers themselves.
That includes Pennsylvania, North Carolina, and Wisconsin, three states with competitive politics where Republicans nevertheless dominate the legislatures and congressional delegations. Mark Schauer, a former Democratic member of Congress from Michigan who now is director of the Democratic Legislative Campaign Committee's "Advantage 2020" redistricting project, says that because of that, Democrats' best route to winning back control of the redistricting process is "the old-fashioned way," by simply winning state legislative races.
"I don't think they're just going to be giving up that partisan advantage. So the key is to win elections," Schauer said.
Schauer's home state illustrates some of the roadblocks in the way of redistricting ballot measures. In 2014, several Michigan Democratic legislators attempted to put a redistricting commission on the ballot, but they failed to get the necessary two-thirds support from the state House and Senate necessary to put a constitutional amendment in front of voters.
Voters could put the issue on the ballot directly, bypassing the legislature, but they would have to collect a greater number of signatures than in most states: 10 percent of the total number of votes cast for governor in the previous election, which works out to more than 308,000 valid petition signatures right now. (California only required signatures totaling 8 percent of the last gubernatorial vote.)
Democratic state Sen. Coleman Young, one of the sponsors of Michigan's 2014 measure, said he will try to pass another one in 2016 "because it's the right thing to do," but he doesn't think there will be enough support to pass it through the legislature. And a citizen-driven ballot measure could struggle, Young said, because the state is caught up with potential ballot measures legalizing marijuana and establishing a graduated state income tax.
Overall, the Court's ruling Monday "preserves a way to make the process more fair and elections more competitive," said Greg Speed, president of progressive group America Votes. But, he added, the difficulty of creating an independent commission is "a limitation."