How the Supreme Court Could Change Congressional Maps in Arizona (and Other States)
A Supreme Court decision could strike down political boundaries in states where independent commissions draw the lines. Here's an example of how partisan legislators could benefit.
The U.S. Supreme Court could rule as soon as Thursday on whether independent redistricting commissions are unconstitutional, possibly striking down several states' congressional maps and ordering new ones to be drawn. Arizona's Republican-controlled legislature, which brought the lawsuit in the first place, offers a clear example of how partisans could re-gerrymander some congressional maps in the wake of the Court's decision.
An alternative congressional map drawn in 2012 by then-state House Speaker Andy Tobin, shared with National Journal by the Arizona Center for Investigative Reporting, offers an example of the kind of map Arizona Republicans could pass. Compared to the current map, Tobin's alternative eliminates one swing district, currently held by Rep. Kyrsten Sinema, and turns it into safe Republican territory. In total, it gives Republicans five safe districts rather than the four they have currently.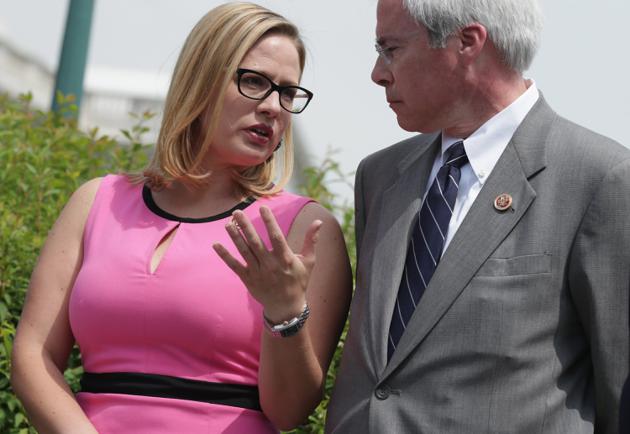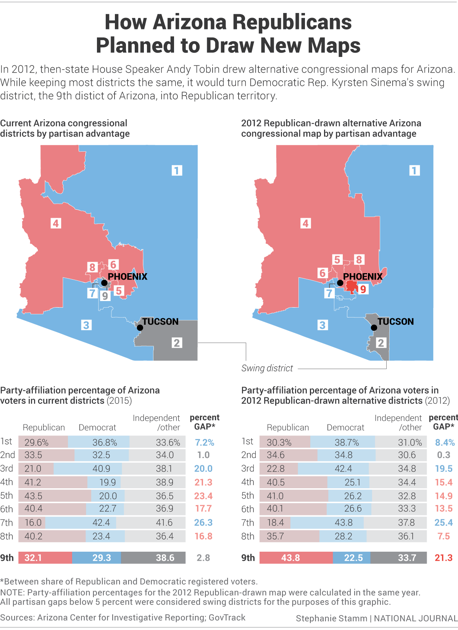 As it stands now, Republicans have a negligible 2.8-percentage-point voter registration advantage in Sinema's swing district based in the eastern suburbs of Phoenix. In Tobin's map, they would have a virtually insurmountable 21.3-point advantage, while also maintaining leads in all districts currently held by Republicans.
Tobin's map accomplishes this by reducing Republicans' registration advantage in four other districts, but still maintaining a majority in each. In Republican Rep. Paul Gosar's district, for example, Republicans' advantage drops from 21.3 points to 15.4 points. Gosar could still easily win reelection, but it pushes a significant number of Republican voters into another district. The same goes for districts represented by Republican Reps. David Schweikert, Matt Salmon, and Trent Franks.
Tobin's map is a helpful illustration, but it's not a perfect example of what to expect. For starters, the state's congressional delegation has changed since Tobin drafted the map in 2012. When this map was drawn, Democrat Ron Barber represented the 2nd District, which is now held by Republican Rep. Martha McSally. Legislators often prioritize protecting incumbents when drawing district lines, so they may choose to move more Republicans into McSally's Tucson-based district rather than Sinema's.
(RELATED: Supreme Court Watchers Are Tired of This Redistricting Case)
Democratic Rep. Ann Kirkpatrick's announcement that she will run for Senate may also make a difference. Despite Democrats' 7.2-point registration advantage, Kirkpatrick's rural, conservative district often favors Republicans and backed Mitt Romney in 2012. With Kirkpatrick out of the picture, legislators may try to push this open seat further into Republican hands rather than targeting Sinema.
(Also keep in mind that party registration has changed slightly since Tobin's map was drawn, which explains why the current map, with numbers from January 2015, shows a greater number of independents in every district.)