How Some Refugees in Seattle Learned to Trust the Police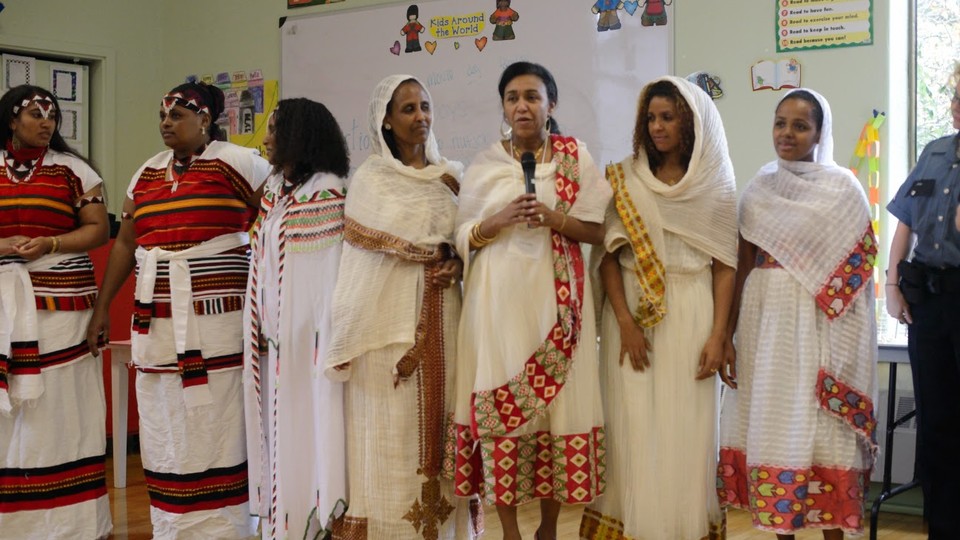 SEATTLE—The police department in Seattle faces a real challenge: More immigrants and refugees are settling in, but they're mostly afraid of police. Some are even afraid of calling 911.
South Seattle is home to a diverse group of immigrants, refugees, and other racially diverse Americans. The neighborhood of Rainer Valley, in particular, is in one of the most diverse zip codes in the country, according to Census data.
Yet the city's police officers have struggled to communicate with many of these newcomers, who are often victims of unreported crimes. So police teamed up with the city's new Office of Immigrant & Refugee Affairs to address the issue.
Their research showed that—among the city's residents—refugee women were the most likely to be uneducated, vulnerable, and civically disengaged. Police and city hall piloted an eight-week Refugee Women's Institute made up of 20 women police officers, 20 refugee women, and 13 interpreters. Participating refugees came from countries like Somalia, Eritrea, and Bhutan.
"We needed them to trust that the women in the room were just like them," said Sahar Fathi, head of policy, programs, and strategy for the Office of Immigrant & Refugee Affairs. "A lot of them were terrified of speaking up about domestic violence. They wouldn't talk about it with a man in the room."
One participating police officer and one Nepalese refugee spoke to Next America about what they learned and whether it made an impact. The interviews have been edited for length and clarity.
Seattle Police Detective Carrie McNally
[The program] sounded unique and interesting, and I knew that we would have many female officers engaged and wanting to be part of it. We are always looking for new ways to connect with communities to make sure they trust us, because if they don't call us, we don't know how to help them. We are a safe-haven city for immigrants, and people here speak more than 230 languages.
One issue that comes up is when officers respond to a call and everyone in the community comes outside. The situation gets heated; there are a lot of exchanges going on in several languages. We're trying to figure out what's going on, and it can get volatile.
I was part of the [Institute's] planning committee. So I invited probably 30 to 40 officers from a variety of different assignments. Right away, I filled up the 20 spots. We asked for information about the refugees' countries and the issues happening there. We don't necessarily know world history and why they have come to the United States and why they have legitimate reasons to be afraid of the police. We weren't even sure if the term "refugee" was offensive.
"We weren't even sure if the term "˜refugee' was offensive." —Seattle Police Detective Carrie McNally
In one of the sessions, we learned about customs. Simple things, like taking off your shoes when you are in someone's home, and that many refugees will invite everybody inside to have a meal together. Lots of women have tea just for women and talk just with women. Many of us have children, and we talked about that and how we take care of our homes. So it put us on a similar level. We purposely did not wear our uniforms and did not have our weapons for the first seven sessions because we wanted to build the relationship as we were, just as women. On the last day, we wore our uniforms, to show that we are still the same.
I was teaching the session on domestic violence, and when I was speaking, it became clear that this was an issue for them or someone they knew in their community. Some of them had experienced it, but we respected their privacy. We didn't want them to disclose things that they weren't comfortable disclosing, but we wanted to make sure they understood the laws in the United States. At first they were not clear about that.
One of the most surprising things happened while we were showing them the 911 call center. They said they were afraid to call 911. Some of them had heard that police would come to their homes and take away their children if they called them.
That, for us, was a pivotal moment. We would never have thought that would be an issue. We know better. It caused us to realize that we, as an agency, and we as a group, had not reached these communities at the most basic level. There is so much misinformation often reported by members of their own communities.
We need to better communicate, from a department standpoint, that we are not immigration agents, that we have no access to immigration status, and we have a language line that will put an interpreter on the line when they call us.
Kunti Timsina, 30, Nepalese refugee from Bhutan
(through an interpreter)
I went to the Asian Counseling and Referral Service with my sister-in-law. Her case manager told me about the program. I wasn't working at the time and thought it sounded fun. I had seen police officers from a distance but had never talked to them.
In Bhutan, people don't like the Nepalese, so of course the police were not respectful to us. Some Nepalese were tortured and forced to eat beef. We are Hindu.
My family moved to Alaska in 2009 as refugees. Then I moved to Seattle in 2011 to be with my husband, who is also a Nepalese refugee. We met through an arranged marriage. I had never heard of Seattle, but the weather is much better than Alaska.
I learned so many things from the [refugee institute], like what I should be careful about. I learned that human-trafficking and forced labor is a problem here. Before, I thought nobody would dare try that here in the United States.
"Now I know that I can call 911, and all I have to say is, "˜I'm Nepalese,' and they will put on a translator. I've already told all my [Nepalese] neighbors about this. I feel more confident now." — Kunti Timsina
We were all together for eight weeks and we got to know each other and became friends with the police. There were four other Nepali women there, too.
We told police that we don't know what to say or who to call in an emergency. We weren't sure what to do. And if we did call, we wondered, "What will they do?" We are insecure. I didn't know a lot of things because I don't speak English.
Now I know that I can call 911, and all I have to say is, 'I'm Nepalese,' and they will put on a translator. I've already told all my [Nepalese] neighbors about this. I feel more confident now.