How Progressives Are Bucking the White House and Working to Whip Democratic Opposition to Trade Deals
Critics of the Trans-Pacific Partnership and so-called "fast-track" authority are trying to get fellow Democrats to come out in opposition to deals the White House wants.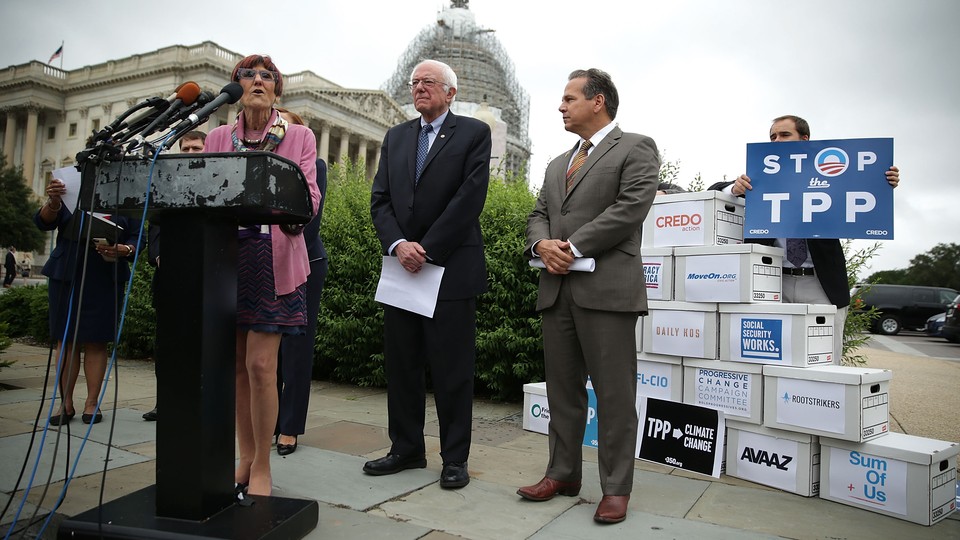 As the House of Representatives prepares to vote on the White House's trade agenda, Democrats who are opposed to it are trying to convince colleagues in their party to join them.
Last month, the Senate passed Trade Promotion Authority, also known as "fast track" authority, which would subject trade deals like the 12-nation Trans-Pacific Partnership to a simple up-or-down vote without the ability to amend.
Democratic Rep. Mark Pocan of Wisconsin told National Journal that opponents of TPA have met with Democrats who may be on the fence to try to explain the effects they believe the Trans-Pacific Partnership would have on local workers.
"The main thing is finding out what their specific concerns are and how to address those concerns," Pocan said, giving the example that sometimes members from agriculture-heavy districts want to know about imports and exports for the industry. "It's always particular information."
The push comes as House Minority Whip Steny Hoyer, who is still undecided on TPA, has called on his caucus to act in a more civil manner during the trade debate.
Rep. Rosa DeLauro of Connecticut, who has emerged as a leading critic of trade legislation, pointed to the opposition of economic experts like Nobel-winning economist Joseph Stiglitz to explain the perceived negative effects of the trade deal.
"We are not strong-arming people, we are not providing goodies to people," DeLauro said at a press conference with House Democrats opposed to the trade deal on Wednesday. "We are giving them accurate information so that they will make an informed decision."
Rep. Loretta Sanchez, who is running in the Democratic primary for California's open Senate seat, said she is reminding other Democrats that during the Clinton administration, the House pulled TPA from a floor vote because it lacked sufficient support.
"There have been misstatements before that we have given fast-track authority to the president," Sanchez said, recalling when then-Vice President Al Gore unsuccessfully tried to get her support for TPA. "Lots of promises are made when you're trying to get votes, but the proof is in the pudding."
At the House Democrats' press conference on Wednesday, which also featured presidential candidate Bernie Sanders, there was much discussion about how they believe the deal would empower corporations. But Sanchez said more people care about the effects it could have on workers.
"I think they're much more receptive to hearing what has happened to the worker in my area, rather than 'the multinationals are terrible,' " Sanchez said, referring to members on the fence.
Rep. Barbara Lee of California, who is part of the House Democrats' whip team, said she tried to explain to undecided Democrats how TPA could hurt the economy and especially affect communities of color.
But Pocan also said those trying to block TPA are facing considerable adversity.
"We're battling the White House and we are battling against Republican leadership," he said.
Republicans, meanwhile, are mounting their own lobbying campaign in favor of trade legislation.
In the Capitol basement Wednesday afternoon, a steady procession of trade supporters trickled into a meeting room to hear GOP leaders' pep talk on TPA. According to one source, House leadership urged the more than 200 attendees to press business interests to put pressure on lawmakers to pass the bill.
Majority Whip Steve Scalise led the event, which was also attended by Speaker John Boehner, Majority Leader Kevin McCarthy, Conference Chair Cathy McMorris Rodgers, and Ways and Means Chair Paul Ryan. Among the attendees were representatives from the manufacturing, agriculture, and shipping sectors.
The vote is expected to be close, but TPA could get through even with limited Democratic support. Sanchez said that if TPA passes overwhelmingly, it would be because someone in Democratic leadership gave their members a nod that it was OK to vote that way.
But Lee said leadership has worked to bring in experts on both sides for members.
"I have not seen leadership trying to influence members one way or the other," Lee said. "I think they are allowing members to get the facts."
Correction: An earlier version of this story misspelled the first name of Rep. Mark Pocan.
---
Alex Brown contributed to this article