How Mitch McConnell Is Attacking Obama's EPA
Senate's EPA spending bill takes swipe at power-plant rules in a long list of riders.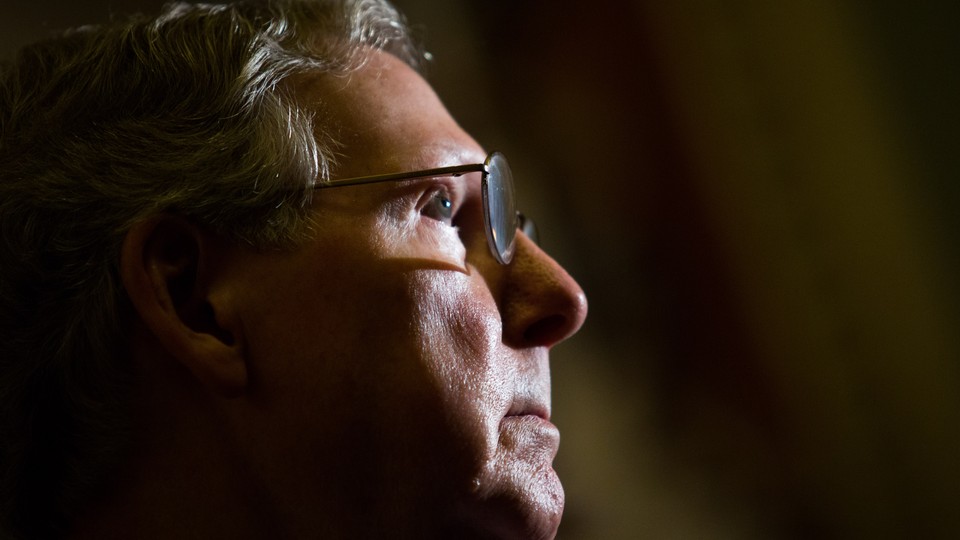 Senate Majority Leader Mitch McConnell said he joined the appropriations subcommittee in charge of the Environmental Protection Agency this year to "fight back against this administration's anti-coal jobs regulations." Looks like he's doing just that.
The fiscal 2016 spending bill passed by the Interior and Environment Subcommittee Tuesday includes language that would bar federal enforcement of the EPA's rules limiting greenhouse-gas emissions for existing power plants. That would allow states to opt out of the rule without fear of the EPA stepping in with a federal implementation plan.
The rider on the EPA's power-plant rule would represent a significant blow to President Obama's climate plan by giving states the opportunity to sit out rather than crafting an individual plan to clean up its power plants and improve energy efficiency. McConnell has been pushing his "just say no" plan to governors, warning that the climate rule will kill jobs while delivering minimal environmental benefits.
McConnell earlier this year wrote to all 50 governors telling them to sit out the EPA rule, saying the plan was "already on shaky legal grounds" and that EPA was out of bounds in requiring states to write plans to cut their emissions. So far only one governor, Oklahoma's Mary Fallin, has said publicly she would opt out, although Wisconsin Gov. Scott Walker, an expected presidential candidate, has indicated he would opt out as well.
Overall, the $30.01 billion bill would cut $539 million from the EPA compared to the fiscal 2015 enacted levels, for a total funding level of $7.6 billion. That's also well below President Obama's request of $8.6 billion.
The bill seeks to cut $75 million as well from EPA clean-air and clean-water programs and cuts $7.5 million from civil and criminal enforcement at the agency.
The bill passed by a voice vote, as is traditional in the Senate committee, and will face a full committee markup on Thursday.
The spending bill also looks to block several other landmark EPA rules, like the agency's clarification of its Clean Water Act authority. Republicans have long argued that the so-called Waters of the United States rule is a regulatory overreach and would give EPA too much power over agriculture and construction interests.
Another rider would bar the EPA from lowering the standard for ground-level ozone, or smog, until 85 percent of counties that currently do not meet the standard come into compliance. It would also block EPA from regulating lead fishing and tackle, and block a rule requiring companies to make financial plans to clean up hazardous-waste contaminations, which Democrats say would leave taxpayers on the hook.
Another rider in the bill would stop a White House guidance instructing federal agencies to consider climate-change impacts when they conduct National Environmental Policy Act reviews for major infrastructure projects.
Subcommittee Chairman Lisa Murkowski, R-Alaska, said the riders were designed to "rein in the EPA," adding that she was concerned the NEPA requirements would block construction projects.
But Democrats have said the policy language in the bill amounts to a list of poison pills that would keep them from supporting the Interior bill. Sen. Tom Udall of New Mexico, the ranking member on the panel, said he was "deeply disappointed" in the bill.
"What we see is nothing less than a backdoor attempt to rewrite the Clean Air Act" and other environmental laws, Udall said.
Among the other controversial riders is a provision that would block a Bureau of Land Management rule setting rules for hydraulic fracturing on public lands.
The bill would also block the U.S. Fish and Wildlife Service from enforcing an Endangered Species Act listing for the sage grouse, which Republicans have said would curtail oil and gas development in the West on land where the bird lives. The Interior Department has said it will go ahead with the determination process despite spending riders.
Overall, the bill would provide $11.05 billion for the Interior Department, $1.18 billion for BLM (a $65.5 million increase over fiscal 2015), and $2.73 billion for the National Park Service (a $112 million increase).
Heading into what's projected to be an above-average fire season, the bill also offers $3.61 billion overall to fight wildfires, reflecting the average amount spent over the last 10 years. The spending bill includes $1.05 billion in emergency spending and lifts the fire cap adjustment, ensuring that extra spending on wildfires does not come out of other federal programs.
The House moved its own environment and Interior spending bill Tuesday, with the Appropriations Committee voting through its $30.17 billion spending bill along party lines. Democrats were unsuccessful in stripping the riders from that chamber's bill, which largely lined up with what was included in the Senate bill.
Republicans did manage to attach two more policy provisions, blocking the EPA's new ozone standard and blocking funding for BLM's rule regulating hydraulic fracturing on federal lands.