House Republicans Take Hatchet to Obama's Environmental Budget
Spending bill would block enforcement of the administration's rules on power plants.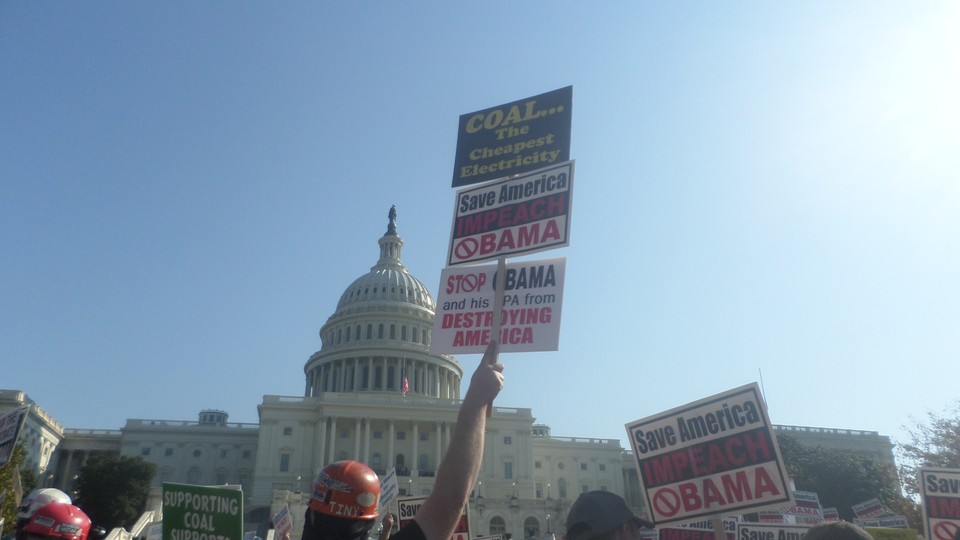 House Republicans are teeing up another attack on the Obama administration's climate plan, proposing to slash the Environmental Protection Agency's budget and blocking the tentpole rule limiting emissions from power plants.
The fiscal 2016 spending bill for EPA, the Interior Department, and other agencies also carries riders that would bar EPA's controversial redefinition of its Clean Water Act authority, prevent the administration from increasing oil and gas inspection fees, and block the listing of the greater sage grouse as an endangered species.
The bill would block EPA rules limiting emissions from new and existing power plants, set to be finalized this summer. Republicans have long blasted the proposal as an executive overreach that will kill jobs, and they have tried to block it in previous spending bills.
The measure was made public just minutes before a panel of federal judges rejected an attempt by conservative states and the coal industry to block the new EPA rules before they were finalized.
The Obama administration has gone full force into the climate plan in its budget request, spending billions across EPA, the Energy Department, and other agencies to advance clean-energy and climate-change regulations. Republicans have vowed to take an axe to such programs: The House Energy spending bill slashed funding for renewable programs in favor of fossil fuels, while the spending bill for the State Department zeroed out funding for an international climate-change fund.
Overall, the $30.17 billion bill would cut EPA's budget by $718 million, or 9 percent, from the fiscal 2015 enacted level. The $7.4 billion spending level for the agency is well below President Obama's request of $8.6 billion.
To keep EPA in check, the bill would also cut $69 million from the agency's regulatory programs ($206 million below the budget request) and hold staffing levels to 15,000, the lowest level since 1989. The move was made, the committee said, to "focus its activities on core duties, rather than unnecessary regulatory expansion."
The bill also blocks EPA's Waters of the United States rule, which provides clarity over what waterways EPA could regulate. Republicans say the redefinition gives EPA more authority than it had in the past and would overstep on the agricultural and construction industry. Similar language was included in the House-passed Energy and Water appropriations bill and in a separate bill passed just days later.
House Appropriations Committee Chairman Hal Rogers said the bill "stops the abuse of power by overzealous bureaucratic agencies in Washington—including EPA—that seek to impose unnecessary regulations that kill jobs and hinder growth."
The Interior appropriations subpanel is scheduled to mark up the measure Wednesday.
Other agencies covered in the bill would also face spending cuts. The Fish and Wildlife Service, for example, is funded at $1.4 billion, $8 million below the fiscal 2015 level. The bill also extends a delay on any Endangered Species Act rule-making for the sage grouse, whose habitat is on Western land rich in oil and gas.
Last year's spending bill also prevented the Interior Department from moving forward on rule-making related to a listing for the bird, although Interior Secretary Sally Jewell said last year the rider did not prevent them from deciding whether a listing was warranted, nor did it prevent spending for state conservation plans.
The bill would also block EPA from changing rules on what waste material coal companies can dump into streams, or "fill material," as well as stopping the agency from regulating lead ammunition and fishing tackle. Environmental groups have said that lead bullets pose a risk to wildlife, although a federal appeals court in December ruled that EPA could not regulate lead bullets.
Ahead of what's expected to be an intense wildfire season, the bill adds $52 million to wildland-firefighting and fire-prevention programs for a $3.6 billion total spending level, including fully funding the 10-year average for wildland fire-suppression costs at Interior and the Forest Service.
The National Parks Service would also receive $2.7 billion, an increase of $53 million from fiscal 2015. The Office of Surface Mining also gets a $30 million boost to $180 million, with new funding going to a $30 million program to accelerate reclamation of abandoned mine lands.
Environmentalists were quick to blast the bill. Friends of the Earth climate and energy campaigner Lukas Ross said the "draconian proposal" was treating EPA and other agencies as "props in political theater."
"Using funding levels as their weapon of choice, the House Republican leadership is launching a frontal assault against our bedrock environmental protections," Ross said.