House Republicans, Sid Blumenthal, and the Ghosts of Clinton's Past
The Benghazi committee's deposition of the longtime Clinton family ally shows how past controversies will loom over Hillary Clinton's campaign.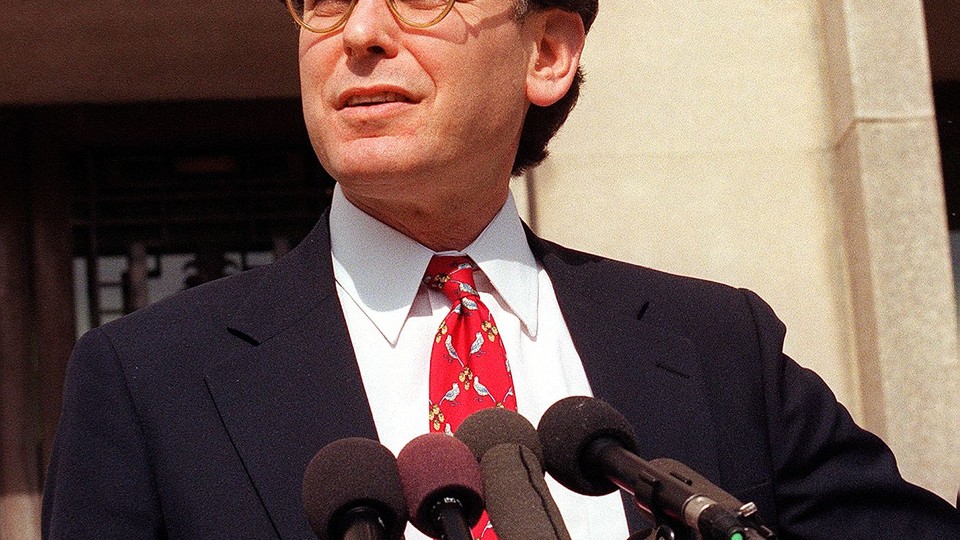 House Republicans probing the 2012 Benghazi attacks are turning their attention to a figure from Hillary Clinton's past as the Democratic frontrunner tries to sell voters on her ideas about the future.
On Tuesday, the GOP-led Select Committee on Benghazi will hold a closed-door, hours-long deposition of Sidney Blumenthal that will focus on the longtime Clinton family ally's email exchanges with Clinton about Libya while she was secretary of State.
"Establishing the facts surrounding the large number of emails regarding Libya sent by Mr. Blumenthal to former Secretary Clinton is why he has been called to appear before the committee," a committee aide said.
On the eve of the deposition, the Benghazi panel's GOP Chairman Trey Gowdy said that Blumenthal had provided the committee with about 120 new pages of his emails with Clinton. The messages were not included in the Clinton-Blumenthal emails that the State Department had already provided to the committee months ago, he said.
Gowdy, in a statement, said the nearly 60 emails Blumenthal provided Friday about Libya and Benghazi would "help inform" the deposition. He said Republicans are "prepared" to release the messages shortly if Rep. Elijah Cummings, the panel's top Democrat, agrees. If not they will be released after five days have passed, Gowdy said.
A Democratic committee aide said he assumed that the new emails from Blumenthal were not provided by the State Department because the committee's request to the department was more narrowly cast.
The deposition and the intense press interest it will attract provide a reminder that past controversies surrounding Clinton will loom over her campaign. "If Barack Obama was no-drama-Obama, Bill and Hillary Clinton are all drama all the time," political analyst Tobe Berkovitz said.
He said it's a reminder of the 90s-vintage Clintons, even if Blumenthal himself is hardly a household name.
"To most voters, Sidney Blumenthal is a name from the past that they have pretty well forgotten, if they even knew it to begin with. He was part of the inside baseball, inside the Beltway players inside the [Bill] Clinton administration," said Berkovitz, a mass communications and public relations professor at Boston University.
But he said it "starts dredging up all the Clinton baggage, all the drama, all the characters."
While the deposition will be behind closed doors, it's fueling the very public collision between Republicans, who say important questions remain unanswered, and Democrats, who say the probe is a nakedly political attack against Hillary Clinton.
In a lengthy statement Monday evening, the pro-Clinton super PAC Correct The Record accused Republicans of "trolling for anything they can use to harm Hillary Clinton no matter how off-topic or outlandish."
"In this case, they have subpoenaed a cooperative witness for show—a witness who has not one thing to do with what happened in Benghazi or the government's reaction to it—because hurting Hillary Clinton's political prospects is now the all-consuming passion of House Republicans, not getting to the bottom of what happened in Benghazi—as if that was ever the real purpose of this committee to begin with," said Brad Woodhouse, a veteran Democratic operative who is the group's president.
Emails turned over to the panel early this year and made public in May show detailed messages about Libyan intelligence, military, and political issues that Blumenthal sent to Clinton, who passed a number of them along to top aides.
They're included in 850 pages of Clinton's Libya-related emails that the State Department provided the Select Committee in February and released publicly last month.
Blumenthal was employed by the Clinton Foundation and as a consultant to pro-Clinton advocacy and political groups, and he also advised companies seeking contracts with Libya's post-Gaddafi transitional government, The New York Times reported in May.
"We know Mr. Blumenthal corresponded with the former Secretary regarding matters directly related to the scope of this investigation. But we have many unanswered questions when it comes to how the information he provided was compiled and the overall role he was playing," said Rep. Susan Brooks, a GOP member of the panel who served as U.S. Attorney for the Southern District of Indiana.
Blumenthal's memos to Clinton in 2011 and 2012 provided detailed assessments of the Clinton's ally's view of the complicated state of play in Libya.
For instance, a Feb. 21, 2012 memo about "Libya politics to control militias" provides detailed analysis and information about the turbulent factional landscape after the fall of the Gaddafi, and cites "sources with direct access to the Libyan National Transitional Council, as well as the highest levels of European Governments, and Western Intelligence and security services."
Shortly before the subpoena was issued last month, a GOP committee source said the panel wants to better understand Blumenthal's business arrangements and what actions State officials may have taken in response to his messages.
Gowdy, a former federal prosecutor, and other members plan to attend the deposition and ask questions, and investigative staff will too, according to the committee.
On the minority side of the panel, Cummings told The Hillthat he will be "there to listen."
It will be the year-old Benghazi panel's highest-profile moments yet, and no doubt Cummings will be listening for anything that feeds Democratic allegations that the House GOP probe of Clinton is a political witch hunt designed to wound Clinton politically.
Late last week, The Washington Post ran an op-ed by Cummings that said the panel's Democrats have "grave concerns we share over the extremely partisan and misguided direction this committee has taken."
They also unveiled a website that provides a running tally of the cost of the probe thus far, which according to Democrats is approaching $3.5 million.
Clinton, for her part, has downplayed the messages and defended her communication with Blumenthal, who advised Bill Clinton when he was president and has long been in the family's orbit.
"He has been a friend of mine for a long time. He sent me unsolicited emails, which I passed on in some instances," Hillary Clinton told reporters in Iowa on May 19.
"When you are in the public eye, when you are in an official position, I think you do have to work to make sure you are not caught in a bubble and you only hear from a certain small group of people, and I am going to keep talking to my old friends, whoever they are," Clinton said.
This article has been updated.