House GOP Wants to Withhold State Dept. Money Over Hillary Clinton Emails, FOIA Problems
Republicans hope to use the appropriations process to ensure every State employee preserves records.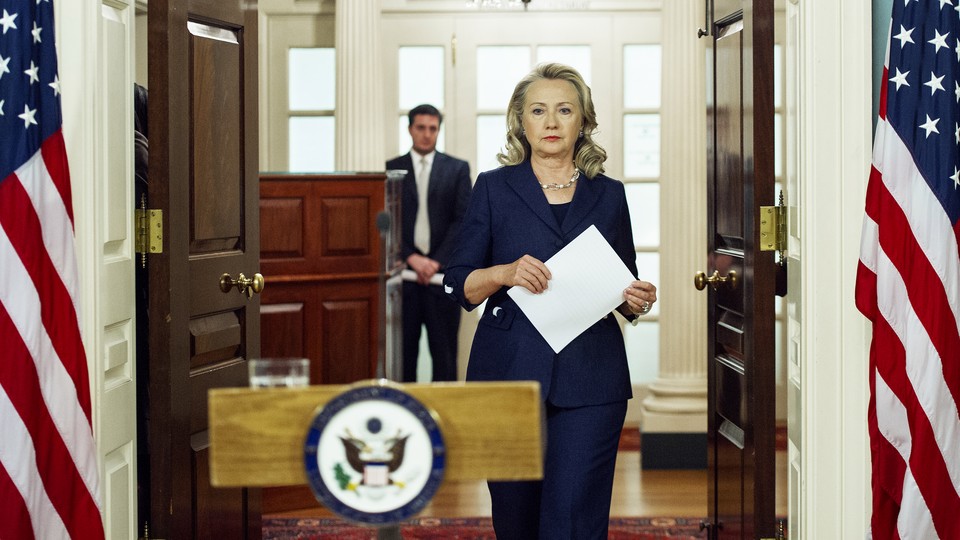 House Republicans want to block a chunk of State Department funding as leverage to ensure compliance with records-preservation rules and force faster disclosure of documents to Congress.
The plan unveiled today opens a new front in political battles over Hillary Clinton's use of a private email server and the Republican probe of the 2012 Benghazi attacks.
The GOP's fiscal 2016 foreign operations funding bill holds back 15 percent of funding for State diplomatic programs until the department shows compliance with federal laws and policies concerning preservation of emails and other records.
Jennifer Hing, a spokeswoman for Appropriations Committee Republicans, said concerns over Clinton's private email arrangement are "related," but the language stems from "broader concern over records."
The bill says State must show that it has directed employees "at every level" to ensure that "documentation of their official duties is captured, preserved, managed, protected, and accessible in official Government systems."
It also requires State to ensure that "all departing employees at every level have been directed that all Federal records generated by employees, including senior officials, belong to the Department."
The bill also requires also State to implement a plan to cut the backlog of requests for records from Congress and under the Freedom of Information Act, and speed up response times.
Hing confirmed that this language is linked to what the Select Committee on Benghazi alleges has been an inadequate response to its records request and subpoena. The panel is seeking documents that include emails from Clinton's top aides at State.
The foreign operations funding bill is only at the start of a long process; it will be marked up in subcommittee Wednesday. The counterpart Senate panel has not yet released its bill, and it's unclear when any appropriations measure will actually get signed into law amid partisan squabbling over spending caps.
Recent weeks have brought signs that House appropriators would try and use the power of the purse to push State on the Benghazi probe. A May 8 report from the Select Committee said the House should "consider motivating the Executive Branch through the appropriations process."
Clinton, the front-runner for the Democratic White House nomination, turned over 55,000 pages of emails to the State Department in December, and State will begin releasing them in batches starting in late June under an order from a federal judge.
But Clinton also deleted emails deemed personal in nature, angering Republicans who say this makes it impossible to know whether the official record from her time at State is complete. Clinton's team says there was a thorough review.
Rep. Trey Gowdy, chairman of the Select Committee on Benghazi, said panel Republicans were getting fed up with the State Department's slow responses to document requests. "The explanations and excuses for non-compliance are tired and unpersuasive. Regrettably it sometimes takes money to get agencies' attention," Gowdy said in a statement.
But Rep. Elijah Cummings, the top Democrat on the Benghazi panel, said in his own statement that the GOP-run committee was itself to blame for any delays, accusing the majority of deliberately dragging out the process to embarrass Clinton.
"It makes no sense to cut the Department's budget while continuing to give the Select Committee a blank check," Cummings said.
This article has been updated.