House GOP Still Doesn't Want Legal Pot in D.C.
A newly released appropriations bill forbids the use of District funds to decriminalize or legalize marijuana.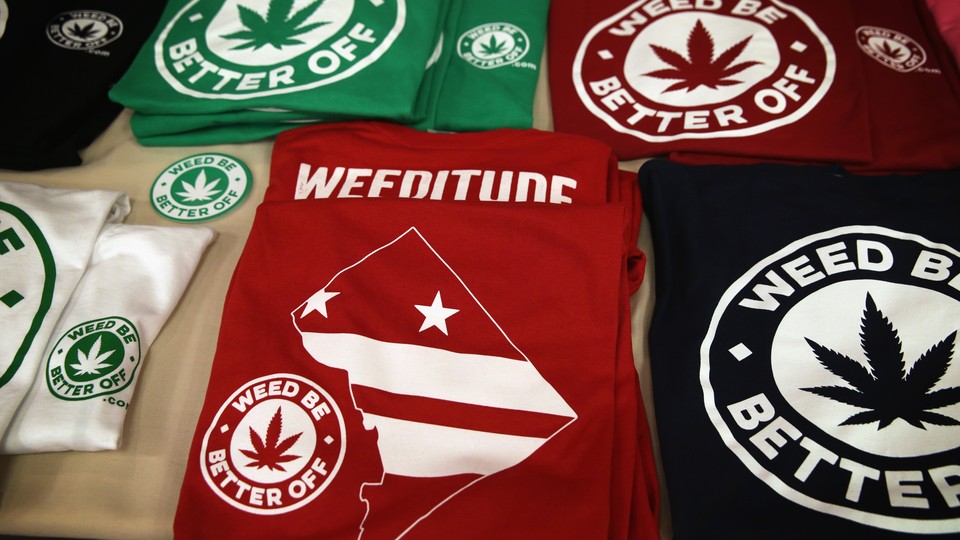 Tucked inside a House Appropriations Committee bill released today is a provision that prohibits federal and local D.C. funds to be used to enact marijuana legalization. It reads:
None of the Federal funds contained in this Act may be used to enact or carry out any law, rule, or regulation to legalize or otherwise reduce penalties associated with the possession, use, or distribution of any schedule I substance under the Controlled Substances Act 8 ... or any tetrahydrocannabinols [marijuana] derivative.
This provision isn't all that surprising for the Republican-controlled committee. It's a continuation of their strategy to keep the District from legalizing marijuana. After 70 percent of Washington D.C. voters chose to legalize marijuana in their city in 2014, House Republicans pushed through a similarly worded provision to thwart the city's implementation of the ballot measure.
The D.C. ballot measure only sought to legalize pot for personal use, not make it legal for sale. That policy took effect in February and remains in place in the city today, despite threats from House Republicans.
Republican representatives Jason Chaffetz, the chairman of the House oversight committee, and Mark Meadows, chairman of the House subcommittee on government operations, sent D.C. Mayor Muriel Bowser a letter in February warning her against taking any further actions to legalize marijuana.
"If you decide to move forward tomorrow [the date the D.C. ballot measure was supposed to take effect] with the legalization of marijuana in the District, you will be doing so in knowing and willful violation of the law," they wrote.
Bowser stood her ground, even telling The Washington Post she'd be willing to go to jail to see the ballot measure implemented. "Me being in jail wouldn't be a good thing," she told the Post, "but making sure that the will of the voters is implemented ... that's my job and that's what I'm doing."
Bowser and D.C. marijuana advocates believe they are on solid legal ground because they say Congress added the provision after the ballot measure was enacted. So far, no lawsuit or legal action has been taken against the District for implementing the ballot measure. But the standoff remains unresolved.