House Democrats Reject Obama, Sink Trade Bill
126-302 vote deals major blow to White House's agenda. And it came from his own party.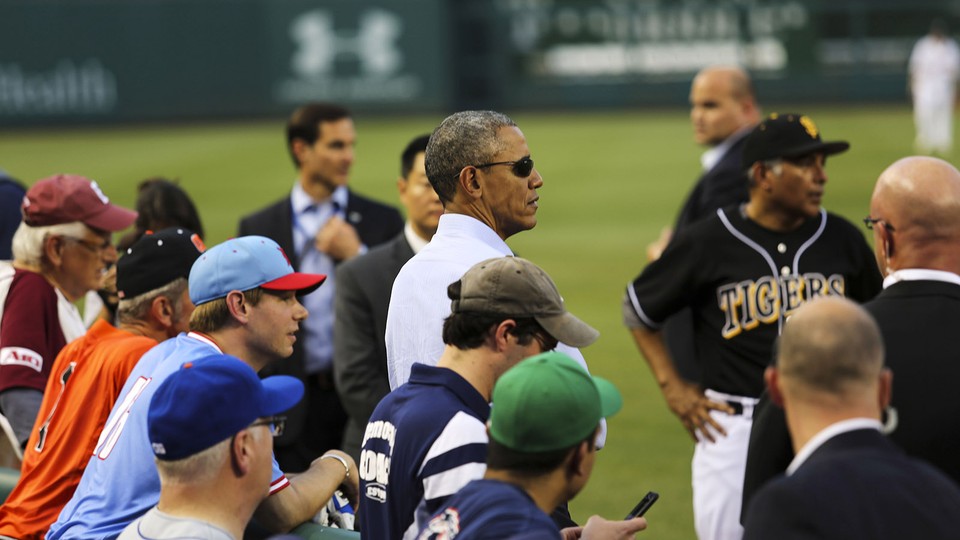 President Obama traveled to Capitol Hill to personally plead House Democrats not to sink his trade agenda.
He failed. And it wasn't close.
In a dramatic early-afternoon vote, the House rejected the Trade Adjustment Assistance package, 126-302. At least 140 Democrats voted against Obama.
And it was Minority Leader Nancy Pelosi who cast the final blow. Speaking just before the vote for 15 minutes, Pelosi, who had kept silent on the issue, said she would oppose the president.
"We have an opportunity to slow down.... We want a better deal for America's workers," Pelosi said, objecting to the inability of the House to offer amendments. "Why are we fast-tracking trade and slow-walking the highway bill?" Pelosi said she was prepared to vote against TAA in order to delay Trade Promotion Authority, or "fast track" legislation.
That was precisely what Obama had urged his fellow Democrats not to do.
Friday morning, the president told Democrats to "play it straight, play it straight," said Rep. Henry Cuellar. In other words, don't vote against TAA just as a means to kill fast-track.
Part of the president's pitch to lawmakers to vote for TAA referred to a man named Tim, one of Obama's clients in his days on the South Side of Chicago. Tim was displaced by the closure of a steel factory, said Rep. Gerald Connolly. The message: "Here's a real-life human being I met, that I knew. He had a son with health issues, and every day, I get up, I think of him. And you should, too."
Leaving the meeting, Obama was cautious about making predictions. "I don't think you ever nail anything down around here," he said. "It's always moving."
But the debate isn't over yet.
After the TAA vote, the House's GOP majority, to loud cheers, then passed language to support the fast-track provision, 219-211. And Speaker John Boehner said he will bring back the TAA language early next week, giving everyone another bite at the apple.
"We just passed a major trade agreement so we have done our part," said Rep. Steve Scalise. "Obviously, TAA is a piece that the president is going to have to deliver the votes on and we delivered more of the votes than we were expected to, but at the end of the day, this is now up to the president if he is going to get this thing over the finish line."
The president will have to see "if he can overcome the strong opposition from labor bosses and actually deliver on something that is gonna get our country back in the game to be competitive with countries that are cutting deals with China right now," he added.
TAA was the key. A program to help workers hurt by the impact of trade, the bill was expected to pass with mostly Democratic support, but it has quickly become a flashpoint for progressives who argue it's paid for with a cut to Medicare—even though House leaders say they have a fix in place that will find the revenue elsewhere. Without its passage, the larger fast-track bill coveted by the White House and House GOP leaders will likely die.
Before the vote, pro-trade Democrats were clearly worried.
"I'm afraid right now that our party is on the verge of betraying those very people who we're supposed to be here standing up and fighting for," said Rep. Ron Kind. As for the future, "If this goes down, I think the administration continues to negotiate a [Trans-Pacific Partnership] agreement. It'll be a much worse agreement than if he has this authority. The chances of it passing are probably slimmer than if he had the authority, and I'll guarantee this: TAA goes away."
"I'm counting noses, and there just aren't enough yeas," Connolly said. "There have been [discussions with the GOP] and there have been wild swings of numbers, but even their highest number isn't enough. ... When the president spoke to our caucus, our nose count was inadequate votes on our side and on their side. It's an uphill struggle, and the question is whether the president swayed enough votes in that room to change the calculus."
Democrats mostly praised Obama's performance Friday morning, but few said he changed the game.
"I am not sure that he persuaded too many people," said Rep. Judy Chu.
"Obama was passionate and eloquent, speaking to us for 30 mins," Rep. Brendan Boyle tweeted. "He clearly cares about workers. But he's just wrong about #TPA and #FastTrack."
The president was betting it all. The White House had tried almost everything this week to convince enough Democrats to stay with the president and not kill his effort to pass fast-track trade legislation. Senior officials had been meeting with Democrats all week, and the president visited members at Thursday night's congressional baseball game. Friday morning's visit was the all-in moment.
"I think it was helpful, a very powerful presentation," said Rep. Earl Blumenauer, adding that the president asked people to vote their values.
Friday morning, Democratic leaders had a new worry on TAA—and a new closing argument for members of their party that Obama featured: that the GOP might roll them if the bill was defeated. A House Democratic aide said that GOP leaders had indicated that if the TAA bill was defeated, they may bring up a clean fast-track bill next week and leave TAA for dead.
Rep. Brad Sherman wasn't convinced by the argument. "The president is endorsing a legislative device that is beyond complicated, but then he says that we're obligated not to use legislative maneuvers to defeat fast-track, that we wouldn't be playing it straight if we used any legislative maneuvers," he said.
"I think a lot of us view it as one vote," Sherman added. "It was one vote in the Senate; it's one vote here. ... I'm in the House, I view it as one vote; I have to push the red button twice. I'll be pushing the red button twice to cast my one vote against fast-track."
Cuellar suggested the White House dawdled in its response to progressives who decided to make TAA the main issue. "When they shifted that, the response from the White House was not fast enough," he said.
Reporters outside the room heard several rounds of applause during the meeting. Rep. Mike Quigley said they were in response to Obama reminding Democrats of what the White House has accomplished on key issues. "It was along the lines of restating what he has done, working together with the Democratic caucus on labor, on the environment, and all the issues and things that we can be very, very proud of," he said.
And Rep. Donald Norcross still vowed to vote no on TAA, but he said Democrats stand behind Obama. "I think clearly everybody is supportive of the president. His policy? We'll find out how supportive they are shortly," he said. "I will be voting no because this is about TPA, and clearly they are linked together. They are inseparable, and we will make sure that we don't go back to the past of NAFTA where the jobs were flowing out of the country.
"Obviously, he is passionately involved in making sure that TAA, TPA gets passed," Norcross added. "The White House clearly is working harder in the last couple of weeks than they have before."
As the Democratic drama unfolded, Republicans were simply sitting back and watching. GOP aides said they were confident they had the votes on fast-track, but that it was up to Democrats to ensure that the TAA bill passed.
Cuellar said Republicans had told him they need more than 100 Democrats on TAA, but he had said that GOP leaders "can do better" on their end, "and they will."
Not all Democrats were impressed by Obama's visit. Many lawmakers have long complained that the president has failed to cultivate good relationships with members of Congress. "Now President Obama wants to talk?" Rep. Keith Ellison tweeted.
"There were a number of us who were insulted by the approach," said Rep. Peter DeFazio.
After the meeting, Rep. Louise Slaughter said she remained a solid vote against TAA. "Everything can always be brought up again," she said.
Rep. Gene Green wasn't swayed, either. "I'll vote against all of it," he said. "I voted no versus Clinton and Bush, and I will today if I have the chance."
But nobody truly knew how this would end. Leaving the meeting with Obama, Sherman turned to Rep. Jose Serrano and asked: "So, how do think this comes out?"
---
Lauren Fox, Rachel Roubein, Jason Plautz, and Ben Geman contributed to this article