House Democrats Have a Sophomore Problem
The class of 2012 includes many of the party's rising stars. But it also includes a host of members who may not stick around long.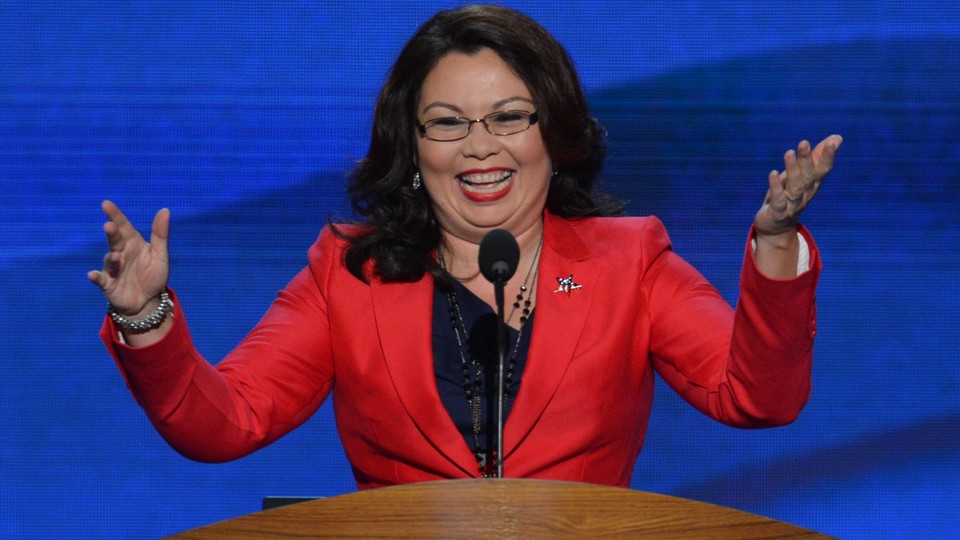 Ask House Democrats about the future of their caucus, and you'll likely hear about more than a few of their sophomores.
The class of 2012 harbors perhaps the deepest reservoir of Democrats' future political talent. But before the caucus can count on them to fill its leadership ranks for years to come, it will have to avoid losing its best and brightest to more immediate opportunities and difficult elections.
The most imminent problem, members say, is retaining their rising stars. Several cited Rep. Patrick Murphy's decision to run for Senate in Florida—and Murphy is not alone. Reps. Tammy Duckworth of Illinois and Ann Kirkpatrick of Arizona have jumped into Senate races in their own home states, and at least five other sophomores have openly considered Senate bids of their own this cycle.
"I'm a little concerned that some of them—like Pat Murphy, who's running for Senate, and others—are contemplating leaving the House," Rep. Beto O'Rourke said earlier this month. "I really want to see our caucus retain and promote as much of its talent as we possibly can. "¦ That is definitely a concern."
Of course, no one begrudges their ambitious colleagues an opportunity to run statewide. But some are concerned about what might be causing some of the newest House Democrats to look elsewhere so soon.
Democrats are deeply entrenched in the minority, and that appears unlikely to change in the near future. Meanwhile, many of the caucus's top figures, both at the leadership and committee levels, have held their posts for years, limiting upward mobility for younger members. That has sparked debate over whether to institute term limits for committee leaders. There's also been plenty of jostling to determine who's in line to succeed the party's current crop of House leadership.
"We have one of the most talented classes of recent years in Congress," said Rep. Joyce Beatty. "I don't think it's unusual for talented people to think about leadership."
The question is whether the sophomores will decide the best leadership opportunities lie outside the caucus. For now, most aren't calling it a serious concern. "A lot of us will be around for a while," said Rep. Ami Bera. "For those folks that move over to the Senate, we're going to maintain those friendships."
Rep. Cheri Bustos of Illinois, who herself considered a Senate bid before deciding Duckworth had the better shot, said the opportunity-seeking isn't unique to her class. "We're all type-A personalities," she said. "We're very driven. "¦ If we have various members who move on to bigger and better things, we will find other people to come in who will be great and do great things for the country."
Some see the movement as simply a reflection of the class's size. "It's a very big class, so obviously there's going be attrition," said Rep. Lois Frankel. "People are going to go onto other things."
And many say there are plenty of roles in the House for those looking to make a mark. "There will be some migration, there will be turnover—it's the natural churn of things," said Rep. Denny Heck. "But people have settled in, and they've migrated toward roles and responsibilities. There is plenty to do around here. "¦ At the point at which senior leadership transitions, you're going to see this class—they're going to be ready to take over some of the secondary leadership jobs and chairmanships if we get the majority back."
Bigger opportunities aren't the only threat to retention. The 2012 class was first elected on a ticket with President Obama, and they weren't spared Democrats' traditional midterm doldrums the following cycle. Seven members lost their seats in 2014, and another left to run a failed campaign for local office. Between the campaign defeats and outside opportunities, at least 11 of the original 47 nonincumbents who won in 2012 won't be around after the end of their second term.
Many more represent tough districts, and for a few, their road to reelection got even tougher this month. Five sophomores voted to give President Obama Trade Promotion Authority, which has provoked intense backlash from labor unions and liberals, who have threatened primary challenges against pro-TPA members.
"It's our sophomore class coming into our own, starting to stake out positions, which always won't be with the party," said Bera, who voted in favor of TPA and has found himself among progressives' top targets.
Still, for all the challenges facing the class, most are optimistic about its future. They tout their own roles on various task forces, the whip team, or the Democratic Congressional Campaign Committee. And they point to fellow rising stars like Reps. Joe Kennedy, Tulsi Gabbard, Dan Kildee, and Eric Swalwell.
"There are absolutely future U.S. senators, maybe even a president in this class," said Heck. "Future governors, I'm certain of that."
On a lighter note, Heck noted, "Being a sophomore is the worst thing in the world," because freshmen get special attention as they learn their way around Congress, while veteran members are much more established. "Sophomores, they're absolute tweeners."