House Backs 'Clean' Fast-Track Bill
The measure now heads to the Senate, but it faces more hurdles before the whole trade package can get to President Obama's desk.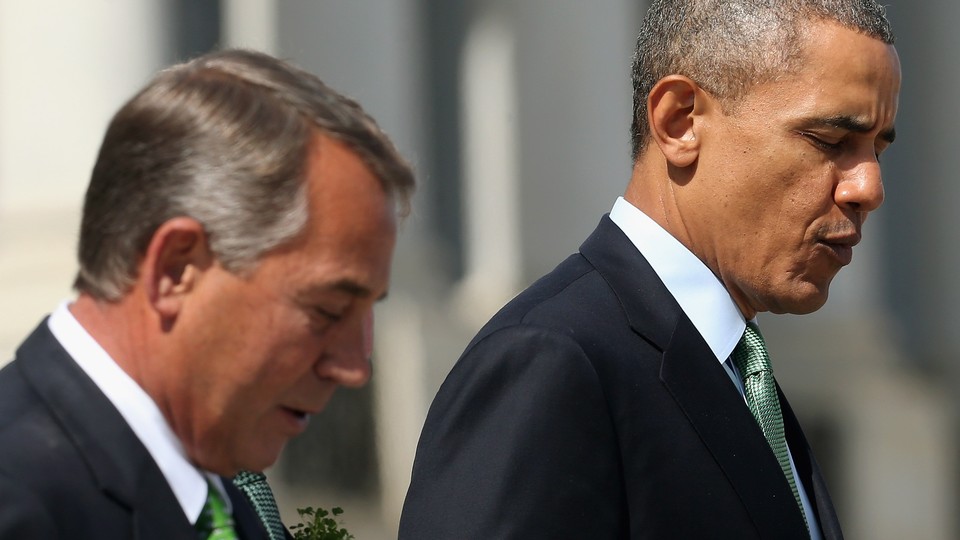 The House took a crucial step toward reviving President Obama's stalled trade agenda Thursday, narrowly approving a clean "fast-track" measure that now heads to the Senate.
On a 218-208 vote, the chamber approved Trade Promotion Authority on its own, decoupled from Trade Adjustment Assistance, an aid measure that Democrats struck down last week to block TPA. The bill was backed by 28 Democrats on Thursday, while 50 Republicans voted against it. The Senate is expected to take it up next week with the goal—supporters hope—of delivering the whole package to Obama's desk before the July 4 recess.
Still, it might only take a handful of less-convinced pro-trade Democrats to derail TPA before it gets there. They have received assurances from House Speaker John Boehner and Senate Majority Leader Mitch McConnell that TAA will get a quick vote. But there has been no indication from the 14 Senate Democrats who backed the TPA/TAA package that they're on board with the plan.
But some trade supporters think that the victory in the House will ease the bill's path forward in the Senate. "The President is putting himself on the line," Rep. Gerry Connolly said. "One of the things that was key to [the Democratic senators] was—will the 28 hold? ... We're holding. You need to hold your 14 too."
The entire trade saga has been an odd one, Boehner acknowledged to reporters Thursday, as he was asked whether he and Obama had learned anything from the process that could be applied to future negotiations.
"I would describe most of what's gone on in the last three weeks as close to bizarre," Boehner said. "I don't think I've learned anything from it."
Boehner also dismissed a question suggesting he and Obama "haven't been very close."
"No, that's just not fair," Boehner said. "The president and I, while we may have our policy disagreements, the president and I have enjoyed a very good working relationship, and frankly, there's never been any kind of an issue."
House Minority Leader Nancy Pelosi, meanwhile, said she was skeptical both TPA and TAA could get to Obama's desk.
"I can't predict that. I don't see a path right now for TAA," she said.
But after the TPA vote, one of Pelosi's top allies was urging members to support the new TAA package. "No holds barred. Whatever needs to be done to pass TAA must be done," Rep. Steve Israel said. "I cannot imagine many of my Democratic colleagues, knowing that TPA will pass, voting against TAA. That is the quintessential cutting of our noses to spite our face."
Uncertainty loomed before Thursday's vote, as pro-trade Democrats said they had concerns about the Republican plan to attach TAA to a separate bill in the near future. Prior to an Wednesday evening meeting at the White House to discuss the plan, several pro-trade Democrats were still unsure how they would vote.
"For anyone to tell you that they know the strategy, they don't," Rep. Mike Quigley said. "I'm not for trade authority without trade assistance. The plan is to get both. How you get there can sometimes be a little difficult. ... Am I convinced? We haven't even had some of these discussions."
Rep. John Delaney also harbored doubts about the plan, though he's still "cautiously optimistic" tthat it could work. "We all want to see this come together, where we have TPA and TAA," he said. "If I see that there's a path for that happening that is reasonable and obtainable to me, then I think it's a good strategy and I'll support it."
By Thursday morning, there were at least a few signs of confidence. "My prediction is that we are going to pass TPA today," Rep. Henry Cuellar said. "The pro-trade Democrats who voted on this, as far as I know, it's a strong majority. Hopefully all of us will hold."
Cuellar said Obama indicated to his House allies Wednesday that Senate Democrats would be on board with the new plan. "We all believe that passing TPA is tremendously important," Rep. Gregory Meeks said. "We voted for it already, and we'll vote for it again. ... My feeling was that just as the 28 Dems on the House side were going to stay together, that was giving [Senate Democrats]—and I hope it continues to give them—the assurance that they were going to stay together also."
Boehner, for his part, wouldn't quite answer Thursday when he was asked whether he'd felt double-crossed by Pelosi, who voted against TAA last week despite negotiating the details of the measure with Boehner.
"When we were talking about Trade Promotion Authority and Trade Adjustment Assistance over the last few weeks, I worked with Leader Pelosi," Boehner said. "I also worked with Republican members who had concerns about both the process and the pay-fors. But I think I'll just keep my comments to myself with regard to how I feel about the leader's actions."
Whatever happens in the Senate, some trade supporters believe this is Obama's last chance to pass TPA. "We get a second bite at the apple," Connolly said. "We don't get a third bite."
Meanwhile, pressure has yet to relent off the Hill. Outside groups on both sides have blasted members who support TPA. "Republicans weren't given majorities so they could cede control to Democrats," said Michael Needham, the CEO of the conservative group Heritage Action. "They need to listen to the people, stop passing the same policies that are failing our country, and embrace an agenda built on the principle of opportunity for all and favoritism to none."
Progressives are equally combative. "Any Democrat in Congress who trusts John Boehner or Mitch McConnell to pass Trade Adjustment Assistance, that will actually help working families, deserves to lose their job," Democracy for America Chair Jim Dean said.
But the conservative economic group Club for Growth backs TPA and announced it would score Thursday's tally as a "key vote."
"There's a lot of controversy surrounding the debate on TPA, but at the end of the day, it is a procedural device that we believe will advance the cause of freer trade and more economic growth," Andy Roth, the group's vice president of government affairs, told lawmakers in an email Thursday.
Regardless of the result, some House Democrats were unhappy with the process and the way it has divided the party.
"We need to get off this topic," said Israel, who runs House Democrats' messaging task force. "We can't continue to drive a narrative about Democratic House members disagreeing with a Democratic president. I'm in charge of figuring out what our message should be. A message that is about a process that is dividing House Democrats with a Democratic president—that's not a good message. We need to put the period at the end of the sentence and move onto another topic."
This article has been updated.
---
Rachel Roubein and Nora Kelly contributed to this article